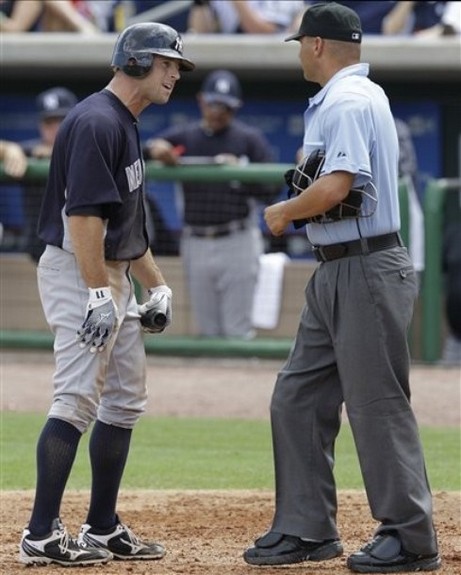 The Yankees have been without Brett Gardner for nearly three weeks now as a bone bruise and right elbow sprain have kept him on the sidelines. His defense in the outfield is very sorely missed and given the club's recent offensive struggles, has bat has been missed as well. Gardner put together a .321/.424/.393 batting line (.384 wOBA) in 34 plate appearances before hitting the DL, a small sample-size performance that has been missing from the lineup nonetheless.
As you know, Gardner's offensive game revolves around getting on base and using his legs. He owns a career .355 OBP with 137 steals in 165 chances, an 83% success rate that is well above the break-even point (68-70% these days). Gardner is never going to hit for power, but that's alright as long as he does everything else expected of him. As far as number nine hitters go, you'll be hard-pressed to find a better one that the Yankees' regular left fielder.
Now just because he gets on base at a strong clip, steals bases, and plays elite defense doesn't mean Gardner is without his warts. He doesn't hit for power like I said, he can be hesitant stealing bases at times, and he has an amazing knack for staring at pitches right down the middle for a called strike three. More than seven percent (7.2%, to be exact) of his career plate appearances have ended with a called strike three, well above the ~4.5% league average. Strikeouts come with the territory when you work counts like Gardner, but I've always felt he was a bit too passive and would often work the count just for the sake of working the count rather than trying to get on base.
Anyway, I bring this up because yesterday I was reading David Laurilia's interview with Nick Johnson, the former Yankee and like Gardner, a noted worker of counts. Johnson has become something of a punchline given his injury problems, but the guy came into the season with a .401 OBP in over 3,100 career plate appearances, and that's damn impressive. I highly recommend reading the entire interview, but this quote in particular caught my attention…
"Sometimes, when you're seeing a lot of pitches, you can get too passive. I think there's a fine line with that. But I like seeing pitches. The more pitches I see, the more comfortable I get throughout the at bat. I don't mind hitting with two strikes."
Johnson goes on to say that seeing more pitches allows him to pinpoint the pitcher's release point, get an idea of how they want to pitch to him, stuff like that. There is a fine line though, and Gardner seems to  walk it more than anyone. He gets away with it in part because he's one of the best in baseball at simply getting the bat on the ball. Since breaking into the league, Gardner has made contact on 94.8% of the swings he's taken against pitches in the strike zone (18th best in baseball) and on 90.5% of his swings overall (14th). He may have a knack for staring at strike three, but opposing pitchers will tell you he also has a knack for fouling off pitches. That's a pretty great skill to have given the type of player he is.
Johnson says he doesn't mind hitting with two strikes and we don't know of the same is true for Gardner, but you'd have to think he's not afraid of those spots given how often he winds up in them, no? For what it's worth, Brett is a .216/.300/.293 career hitter in two-strike counts. That sounds absolutely horrible, but the league as a whole hit .180/.247/.272 with two strikes last year. Gardner's an above average hitter in two-strike counts and when you think about it, getting on base 30% of the time when you have just one strike to spare is pretty awesome.
The Yankees should get their regular left field back sometime this week — Gardner played in his first minor league rehab game last night — and he'll increase the offense they get from the bottom of the lineup. I don't think Brett is a great player by any stretch, but he's definitely a very good player who derives almost all of his offensive value from working the pitcher and getting on base. There's nothing more frustrating than taking strike three and that will continue to be one of Gardner's biggest flaw, but it shouldn't subtract from the things he does well. He's a second leadoff hitter in the nine spot that makes works deep counts, fouls off the ton of pitches, and isn't an auto-out with two strikes.