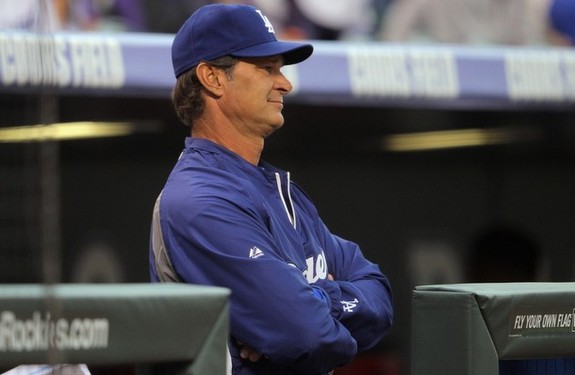 After parting ways with Joe Torre following the 2007 season, the Yankees interviewed just three serious candidates for their managerial opening: Joe Girardi, Tony Pena, and Don Mattingly. Girardi obviously got the job and Pena stayed with the team as his bench coach, but Mattingly left the organization to join Torre with the Dodgers. When Torre announced his retirement from managing at the end of 2010, his job was given to Mattingly.
For years it had been assumed that Donnie Baseball would one day take over as the Yankees' manager. He was the team's hitting coach from 2003-2006 and the bench coach in 2007, which was presumed to be his apprenticeship under Torre before taking the reigns himself one day. Instead, Mattingly is out in Los Angeles and calling the shots for a first place team in his second year on the job. As part of an interview for Barfly on FOX, he spoke to Mark Kriegel about not getting the managerial job in New York five years ago…
"It was a blessing that I didn't get that job," said Mattingly. "I was going through a rough time … trying to manage for the first time in New York … would have been absolutely miserable."
A few days before the Yankees officially cut ties with Torre, it was reported that Mattingly told Hal and Hank Steinbrenner — who has just assumed control of the team from their father — that he was uncomfortable replacing his mentor. A few weeks later there was an incident involving Mattingly and his wife, which may or may not be the "rough time" he mentioned to Kriegel. Don and his first wife Kim divorced shortly thereafter and he's since remarried.
Managing in New York is different than managing anywhere else, and I'm not talking about the on-field stuff. You and I don't know anything about the clubhouse issues that arise during the course of the season, but we do know that the media scrutiny is intense. Mattingly knows all about that from a player's perspective but it's different as a manager. Given where the team was after 2007, I don't believe a rookie skipper — even someone with as much local star power and support as Mattingly — would have been the best thing for the club.
That said, I can absolutely Donnie back in pinstripes one day. In fact, the idea of Mattingly replacing Girardi was first mentioned here more than three years ago. Girardi does a fine job with the team but I don't see him as a super-long-term manager like Torre. He's in the second year of a three-year contract, just like Mattingly with the Dodgers. I think it goes without saying that fans will love the idea of having Donnie back in pinstripes and I like that he's cutting his managerial teeth elsewhere, especially in a big market with a strong club that boasts superstars, young pitchers, overpaid/underperforming veterans, the whole nine. The situation wasn't right for either side after 2007, but there may be a time that the Yankees and Mattingly reunite, perhaps even sooner than we may think.