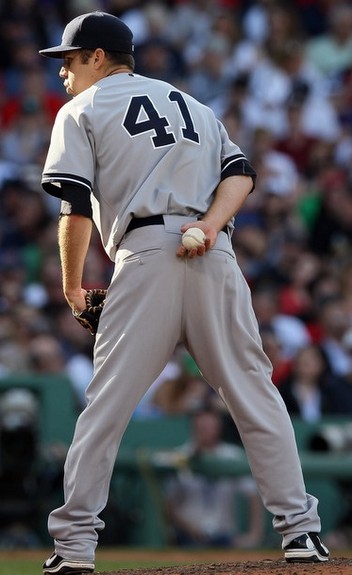 It's kinda funny how a few weeks ago, after the Yankees signed Andy Pettitte, there didn't appear to be any room at the inn for guys like David Phelps, Adam Warren, and D.J. Mitchell. They were the numbers eight, nine, and ten starters in some order. Now we're not even one full calender month into the season, and two of those guys are on the big league roster and one is scheduled to start tonight's game. Amazing how quickly pitching depth can disappear.
Phelps, tonight's starter, has impressed in six long relief outings even though his 5.66 FIP in 17.2 IP is rather unsightly. He gave up three homers in 6.2 IP against the Red Sox and Rangers late last month, which will do a number on the ol' FIP this early in the season. I honestly think his 3.57 ERA more accurately portrays his performance at this point, but maybe I'm just being a homer. Phelps has struck out 14 batters in those 17.2 IP, a solid but unspectacular 7.13 K/9 and 19.7 K%. Two of his seven walks were intentional and his 42.6% ground ball rate is decent enough.
Obviously six long relief appearances do not tell the whole David Phelps story, but that doesn't change the fact that tonight's start is a big opportunity for him, legitimately the biggest opportunity of his career (to date). Freddy Garcia has already pitched himself out of the rotation and Phil Hughes is on a similar path, so there's a chance for Phelps to seize a full-time starting spot even though Andy Pettitte's return is on the horizon. Saying he just has to pitch better than Phil is an oversimplification because a 7.00 ERA would represent an upgrade and still stink. In order to keep a rotation spot, Phelps is going to have to show the ability to a) go 5+ innings each time out, and b) not let things get out of hand like it has for Garcia and Hughes so many times. It's so horribly cliche but true.
I don't think Phelps has forced the Yankees' hand — his performance has been solid but not overwhelmingly so — it's more about getting Garcia the hell outta there. Phelps happened to be in the right place at the right time more than anything, but give him a lot of credit for doing what he had to do in Spring Training to win a job and then again in long relief to get noticed. The St. Louis native will have lots of friends and family in the stands tonight, so I'm sure his excitement level will be through the roof. The first career start is always a big one when it comes to nerves and stuff, but the evaluation process starts now and Phelps has to show he has what it takes to be a starter in this league if he wants to keep his rotation spot on more than just a temporary basis.