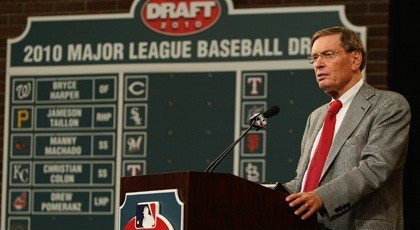 We're just nine days away from the draft now, so let's round up the latest news and notes. Make sure you scroll back through our draft archive to make sure you didn't miss anything, I've been posting player profiles, links to mock drafts, and all sorts of other stuff these last few weeks. Here's the latest…
Sabathia to represent Yankees on Day One
The first day of baseball's amateur draft will again be broadcast live on MLB Network this year, and the Yankees announced that their representative will be ace CC Sabathia. Apparently he drew the short straw. The Yankees do not have a game that day and Sabathia will be the only active player in attendance. Tino Martinez and Lee Mazzilli have represented New York in recent drafts. The broadcast will cover the first and supplement rounds on Monday, June 4th. The remaining rounds will be conducted via conference call over the following two days.
Scott Boras on the new spending restrictions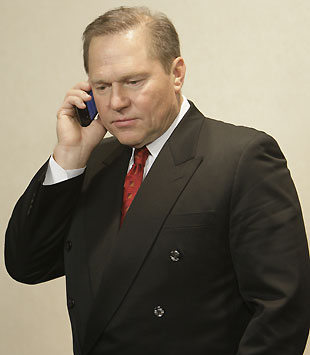 Every team will have their draft spending limited this season — the Yankees can spend just under $4.2M on the top ten rounds — with harsh penalties in place for any overages. Front offices don't seen very fond of the changes put in place by the new Collective Bargaining Agreement but agents aren't happy either. The new rules are taking money from their clients (and themselves), after all. Kevin Goldstein spoke to Scott Boras about the changes and the game's most powerful agents had some suggests for improving the system. You can read the article on either ESPN or Baseball Prospectus, but you need a subscription either way.
First, Boras suggests a five-year spending pool, allowing teams to funnel money from year-to-year as the talent pool varies. "A lot of people won't like that just because it's Scott's idea, but I love it," said an unnamed GM. "The current system is short-sighted. It takes away individuality and the concept of having competitive advantages though the evaluation of talent." Boras also suggests that low-revenue teams that win should be rewarded, specifically by being able to spend whatever they want on one pick each year. Goldstein says that it could take years for teams to adjust to the new rules and find the most efficient way to procure talent, though I'm sure some loopholes with pop up along the way.
MLB.com's Mock Draft
Jonathan Mayo posted his latest mock draft for MLB.com this past week, though that one only goes 20 picks deep. That means the Yankees are left out, but it's still good to check out just to get an idea of who is projected to go where. Pretty much the only thing that can substantially change draft stock at this point is injury.