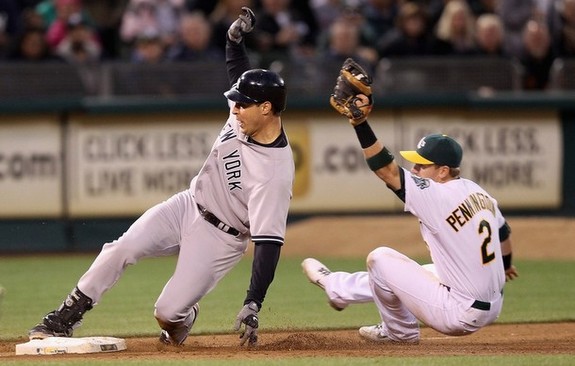 Here are some injury updates courtesy of Chad Jennings, George King, and Brian Heyman…
David Robertson (left oblique strain) played catch on Thursday and felt fine yesterday. He's on a throwing program and will play catch again on Monday, though Brian Cashman confirmed that the right-hander will need some minor league rehab appearances and won't be back before the end of the current road trip.
Brett Gardner is still on track to swing a bat on Monday for the first time since his setback. An MRI earlier this week showed that the muscle in his right elbow has healed, but a few days ago he was still experiencing some stiffness.
Mark Teixeira's cough is finally starting to subside and it's part of the reason he got thrown out at third trying to stretch a double into a triple last night. He wouldn't even have attempted it a few weeks ago because he had trouble breathing.
Pat Venditte has a torn labrum in his right shoulder according to Steven Pivovar. He is currently rehabbing in Tampa and hopes to avoid surgery, but they'll know if that's possible in about two weeks. The ambidextrous Venditte had been pitching exclusively left-handed for a few weeks before hitting the DL.