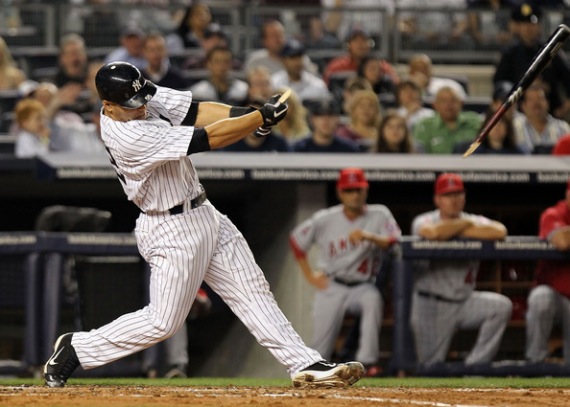 The last time we checked in with Russell Martin he was enjoying an oddly productive start to the season. While he had just four hits, none for extra bases, in his first 10 games, he walked nine times and owned a .417 OBP. That is, while he wasn't knocking in runners he was helping the offense by not making outs and putting himself in a position to score when the top of the lineup came up. Considering Derek Jeter's early season surge, that was no small consolation.
The idea then was that Martin's walks helped him remain productive until his bat came around. Unfortunately, that has yet to happen. Even worse, Martin's production at the plate has dipped significantly in the last two weeks. Since the start of the Twins series Martin has come to the plate 35 times and has gone 5 for 32 (.156) with just two walks (.229 OBP). He did pick up a few extra base hits, including an important home run in Friday's win over the Tigers. But it's hard to hang your hat on those extra base hits when Martin's overall production has been so poor.
Might there be a hitch in Martin's swing? It's hard to say without first hand experience working with him, but some of the evidence points to this. He's walking at a greater clip than ever, so perhaps he's still seeing the ball well. But he's striking out more often than previously in his career — 22.1 percent of his PA this year, compared to 14.3 percent for his career. That's five points higher than his 17 percent strikeout rate last year, the highest of his career.
Martin is also beating the ball into the ground: 59 percent of his 48 balls in play have been hit on the ground. That's a bit better than the 75 percent ground ball rate he had through 10 games, but it's still way too high. To complicate matters, it appears that he's not even hitting hard ground balls; his .202 batting average on ground balls is 25 points below the AL average. He's simply not making good contact, which could suggest an issue with his swing.
Last year was quite the opposite for Martin in terms of batted balls. In his first season with the Yankees he actually hit the ball in the air more frequently than he had in the past. That helped him rediscover his power stroke, hitting double-digit homers for the first time since 2008 and falling just one homer shy of his career best 19. He also walked frequently enough, giving him perfectly average numbers — a 100 wRC+, which is very good for a catcher. His average was a bit low, but at least he'd found a way to contribute.
This year, however, he seems like a complete wreck at the plate. Drawing walks early helped him, but lately he hasn't even been able to add that. Maybe this is one of those instances where, like many medical conditions, it gets worse before it gets better. Maybe he's actively working on something at the plate and it's rounding into form. For the at-home observer, though, it's hard to see. Unfortunately, the Yankees really have few avenues to pursue here. Martin is the man for 2011. He has a lot of work to do if he's going to turn things around after a rough April.