I know the mailbag usually goes up Monday morning, but Mariano Rivera's injury dominated the headlines yesterday. Here are five questions a day late, which is better than never. Remember to use the Submit A Tip box in the sidebar to send us mailbag questions or anything else you wanna share.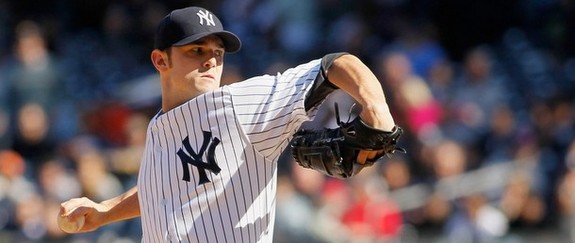 Steven asks: Before I write this, I want to preface it by saying that a) one month does not define a pitcher at all, and b) I know starters are more valuable than relievers, but with how well David Robertson is doing, if he kept it up (I doubt he could keep up the 0.00 ERA), could he elicit some Cy Young consideration or would his lack of "saves" turn him off to voters?
Well, Robertson is going to get some saves now, but let's pretend for a moment that he's still setting up a healthy Rivera. Robertson did get one fifth place vote in the Cy Young voting last year, but you usually don't see many non-closer relievers get love for the award. I mean, middle relievers don't get any better than Robertson was last year, and yet he still only got one measly vote despite having the New York hype machine behind him. For a reliever to get serious consideration, I think it would take a Mo circa 1996 effort, an elite two-inning setup guy.
Patrick asks: What is the fundamental differences between a good closer and a starter? Is it simply longevity? Is David Robertson, whose stuff is as good as anybody out there, not a starter because he simply can't last long enough? As opposed to say, Justin Verlander. And would CC Sabathia be the greatest closer ever? What defines these roles for pitchers apart from the ability to hang in there for 90 pitches?
Most relievers are starters who failed for whatever reason, could be lack of command, stuff, injuries, stamina, a whole bunch of things. Robertson's problem is his control and general inability to record three outs with fewer than 20 pitches. He's also on the small side and may not be able to maintain his stuff for 100+ pitches every five days for six or seven months. Most starters would be good relievers, and guys like Verlander and Sabathia would be among the very best relievers. Could you imagine Verlander in one inning bursts? He might throw 110.
As for defining roles, it's all about performance. Most pitchers who end up in the bullpen are there because they couldn't cut it in the rotation at some point. Sometimes that becomes clear in the minors, sometimes it takes a few years in the majors. A few clubs have shown a tendency to put some of their best arms in the bullpen right away, which I don't agree with at all.
Evan asks: Are the Yankees the team poised to make the biggest jump in organizational prospect rankings? They have a lot of prospects in the low minors who are beginning to show some results to go with their potential. Could they jump into the top 5 or even top 3 clubs during the next offseason?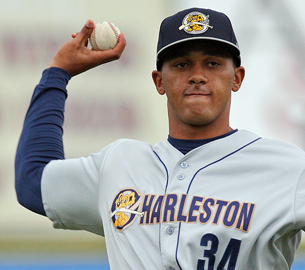 I don't know if the Yankees are poised to make the biggest jump — the upcoming draft will have a lot to say about next year's organizational rankings — but I do think they can make a big jump. First and foremost, they're very unlikely to graduate any of their top prospects to the big leagues. Manny Banuelos, Mason Williams, Gary Sanchez, et al will still be on prospect lists next year, so that's a nice head start.
Secondly, guys like Williams, Tyler Austin, and Jose Campos are off to huge starts in their first crack at a full season league. They might not keep up their current pace all season, but a full 140 games worth of production will definitely make them more prospect shiny. Sanchez is repeating Low-A Charleston but should get promoted to High-A Tampa relatively soon. Dante Bichette Jr. is off to a bit of a slow start but has plenty of time to turn things around. Rafael DePaula also got a visa finally, which is a rather significant addition. Obviously not everyone is going to work out, but I do think the Yankees have the pieces in place to threaten a top-five spot in next year's farm system rankings.
Mike asks: Dellin Betances has been in the Yankee organization for a long time now. I'm not sure if he is running out of option years. Will he have to remain on the 25 man roster in 2013?
It has been a while, they drafted him way back in 2006. The Yankees added Betances to the 40-man roster after the 2010 season, so they've used up two options years (2011 and 2012) already. They have one more option year to burn in 2013, but after that he'll have to stick on the 25-man roster or clear waivers before going to the minors. Dellin's days as a starter are numbered, though a transition to the bullpen should make him a legit big league option in relatively short order. You don't need pristine command to succeed in relief, just ask Robertson.
Mike asks: Is Wandy Rodriguez starting to look a viable option at this point? He pitched another good game [on Wednesday], brought his ERA down to 1.64. Just wondering what the pros and cons are.
I don't consider Wandy a viable option personally, but it's not the craziest idea. Joe listed the pros and cons prior to the trade deadline last summer, and all of that stuff still holds true. My biggest issue with Rodriguez is his contract, which will pay him $10M this season and $13M next season with a $13M club option for 2014. That club option becomes a player option if traded, so you're talking about a three-year, $36M commitment by trading for the guy. That's a bit pricey even without considering the 2014 payroll plan.
If the Yankees do venture into the trade market for a starting pitcher, they're more likely to pursue short-term stopgaps like Brandon McCarthy or Bartolo Colon. They haven't traded for a starting pitching with multiple guaranteed years left on their contract since Kevin Brown, and I doubt they'll start with Wandy.