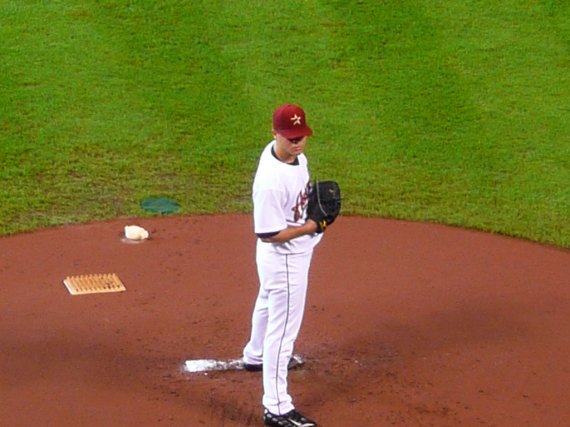 When the Yankees sought a pitcher to fill the spot reserved for Cliff Lee, Wandy Rodriguez's name came up frequently. He's a quality pitcher on a not-so-quality team, and he was just one year from free agency. While that might sound like a match on the surface, it misses a bigger point. With an already thin starting staff, Houston wasn't about to give up its best pitcher before the season even started. Come trade deadline, though, he could become available.
Houston threw a wrench in the plan by signing Rodriguez to a three-year, $34 million contract with a $13 million fourth-year option. That doesn't preclude them from trading him, since it's a market value contract (and maybe a bit below market). But it does change the proposition, from acquiring a rental to acquiring an arm for the next few years. He's someone who can help in that time, though. So far this year he has a 3.21 ERA and 3.94 FIP (3.48 xFIP) through 13 starts and 84 innings.
The Pros
From 2008 through 2010 he was the Astros best pitcher, posting an 8.4 K/9, 2.93 BB/9, and 0.85 HR/9, good for a 3.36 ERA and 3.55 FIP. That amounted to 10.2 WAR, best on the team by a full win.
His fielding-independent performance has remained pretty consistent through his peak years, peaking at 3.62 and bottoming out at 3.50. He has also kept his ERA reasonably in line with the number, so it does appear that he is as good as his peripherals indicate.
Since 2008 he ranks 16th in IP, 13th in ERA, 15th in FIP, 11th in xFIP, and 17th in WAR among NL pitchers with more than 350 IP. In other words, he's a solid No. 2 – No. 3 pitcher.
He eats lefties for breakfast, striking them out more, walking them less, and keeping the ball in the park more often. That'll play well at the Stadium.
The Cons
He has a clause in his contract that turns the $13 million option into a player one if he's traded. Put in a different context, that means the Yankees would be trading for a rental and then signing him to a three-year, $36 million contract — while giving up the players that reflect that they're getting him for all those years.
He's a late bloomer and is actually 32 this season. That means the Yankees would have him for his age-33 through his age-35 seasons. It's not the worst proposition, but it's always dicey dealing with pitchers at that age.
He's been remarkably poor during interleague play during his career, with a lower strikeout rate and higher walk rate than his career numbers. This carries over to his good years, as he's been horrible during the last three years of interleague play.
He pitches quite a bit better at home than on the road, though that seems a bit odd, considering how hitter-friendly Minute Maid Park is, especially for righties. I'm not sure if that's a big consideration in acquiring him, but it does stand out.
Left-handed pitching is clearly a priority for the Yankees, and Rodriguez fits that need well. He's not just someone who throws with his left hand, but rather a high-strikeout, low-walk guy who can keep fellow lefties in check while handling righties just fine. In that way he appears to be a good target for the Yankees. But the cons list takes away a lot of his value. The Yankees would be making a significant commitment to him, and unless they've scouted him extensively, as they would a potential free agent signing, they might be disinclined to make a deal. The contract itself isn't bad, and it would give the Yankees another lefty in the rotation for a few years. But it's still a hefty commitment for a deadline deal.
If Rodriguez had not signed the extension, I would have thought a trade possible, or even likely. But the contract, especially the player option clause, complicates matters. There's still an outside chance, but the more complexities you add to a trade the less likely it becomes. We might hear the Yankees inquiring on Rodriguez, but I'd have to put the chances of an actual trade at less than one percent.