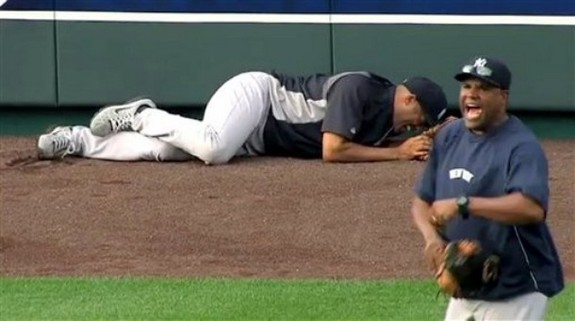 I can't remember the last time baseball made me feel sad. Maybe it was in September 2008, when the old Yankee Stadium closed. I remember walking out of that place with a pit in my stomach knowing I would never get to go back there again. 1995 sucked, 2001 sucked, and 2004 sucked, but I wasn't sad. I was angry more than anything. Those were games though, the Yankees played and lost. It happens.
This … this was a freak accident. And that's sad. It's sad because I don't know if I'm ever going to get to see Mariano Rivera pitch again. I'm not ready for this. I wasn't even ready for him to hint at retirement in Spring Training and now you're telling me his career could be over? That's not fair. It's not supposed to end like this. It's supposed to end with Rivera throwing the final pitch in the World Series for the sixth time, with him pouring champagne on Derek Jeter and riding the last float down Canyon of Heroes. That's the send off Rivera was supposed to get, not carried off the field following a freak accident.
After last night's game, Mo said he wouldn't change a thing. If he had a chance to do it over again, he still would have been out there shagging fly balls before the game. He's been doing it his entire professional life and it's part of what makes him so great. Rivera wasn't just the greatest relief pitcher the game has ever known, he was the best athlete on the team and if they stuck him in center field, he's run everything down from gap to gap. He was extraordinary at everything he did, including shagging fly balls.
I've been stuck in the fourth stage of The Five Stages of Grief since I went to bed last night. I denied it at first. "He'll be fine, he was smiling as he was being carted off the field," I said to myself. Then I was mad. "Why the hell is he shagging fly balls anyway? That's so stupid and dangerous!" Then I bargained and that stage is always the ugliest because it makes you desperate. "I'll do anything for him to be okay, please! … Ewww, anything?"
Now I'm just depressed. It can't end like this. Rivera deserves better, but I know he's a deeply religious man. This could be a sign that it's time for him to move onto the next phase of his life. Who knows? I don't and I don't think Mo does yet. That's the worst part, the not knowing. Not knowing what the injury was, not knowing how severe it was, not knowing if he'll ever play again. Maybe I'll accept it at some point and complete the five stages, but right now that seems impossible. We all know Rivera was going to leave us eventually, but he wasn't supposed to be ripped away from us like this.
This is a sad day. A sad day for me, a sad day for the Yankees, a sad day for Mariano, and a sad day for baseball. Yankeeland may never be the same.