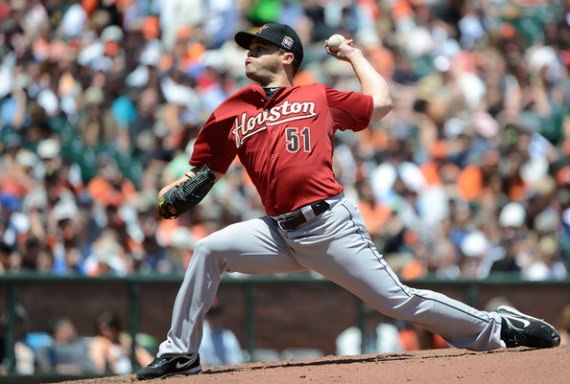 At last year's trade deadline the Yankees, as we all expected, explored essentially every available pitcher. After failing to significantly upgrade the rotation during the winter, and especially after losing Phil Hughes early in the season, they had little choice. The need for pitching immediately connected them to Astros lefty Wandy Rodriguez. With an ownership change inevitable, the Astros were in firesale mode. But even with speculation of a deal to the Yankees lasting right up until 4 p.m. last July 31st, nothing happened. Might 2012 be better timing for the Yankees?
There was a time last year when I really did think Rodriguez would end up with the Yankees. He was slated to become a free agent after the 2011 season, making it a near lock that the Astros would trade him. But in late January then-GM Ed Wade surprised everyone by signing Rodriguez to a three-year, $34 million extension. That did cover 2011, but it also contained a $13 million option for 2014, which 1) could be guaranteed based on performance, and 2) becomes a player option if he's traded.
With that one move the chances of Rodriguez becoming a Yankee plummeted. Given his performances from 2008 through 2010, the contract itself might have seemed reasonable. It ran through his age-34 season, age-35 if the option vested. And it was for a relatively reasonable salary. But what makes sense for the Astros doesn't necessarily make sense for other teams in the league. Picking up Rodriguez knowing that his 2014 option will essentially become guaranteed is far less attractive than renting him for a half a season.
Still, the Yankees are looking under every rock for possible upgrades. As we heard yesterday, the Yankees were among a handful of teams present for Rodriguez's performance against the Royals this week. It doesn't mean much at this very moment, but if the Yankees do need a starter come July, Rodriguez might be one of the more attractive names available.
Last year the two sides reportedly could not agree on how much money the Astros would absorb in a trade. Sensing the Astros' desperation to move his contract, the Yankees wanted them to pick up a significant portion. Yet the Astros were not quite that desperate, and ended up holding onto Rodriguez. With a year less of service time to offer, the price on Rodriguez has likely come down from last year. Then again, there is a new owner and front office in place, and their goals might differ from the departing owner and lame duck GM that ran the show last July.
For his part, Rodriguez has pitched well in 2012. His strikeout rate is down enormously, but then so is his walk rate. The net is a 2.77 K/BB ratio that stands a bit above his 2.4 career average. Yes, he does pitch in the NL Central, but that doesn't mean he's avoiding the league's best hitters. In fact, Rodriguez has the 17th highest quality of opponents' OPS in the league (minimum 50 IP). The Yankee who has faced the toughest opponents this year is CC Sabathia, who ranks 59th. So while Rodriguez's performances might be undersold because of where he pitches, he's still facing tougher hitters than any Yankee starter, despite facing the pitcher every ninth batter.
Given the Yankees' goal of a $189 million payroll for 2014, it's unlikely they pick up any pitcher who has a contract that will cost them that year. Then again, he does only net $11.5 million in 2014 ($13 mil salary minus $2.5 million buyout). Perhaps he would opt to test the market at age 36, hoping for a two-year deal that will boost his guaranteed earnings. But then again, it's unlikely the Yankees would bank on that, especially with him moving to the tougher league.