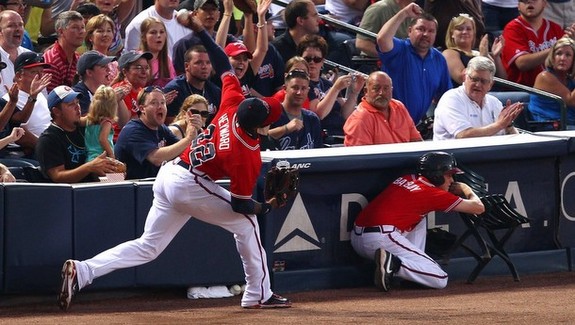 The Yankees and Braves have a one-sided history, and that continued last week when the Bombers marched into Turner Field and left three days later having swept the series. Now the scene shifts to the Bronx and the Yankees get the DH back. After six games in NL parks, it'll be nice not having to watch pitchers hit make outs.
What Have They Done Lately?
After getting swept by the Yankees last week, the Braves lost two of three to the Orioles at home. They went 3-6 on a nine-game homestand against AL East teams, which is pretty rough. Atlanta owns a 35-30 record and a +20 run differential, both the fifth best marks in the NL.
Offense
The Yankees held the Braves to just seven runs in three games last week, but don't be fooled, Atlanta can hit. Their 298 runs are the third most in the NL and their 4.52 runs per game average is a top-ten mark in baseball. Atlanta's offensive charge continues to be fueled by dynamite center fielder Michael Bourn (124 wRC+) and left fielder Martin Prado (131 wRC+), their combination atop the batting order. You're not going to find a better twosome.
Catcher Brian McCann (101 wRC+) hit everything hard against the Yankees last week, but they got a little lucky and more than a few of those balls landed in gloves. I'd rather not see them risk it again. Second baseman Dan Uggla (128 wRC+) will show off his guns in the cleanup spot and third baseman Chipper Jones (120 wRC+) has been backing him up as the number five hitter. This will be his final series at Yankee Stadium barring an entirely possible World Series matchup. First baseman Freddie Freeman (95 wRC+) and right fielder Jason Heyward (115 wRC+) add some length to the lineup while shortstop Andrelton Simmons (153 wRC+ in limited action) adds speed at the bottom of the order.
As I mentioned last week, Atlanta has a really strong bench. Outfielder Matt Diaz mashes lefties (149 wRC+ vs. LHP), third baseman Juan Francisco has big power against righties (.237 ISO vs. RHP), and although corner guy Eric Hinske is having a poor season (46 wRC+), I still consider him a threat. David Ross (106 wRC+) is the best backup catcher in baseball and infielder Jack Wilson (3 wRC+) might be the worst player in the league. It's definitely an impressive group of reserves, which is especially important in the NL.
I'm not entirely sure what the Braves will do with the DH spot this series. They platooned Diaz and Hinske there a few weeks ago, but that was when Chipper was on the DL. I wouldn't be surprised to see Jones at DH, Prado (or Francisco) at third, and then Diaz or Hinske in left. They could always let McCann have a DH day and start Ross as well. Lots of options thanks to that strong bench.
Pitching Matchups
Monday: LHP CC Sabathia vs. LHP Mike Minor
Six days ago, the Yankees couldn't touch Minor even though he came into the game as one of the worst two starting pitchers in the game. He still sports a 6.01 ERA and a 5.20 FIP despite those 7.1 innings of one-run ball, with mediocre strikeout (7.55 K/9 and 19.4 K%), walk (3.45 BB/9 and 8.9 BB%), and ground ball (34.0%) rates to boot. His 14 homers allowed are among the most in the NL. Minor is a four-pitch guy — low-90s fastball, mid-80s slider, low-80s changeup, upper-70s curve — and last week he killed the Yankees' right-handed bats with soft stuff away. That same plan better not work a second time, the Bombers should make the necessary adjustments.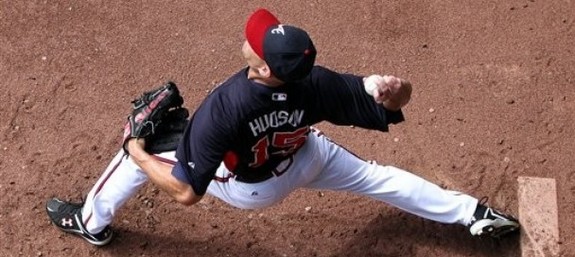 Tuesday: RHP Hiroki Kuroda vs. RHP Tim  Hudson
Hudson came back from an ankle problem to strike out a season-high eight against the Yankees last week while doing the bare minimum to qualify for a quality start: three earned runs in six innings. That game pushed his season ERA up to 3.90 (3.09 FIP) and his strikeout rate up to 5.85 K/9 (15.8 K%). Hudson has always been about ground balls (57.1%) and limiting the walks (2.25 BB/9 and 6.1 BB%), as you know. He's very fastball heavy, particularly with his upper-80s sinker. He'll also mix in some mid-80s cutters and on rare occasions, a mid-70s curveball. Hudson will live and die by his sinker.
Wednesday: RHP Phil Hughes vs. RHP Tommy Hanson
The Yankees didn't see Hanson last week and it's fitting that he's starting against Hughes considering they've both battled missing velocity in recent years. The 25-year-old right-hander has pitched to a 3.32 ERA this season despite the worst peripherals of his career: 7.64 K/9 (19.9 K%), 3.65 BB/9 (9.5 BB%), 1.11 HR/9, and 41.6% grounders. His four-seam fastball sits right at 90 and he backs it up with a low-80s slider and a low-70s curveball. His low-80s changeup has been all but shelved this year (1.0% of all pitches thrown). It's worth noting that left-handed batters have absolutely annihilated Hanson this year (.385 wOBA) — likely due to the shelving of the changeup — while righties have struggled (.254 wOBA). Wouldn't be a bad game to rest Derek Jeter and/or Alex Rodriguez.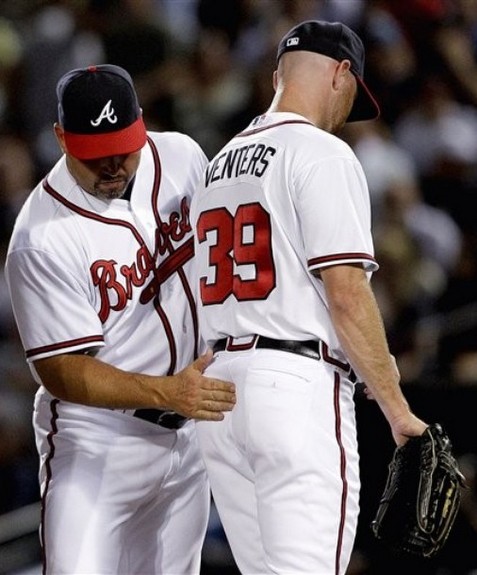 Bullpen Status
Rookie right-hander Randall Delgado gave the Braves eight innings on Sunday, so their bullpen is pretty fresh. Closer Craig Kimbrel (0.97 FIP) has had two straight days off while setup man Jonny Venters (4.40 FIP) has had one day off as well as three of the last four. Lefty specialist Eric O'Flaherty (2.75 FIP vs. LHB) threw two pitches on Sunday and hadn't worked in about a week prior to that. Manager Fredi Gonzalez's top end-game arms are nice and rested for tonight and probably tomorrow as well.
Atlanta recently recalled righty Kris Medlen (3.15 FIP) after sending him down in an effort to stretch him out and get him into the rotation, but that plan has been scrapped for the time being and he is back in the bullpen. Right-handers Chad Durbin (5.07 FIP) and Cristhian Martinez (3.20 FIP) handle the middle innings while personal fave Anthony Varvaro (3.91 FIP in very limited action) replaced the recently released Livan Hernandez. Generic right-hander Todd Redmond is up as an extra arm until the Braves call up Jair Jurrjens to start this Friday. Too bad they couldn't start one of these next three days, eh? Redmond has yet to appear in a big league game and I mean ever; his next appearance will be his MLB debut.
The Yankees used their bullpen quite heavily over the weekend, but Ivan Nova's 7.2-inning performance yesterday helped a bit. Rafael Soriano and Boone Logan are the only two guys out there to have appeared in each of the last two games. Everyone else had Sunday off, though David Robertson did warm up. Check out our Bullpen Workload page for exact reliever usage. For the latest and greatest on the Atlanta nine, check out Capitol Avenue Club.