It wasn't the longest game of the season, it only felt like it. The Yankees finished off a three-game sweep of the Braves with a 3-2 win on Wednesday, their sixth straight win.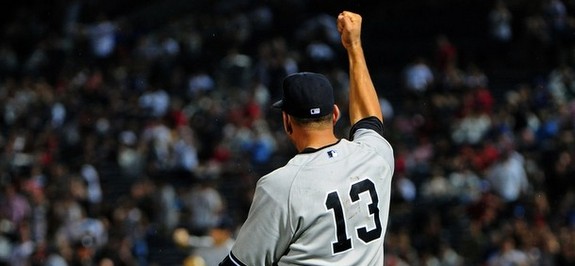 Quick Strike
There are few things in baseball I appreciate more than when the Yankees score in the first inning on the road. Just something about taking the lead before the other team gets to hit is comforting. Derek Jeter led off the game with a line drove double into the right-field gap and came around to score on Alex Rodriguez's single back up the middle two batters later. Just like that, a dozen pitches into Tim Hudson's night, the Yankees had a much appreciated one-zip lead.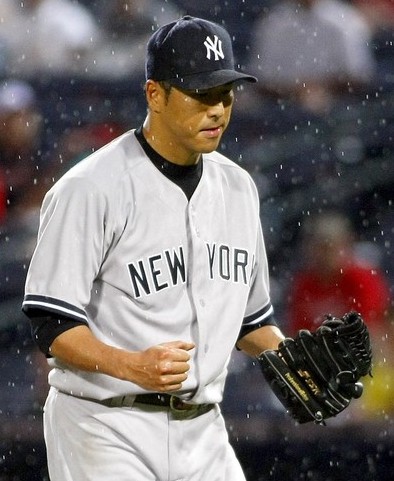 Kuroda Hangs On
This was not one of Hiroki Kuroda's finer starts, and you know that because the game took for-frickin'-ever. Kuroda is one of the slowest workers in baseball when men are on-base — PitchFX says he averages 22.6 seconds between pitches, 19th slowest among 115 qualified starters — and the Braves were threatening every inning. Hiroki stranded a man on first in the first, the bases loaded in the second, a man on second in the third, and men on second and third in the fourth before finally making a mistake in the fifth. Brian McCann clobbered a two-run homer to right after Martin Prado reached on a leadoff broken bat blooper, turning New York's one-run lead into a one-run deficit.
Kuroda struck out a season-high eight, including strikeouts to escape jams in the first, third, and fourth innings. Sixteen of his 18 outs were recorded on the infield, including the first 13 in a row. He also threw a season high 110 pitches and was pitching in the rain basically all night. It was an ugly outing in the sense that Kuroda labored all night, but two runs in six innings is a result you'll take every five days no questions asked.
Answer Back
McCann's homer gave the Braves the lead for all of two batters. The Yankees answered right back in the sixth thanks to another Jeter leadoff hit, this one a flare single to right. Curtis Granderson followed up with his third homer of the month, a big fly ball that hung in the air for quite some time before sneaking around the right field foul pole and landing a few row backs. It was a 1-1 pitch after Jeter singled on a 1-0 pitch, so in reality Atlanta's lead lasted for five defensive pitches. The Yankees have been doing a great job of responding and not letting games get away from them lately and is part of the reason why they've been so successful.
Ground Ball Machine
Cody Eppley might not have a place in the bullpen come Friday because David Robertson is set to be activated off the disabled list, and if does get sent down to Triple-A, he sure went out with a bang. Charged with working the eighth inning with a one-run lead because the primary setup guys have been worked hard of late, Eppley pitched around two singles — one an infield job from Michael Bourn — and a sacrifice bunt by coaxing a rally-killing and inning-ending double play ball from Prado, a play that would have tied the game had it not been turned perfectly. All four batters Eppley faced hit the ball on the ground, raising his season ground ball rate to a staggering 70.5%. That's what he does, that sinker from the low arm slot isn't easy to hit in the air. Bravo kid, I hope you stick around beyond Friday.

Leftovers
Every bullpen move Joe Girardi makes these days works like a charm. Obviously Eppley was the headliner in relief, but Boone Logan navigated a scoreless seventh while Rafael Soriano did his thing and shut the door in the ninth. The Braves had a runner on-base in literally every inning, but the relief corps followed Kuroda's lead and kept pitching around danger. Atlanta went 2-for-13 with runners in scoring position, and one of the two was Bourn's infield single. It's nice to be on the other end of the RISPFAIL for once, eh?
Outside of the first and sixth innings, the Yankees did a whole lotta nothing offensively. Hudson retired 13 of 15 between A-Rod's first inning knock and Jeter's leadoff single in the sixth, and the Atlanta bullpen allowed just two unintentional baserunners in three innings. One of those two came when Nick Swisher reached base on a wild pitch following a strikeout. Jeter was the only guy in the lineup with two hits while Granderson, A-Rod, Mark Teixeira, Swisher, and Dewayne Wise had one each. The Yankees struck out 14 times and didn't draw a single unintentional walk. Hudson's eight strikeouts were a season-high.
Bit of a curious decision to send the runner when Russell Martin had a full count with one out in the second — Martin struck out and Swisher was thrown out at second to end the inning — only because the pitcher was on deck and you'd prefer to clear that spot in the order. Then again, Hudson's an extreme ground ball pitcher and Russ is a double play candidate, so it makes some sense. That's NL baseball for ya.
As I said, the Yankees have now won six straight games. They've also won nine of ten, 11 of 13, and 16 of 20. R.A. Dickey and the Mets completely wrecked the Rays though the Orioles topped the Pirates, so the Bombers remain in sole possession of first place in the AL East by one game.
And just for the record, at three hours and 36 minutes, this was the fifth longest nine-inning game of the season and seventh longest overall.
Box Score, WPA Graph & Standings
MLB.com has the box score and video highlights, FanGraphs some advanced stats, and ESPN the updated standings.

Source: FanGraphs
Up Next
The Yankees are off on Thursday and will open a three-game series in Washington against the Nationals on Friday night. Phil Hughes gets the ball against Gio Gonzalez. If you're going to be in the nation's capitol this weekend, you should come to our meet-up on Saturday.