Different league, different rules, same result. The Yankees played their first 2012 interleague game in an NL park on Monday, shutting out the Braves for their fourth win in a row. New York has now won seven of eight, nine of eleven, and 14 of 18 to tie the Rays atop the AL East with a 35-25 record.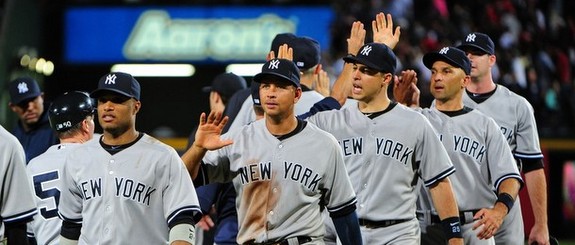 Two Outs
Rookie right-hander Randall Delgado has been a five-and-fly guy for Atlanta this year, so the goal for the Yankees was to get his pitch count up. Although Derek Jeter and Curtis Granderson made two outs on seven pitches in the first, they were able to extend the inning and score a run when Alex Rodriguez scorched a double over Martin Prado's head in left and Robinson Cano drove him in with a single to center. Delgado's shot at a quick inning went kaput with the two-out mini-rally, something I always enjoy seeing. Anytime you can score a run with two outs and the bases empty, it has to demoralize the other team to a certain extent.
Two Strikes
One thing I enjoy just as much as two-out rallies is two-strike hits. The AL as a whole is hitting .178/.246/.278 in two-strike counts this year — the Yankees were at .178/.259/.328 coming into this game — so it's not the easiest thing in the world to do. Delgado got ahead of Raul Ibanez with three straight fastballs to lead off the second before hanging a 1-2 curveball, which Raul launched to right for his first homer since the final game of the Reds' series. That was 19 games ago. The Yankees were up two-zip following the two-out and two-strike scores.
Seven Scoreless
This was a solid but very weird start for Ivan Nova, who put the leadoff man on-base in five of seven innings … but only allowed one runner to reach second base all night. That was when he balked Prado to second with two outs in the fourth. He just made pitches when he needed to and was able to pitch around danger all evening. Nova only got seven ground balls out of 14 balls in play, but he struck out six and got some pretty stellar defense behind him (more on that in a second). I thought he may have had another inning in him after finishing the seventh at 102 pitches, but with the three-run lead Joe Girardi understandably pinch-hit in the eighth to try to increase the lead. After allowing at least two runs in each of his first ten starts, Nova's allowed one run total in his last two. Well done, kid.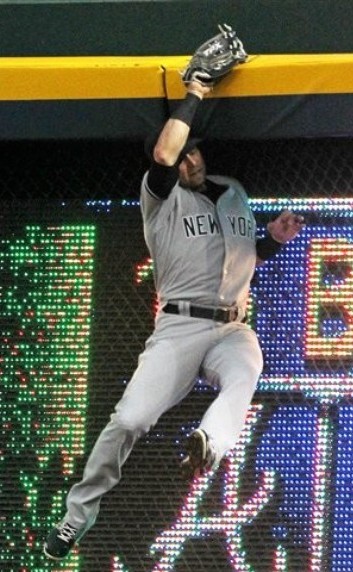 Flash The Leather
As I said, Nova got a little help defensively. He made a nice stab on an Andrelton Simmons line drive in the third, and was able to get rid of it in time to double the runner off first. Nick Swisher make a leaping catch at the wall to rob Brian McCann of some kind of extra-base hit with no outs in the fourth, then Cano made a nice play from his knees on a hard-hit Freddie Freeman grounder to end that inning. I don't know if McCann's ball would have left the yard but it was close. At the very least it was going to be off the top of wall for a run-scoring double. McCann smashed a line drive right at Mark Teixeira at first in the ninth, capping off the kind of night the Yankees usually have with runners in scoring position. Lots of hard hit balls but everything seemed to be right at someone.
Mix & Match
With Rafael Soriano unavailable due to a minor blister problem, Girardi emptied out his bullpen and used four pitchers to get the final six outs. Cody Eppley got the first out of the eighth, raising his season ground ball rate to a whopping 67.5%. Clay Rapada then came in to retire the next two batters, including the lefty mashing Matt Diaz with a three-pitch strikeout. Can't say I expected that. Cory Wade (one out) and Boone Logan (two outs) wrapped things up in a perfect ninth. Freddy Garcia was warming up in the ninth and I have to say it would have been pretty wild to see him replace Logan to record the final out. The Braves came into the game as the seventh highest scoring team in baseball at 4.80 runs per game, but the Yankees didn't let him get a single runner to third base. The pitching has been excellent of late and it continued on Monday.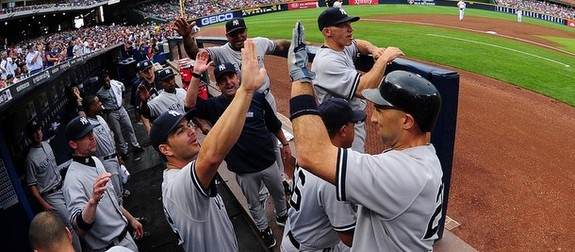 Leftovers
Nova became the first Yankees' hurler to pick up a hit since Andy Pettitte singled off Dan Haren on June 22nd, 2010. He slapped an opposite field single to right off Delgado with two outs in the second. I'm pretty sure it would have been a double for most players but there was no reason for the starting pitcher to push it.
Here's an interesting one: Ibanez became the first 40-year-old player in franchise history to hit at least ten homers in a season with his second inning blast. That was is hard to believe so I had to Play Index it and yep, it's true. Apparently all of the all-time greats were either retired or just flat out ineffective by age 40. Crazy, isn't it?
The Yankees did strand eleven men on base and went 1-for-8 with runners in scoring position, though they only grounded into two double plays. I swear it felt like six. They scored their third run when Delgado uncorked a wild pitch with two outs and the bases loaded in the third. One of these days they'll go 15-for-16 with runners in scoring position and it'll be glorious.
I gotta say, I was surprised by how many Yankees fans were in attendance. It sounded like a typical crowd in Baltimore with "Let's Go Yan-Kees!" chants and everything.
Box Score, WPA Graph & Standings
MLB.com has the box score and video highlights, FanGraphs the nerd score, and ESPN the updated standings.

Source: FanGraphs
Up Next
Same two teams on Tuesday night for Game Two of this three-game interleague series. CC Sabathia gets the ball against fellow southpaw Mike Minor.