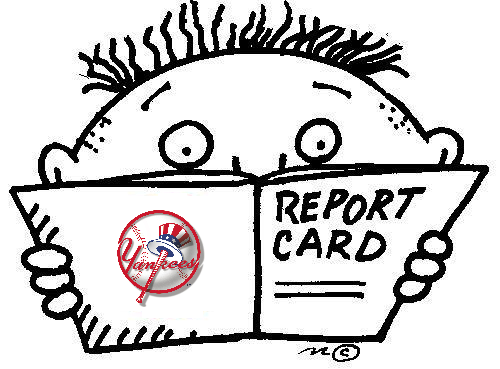 Greetings! When last we met, I was whining about the opulence and inaccessibility of [new] Yankee Stadium, and though it has pained me to be missing-in-action since January, I have been a bit busy with this and that. But enough about me! Let's get right down to it, shall we?
Amazingly, we have already reached the one-third mark of the 2012 season – it seems like just yesterday that Michael Pineda was being touted as an ace-in-waiting – and your New York Yankees (30-24) are just 1/2 game back of the AL East Division leading Baltimore Orioles and Tampa Bay Rays. Wait a second, it is June and the O's are in first place? Yup, that Showalter-remakes-franchise-gets-fired-and-team-wins-World-Series-in-subsequent-season plan is right on track!
Despite an uneven start to the '12 campaign, at best, things are certainly looking up of late for the Bombers, who are 7-3 over their last ten games. The Yankees are also an encouraging (and division-leading) +30 in run differential and their offense, though clearly not yet firing on all cylinders, has improved to 8th in Major League Baseball in runs scored (256), 4th in OBP (.338) and 3rd in SLG (.456). The Yankee pitching staff has also failed to meet expectations, but the degree of disappointment is markedly greater. New York pitching ranks 25th of 30 in batting average allowed and quality starts, 28th in home runs and total bases allowed and their team ERA (3.99) is good for just 16th in all of baseball.
All in all, things could be a lot worse for New York given the club's proclivity for ineptitude when hitting with runners in scoring position (.220, 27th-worst in the Majors). They have also sustained numerous injuries to key personnel, but simply put, when a franchise has as much depth and as many resources as do the Yankees, they need their best players – their most well-compensated, too – to produce with greater consistency.
And now, the grades:
THE BATS
MARK TEIXEIRA:
(.247 AVG | 9 HR | 32 RBI | .313 OBP | 25 SO | 1.000 FPCT)
When it comes to the 32-year-old Teixeira, the legacy of his Yankee tenure will always be colored by the 2009 World Championship. He remains a premier defender, a tireless worker and a clubhouse leader, but there is no denying that the progression, or lack thereof, of his offense is alarming, to say the least. Mark's OBP has declined steady since his 2009 Bronx-arrival, and this season he's getting on base almost 18% less often than he has during his career. Sure, he's striking out less (he's on pace for just 78 whiffs, which would be his lowest full season total ever), but he simply just doesn't take walks anymore. His .762 OPS is anemic. And when it comes to hitting away from the defensive shift deployed by every opposing manager, Teixeira is positively maddening in his approach. Yes, the Yankees can live with a 1B giving them league-average offensive production – and stellar glove-work; he hasn't made an error this season – but that is not what Teix was brought here for. He was brought here to be a run-producer and middle-of-the-order cog.
ROBINSON CANO:
(.290 AVG | 60 H | 8 HR | 24 RBI | 19 2B | .840 OPS )
Apparently Cano really likes him some month of May. The Yankee second baseman certainly flowered (.312, 7HR, 19 RBI, .970 OPS) after a lackluster April that had some wondering if he'd found a replacement for Melky Cabrera to join him in da club. Look, what can you really say about Robbie that isn't obvious to anyone who watches him with regularity? The man is a singular talent, capable of greatness in every fielding opportunity and during every at-bat. What remains lacking in his game, however, is that degree of absolute care and focus throughout all 9 innings. There are ABs that make you scratch your head – especially the situational ones, or ones where he bails a pitcher out – and call into question whether Cano's ceiling will ultimately be limited by what resides between his ears. Still, if you're biggest problem is being better than 99% of your contemporaries while seemingly exerting just 75% of your effort, I guess you're doing okay in life.
DEREK JETER:
(52 GS | .336 AVG | 75 H | 6 HR | 5 SB | 19 2B | .846 OPS)
"I'll have what he's having!" Admittedly, during the first half of last season, I thought Derek Jeter was done. I thought that the Yankees had foolishly negotiated against themselves during that acrimonious contract squabble and that both sides would regret the deal. I thought that to give a 96-year-old shortstop with diminishing skills a three year contract (with a player option for a fourth) was borderline insane and mostly unjustifiable from a baseball standpoint. Well, I guess I was wrong. Quite simply, the man is cyborg, living tissue over metal endoskeleton. He is on pace for 225 hits this season, which would set a new career-high, and though he doesn't get to as many balls at SS as he used to, you just feel secure knowing he's out there. Sure, there may still be some that are opposed to men wearing a Jeter jersey on account of all that matinee idol business, but whatever, I just ordered mine. In pink.
ALEX RODRIGUEZ:
(.279 AVG | 9 HR | 22 RBI | 6 SB, 0 CS | 46 SO | .806 OPS)
If I would have told you that ARod would hit .314 for a month and only tally 8 RBI over the same stretch, you would have told me that I was crazy, right? Well, that was the new Mr. May's recent production, and as we watch this once epic talent slide further and further into an abyss of mediocrity, I can't help but wonder if he might retire (2015?) before his ridiculous contract ends in order to save himself the embarrassment of lacing 'em up for a fan base that won't hesitate to let him know how overpaid he is. His OPS has been falling steadily for years, but nowadays there is but an occasional display of the ability that propelled him to GOAT-debate-status. And yes, I get that he's an above average defender and a student of the game who virtually always makes the right decisions on the field, but he's on pace for a career-high 144 SOs, and it won't be long before the "he has to cheat now to make up for lost bat speed" talks becomes pervasive. The Yankees don't need Alex to be what he was – lord knows they can absorb his meager salary-to-production ratio – but they do need him to be more than marginally better than average.
NICK SWISHER:
(.249 AVG | 8 HR | 34 RBI | .310 OBP | 16 BB | 42 SO)
Swisher has been close to a true-three-outcome player (HR, BB or SO) for most of his career, but this season has been an extremely odd one for the Yankee right fielder in that his ability or willingness to take a walk has seemingly evaporated overnight. On pace for just 48 bases-on-balls, Swish's OPS is suffering mightily as a result (.759 in 2012 versus .824 for his career). As a right-handed hitter, Nick has been positively dreadful, hitting just .191 over 47 ABs, which is surprising when you consider that he had produced a .288/.417/.888 triple slash rate from the right side from 2099-2011. This is the final year of Swisher's contract – the Yankees exercised their club option for $10.25M for 2012 – and it is anyone's guess whether he will be back next season, but he will be 32-years-old this November and surely will seek that last big money contract. The stats tell me that Swisher is not a top-50 Major League outfielder (at least thus far this season), but perhaps brighter days lie ahead.
CURTIS GRANDERSON:
(.259 AVG | 17 HR | 39 R | 33 RBI | .542 SLG | 62 SO)
There was a once a time when a great many baseball writers – some of whom are my colleagues here at RAB – said that the Yankees erred by acquiring Granderson. They said he couldn't hit lefty-pitching (he can, he's actually been better against lefties this year), they said he struck out too much (he does, but his power makes up for it) and they said he wasn't patient enough (he is, he's on pace for a career-best 90 walks). Seriously, has Yankee GM Brian Cashman made a better trade during his Bronx-tenure than the one he made for Granderson? In fact, where would the Yankees be without their reliable center fielder? They'd be trailing the Red Sox in the AL East cellar, that's where.
BRETT GARDNER:
(28 AB)

That damned Gardner! If only he would have taken better care of his elbow. (In fairness, I am unable to chose INC as part of this ultra-sophisticated grading system.) Okay, okay, so Brett has been injured all season, having played in just nine games and amassing just 28 at-bats. Word on the street is that he is close to returning to the club – he went 0-for-5 in an extended spring training game yesterday. The Yankee left fielder's return will be a welcome one for the Bombers, who never expected to have to rely so heavily on on their bench players to fill the void. One can only assume that Gardner's presence, particularly his disruptive presence on the base paths, will be beneficial to the lineup's ability to produce with RISP.
RAÚL IBAÑEZ:
(43 GP | .252 AVG | 9 HR | 33 RBI | .510 SLG | 1.000 FPCT)
Much like Jerry Seinfield once posited on salsa, I think people just like to say Ibañez. In fact, The Most Interesting Man in the World's first word was Ibañez (he was 4-minutes-old, true story). When the Yankees signed Ibañez, I really wondered what they were thinking given that the journeyman outfielder/DH would not be allowed to sport his trademark soul patch, which everyone knew had been the source of his power. Facial hair aside, he has been a revelation for New York, especially in light of Gardner's injury and the need for him to play virtually everyday. Originally brought in to platoon with Andruw Jones at the DH-slot, Ibañez has been one of the rare bright spots on a roster mostly devoid of big hits thus far this season, as evidenced by those 9 HR in 149 ABs.
RUSSELL MARTIN:
(.211 AVG | 5 HR | 16 RBI | 28:25 K:H | 22 SBA, 7 CS | 4 PB)
Meh.
THE STARTERS
C.C. SABATHIA:
(7-2 | 78.1 IP | 3.68 ERA | 1.24 WHIP | 74 K | .246 BAA)
Maybe it's just me, but I always feel like I am wanting more from Sabathia. Even when he's winning 20 games a season, you rarely get the sense that he is dominating out there. Yes, he's undoubtedly a top-20 starter in terms of production, and he always keeps the Yankees in games, even when he doesn't have his best stuff, but Sabathia largely mirrors the Yankees as a whole in that he dominates the teams he is supposed to, but is fairly inconsistent against top-notch opposition. From 2009 to 2011, Sabathia's ERA versus Boston (4.27), Texas (4.26) and DET (3.95) contrast unfavorably with his work against BAL (2.99), KC (2.38) and SEA (1.75). Look, no one wouldn't be happy to have the Big Fella leading their staff, but for what New York is paying him – and what he pulled with the opt-out – more is expected.
HIROKI KURODA:
(4-6 | 68.1 IP | 3.82 ERA | 1.35 WHIP | 41 K | 22 BB | .269 BAA)
Hiroki Kuroda can be a really good pitcher sometimes. Hiroki Kuroda can also be a really bad pitcher sometimes, too. And therein lies the problem. Over his last ten starts, he has held the opposition to 3 runs or less eight times, which is pretty remarkable for a guy who is pitching in the American League for the first time in his career. Then again, in those other two starts, he gave up 13 runs and looked fairly over-matched in the process. Kuroda can definitely win 15 games for the Yankees, and it is obvious watching him that he has a mastery over a veritable arsenal of weapons at his disposal. What we don't know is how a guy like Kuroda will fare during the playoffs – should the Yankees qualify for the postseason – since he has only three career postseason starts.
ANDY PETTITTE:
(3-2 | 2.78 ERA | 1.01 WHIP | .225 BAA | 7:32 BB:K)
I don't know if Pettitte "misremembered" how old he is, but oh, my! Not only is Andy pitching like he never took a year off, somehow, inexplicably, he is pitching better than he has at any point since his 2005 campaign in Houston when he put up a 2.39 ERA and 1.03 WHIP. Sure, he was snorting human growth hormone off Roger Clemens' butt cheeks back then, but still, this is unprecedented stuff from #46 right now. It is highly unlikely that Pettitte can maintain this degree of excellence all season, but even with a regression, his steady presence and veteran leadership cannot be diminished. It would be wise for Girardi to monitor Pettitte's innings so that the lefty remains healthy, but if Andy can keep mixing up his pitches as effectively as he has thus far, there is no reason why he cannot win more often that he loses as well as maintain solid peripherals along the way.
PHIL HUGHES:
(5-5 | 61.2 IP | 4.96 ERA | 1.35 WHIP | 57 K | .268 BAA)
Back when Hughes was rumored to be the centerpiece of a proposed deal with Twins in exchange for Johan Santana, I swore to anyone who would listen that I was prepared to renounce my loyalty to the franchise if the deal was consummated. Never in my lifetime had a [potential] homegrown-ace actually been on the cusp of promotion to the Majors – O Brien Taylor, Where Art Thou – and I was steadfast, having seen Hughes pitch in the minors, that he must be deemed untouchable. And when his 2007 no-hit bid against the Rangers at Arlington was broken up by a pulled hamstring, I felt vindicated by my feelings about the then can't miss prospect. But oh, how times have changed. While Phil has been better of late, he has given up 13 HRs already this season and he doesn't miss many bats when he has two strikes on hitters. Hughes will never be the guy I thought he was, but if he can keep the ball in the park, he has a decent chance to help fulfill to the Yankees' playoff aspirations.
IVAN NOVA:
(6-2 | 62.2 IP | 5.60 ERA | 1.58 WHIP | 79 H | 13 HR | .313 BAA)
What a weird season "Supernova" is having. On one hand, he's striking guys out with greater frequency than he did during his rookie season, but he also allowing an inordinate number of hits (many of them of the long-ball-variety), especially in crucial game situations. Sophomore slumps are one thing, and it certainly doesn't appear to be the stuff, but perhaps this is a case of early career success breeding complacency and a lack of focus. The Yankees rarely suffer fools for any length of time, so I wouldn't be surprised to see Nova sent down to AAA if he doesn't quickly show signs of improvement. The tools are there, the moxie is there, but unless something is going on off the field that we don't know about, there is simply no justification for his performance other than growing pains.
THE PEN
RAFAEL SORIANO:
(7 S | 1.89 ERA |1.89 WHIP)

When the Yankees Randy Levine signed Soriano to that outrageous contract to be a setup man, who woulda thunk we would later see the great Mariano Rivera sidelined by a wrecked knee and his protege, David Robertson, disabled by a sore ribcage? So now Soriano, previously a very accomplished closer in his own right, has been thrust back into the stopper role, and despite far too many walks per inning pitched, and he's done a fine job for the Bombers. It is fair to wonder why Soriano couldn't be this effective as a setup man, but in fairness to him, he did say all along that he was much more comfortable closing. Don't be surprised if Soriano parlays a solid 2012 closing gig into a new contract, too; hopefully with another club as D-Rob is Mo's organizational heir-apparent, anyway.
DAVID ROBERTSON:
(14.1 IP |2.51 ERA | 1.19 ERA| 24 K)
Anointed by Joe Girardi as Mariano's successor following the latter's season-ending injury, Robertson was enjoying a fine start to the 2012 season before being sidelined by a nagging injury of his own. There is no doubt that he can handle the closing role, but I would have preferred to see Soriano get first crack at the job, mostly because following in Rivera's footsteps is something of a can't-win proposition. D-Rob is expected back from the disabled list in just over a week, and the formidable Yankee bullpen will become that much more difficult for the opposition to contend with. One thing to keep an eye on: Robertson (sample size notwithstanding) had seemed to improve on keeping men from reaching base against him in the early going, which was really his only bugaboo in 2011.
THE REST:
The Yankees' bullpen-ERA is 2.78, 5th-best in the Majors. Sweet! Also, the law firm Logan, Wade, Phelps and Rapada, LLC has hired Moshe Mandel as a litigation associate, so there's that.
THE BENCH
ANDRUW JONES:
(.230 AVG | 5 HR in 73 ABs | 11 RBI)
Remember those California Raisin claymation commercials back in the eighties? Yeah, that's what I think of every time I see Andruw's permi-smile saunter to the plate, too.
THE REST:
Is it wrong of me to hope that ARod decides to go backpacking in Europe for a month or two so that Eric Chavez can play everyday? Yeah, his body probably wouldn't hold up, but whatever, man-crush or not, I just like watching him hit.
MANAGEMENT
JOE GIRARDI:
If we are to judge Joltin' Joe Girardio solely on the team's record, he'd probably be in danger of flunking given the team's payroll. But the standings don't tell the whole story, as Girardi has steered the ship through injury-plagued waters in spite of a lineup that has largely failed to play to the back of its collective baseball cards. With Joe, what you see is what you get: a mind-numbing reliance on the numbers and an uncanny feel for how to manage a bullpen. That Girardi seems to have taken a page out of Tom Coughlin's chill-the-f*ck-out book in recent years speaks volumes about his adaptability and his understanding of what a manager in this town must do to avoid being caught in the media's or the fans' cross-hairs. It's all about the pitching, stupid; we know this, but if the lineup does it part – and recent signs suggest they will – Girardi will once again lead the Pinstripes to the postseason, and his job will remain secure.
BRIAN CASHMAN:
In truth, C.R.E.A.M.'s off-season blueprint didn't go exactly according to plan, now did it? What with the loss of Mariano to KC's warning track lip, the loss of Joba Chamberlain to Tampa's finest tramps (the jumping kind, not the Daryl Strawberry late-night kind) and the aforementioned Pineda's wrecked pitching shoulder, most other GMs would have closed up shop already. Obviously Ibañez has been a coup, but the jury is still out on Kuroda and it is fair to question why Cashman did not pursue Carlos Beltran, who (again) wanted to be a Yankee in the off-season. Many have also lamented the incredible success of Melky Cabrera for the San Francisco Giants, but the Yankees had determined that they were committed to Gardner well before Melky was traded to Atlanta for Javier Vazquez 2.0.
This Yankee team has some legitimate questions – namely the depth of its starting pitching and outfield – so it will be interesting to see what Mr. Stealthmode himself pursues on the trade market as July rapidly approaches. One thing is for certain: never assume anything with Cashman. He has proven time and time again that he will not hesitate to make the moves that no one saw coming, and generally, he has hit more than he has missed.
Agree? Disagree? That's what the comments section is for. Have at it, Hosses and Hossettes!
***
Follow me, @BronXoo on Twitter, or else!