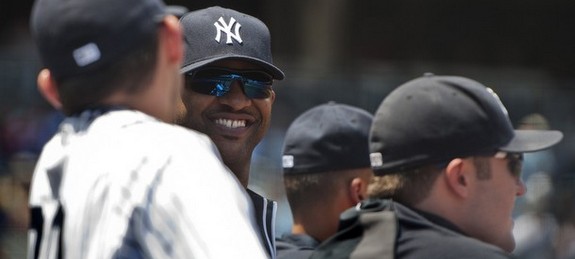 Two days ago we learned that Joba Chamberlain is expected to begin a minor league rehab assignment within two weeks. Here are some more injury updates courtesy of Chad Jennings and George King…
CC Sabathia (groin) played catch prior to last night's game and will throw a bullpen session — his first since going on the DL — on Friday. The team still expects him back right after next week's All-Star break.
Pedro Feliciano (shoulder) threw a bullpen session in front of the braintrust yesterday. He's currently throwing every three days but the plan is to bump him up to every other day at some point. Joe Girardi said there's a legitimate chance the southpaw will help the team this season, but I wouldn't count on it. Anything they get out of him is gravy.
Eduardo Nunez (thumb) is on the Triple-A disabled list and has just started taking batting practice. "He hopes to play in a couple of weeks or so," said Girardi.
David Aardsma (elbow) went for various test following his recent setback, but the results aren't available yet.