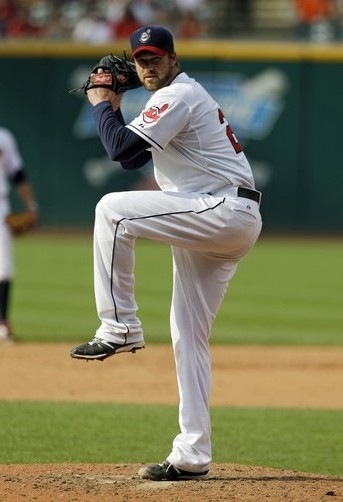 The Yankees have dealt with what seems like an inordinate number of injuries this season, the latest of which has taken CC Sabathia out of the rotation for 15 days for the second time this season. The team more than survived his first DL stint — in part because it was sandwiched around the All-Star break — and are hoping for more of the same the second time around. Treading water would be fine in my book.
Taking Sabathia's start tonight is David Phelps, who has emerged as a pretty important setup-type reliever since being recalled from Triple-A about three weeks ago. The recently signed Derek Lowe will join the bullpen and serve as the new long man. Phelps has made three spot starts this year and told reporters yesterday that he's good for 75-80 pitches tonight, but we'll see. The Rangers and their swings will tell us exactly when Phelps is running out of gas, and frankly I would be surprised if he makes it through five full innings against that lineup.
That's part of the reason why I wonder if the Yankees are better off running Lowe out there for the start while keeping their young right-hander in the bullpen for the time being. Both Sabathia and the team insist that he will return to the rotation after the minimum 15 days, meaning he's only going to miss two starts. Rather than having Phelps available as a potential two-inning setup arm during these next two weeks, the Yankees will have him as a four or maybe five inning starter* for two games. Given the recent struggles of Phil Hughes and Ivan Nova as well as Freddy Garcia's generally short leash, having a strong multi-inning reliever is an obvious boon.
Now obviously the problem here is that Lowe is terrible. He pitched to an 8.80 ERA (4.86 FIP) with more walks (27) than strikeouts (26) in his last dozen starts and 60.1 IP for the Indians, and I have a hard time thinking he'll be much better with the uniform change. Granted, an 8.80 ERA is quite extreme and he might not be that bad going forward, but I wouldn't expect much. Replacement level. That sounds about right, and you don't really want that guy in the rotation. The thing is that with two starts, anything can happen. We know he'll be bad over the long haul, but not necessarily in one or two individual games.
Given all the injuries, the Yankees don't have many alternatives to bolster their pitching staff in Sabathia's absence right now. It's either Phelps on a pitch count or Lowe, who they could run into the ground without a care in the world. Adam Warren did start for Triple-A Empire State yesterday, so he's definitely not an option. Are the Yankees better off using Phelps for his four or maybe five innings tonight and then again on Saturday while Lowe masquerades as the long man, or by running Lowe out there for the two starts while having Phelps available as needed in relief? I don't know the right answer, but I do think the Yankees are better off with the latter.
This isn't Joba Chamberlain all over again — that was a completely different animal. I wanted Joba to remain a starter long-term because I felt that's where he would provide the greatest impact. I do feel the same way about Phelps, but he's already in the bullpen and this is the middle of the season. The Yankees have what we really hope is a temporary, two-start hole to plug. If they needed a starter for the rest of the season, then by all means stick the kid in the rotation. But for two starts? I don't see the big deal, especially since he's turned into such an important part of the relief corps. Plus I dislike the constant changing of roles, though perhaps that is just a stigma from Joba.
Either way, the starting rotation is taking a big hit with the loss of Sabathia. I'm not sure that compounding the problem by weakening the bullpen is the best solution, especially given the general shakiness surrounding some of the other rotation spots at the moment. Lowe's almost certainly going to get pounded regardless of role, and there's a chance Phelps will as a starter as well given the quality of the competition* and his pitch limits. I'd rather just keep the kid in the bullpen and maximize his impact by using him in medium-to-high-leverage spots throughout the week rather than just once every five days with Sabathia on the shelf.
The goal at the big league level is to win games, and I think we sometimes forget that because we want our prospect crushes validated. Especially with a guy like Phelps, a non-top prospect who essentially comes in as an underdog. Those guys are easy to fall in love with. Replacing Phelps with Lowe in the bullpen is a clear downgrade, a big enough one that I don't think starting a limited Phelps over an unlimited Lowe makes it worth it for the Yankees. I think it could turn out to be a net negative in short order, especially if Hughes decides not complete five innings again or they get stuck in an extra-innings game at some point this week. The Yankees just have to rearrange some pitching furniture during Sabathia's absence, not rob Peter to pay Paul.
* After tonight's start against the Rangers, Phelps lines up to start against the Red Sox. So yeah, he's running into two great offenses with some kind of pitch limit. No ideal.