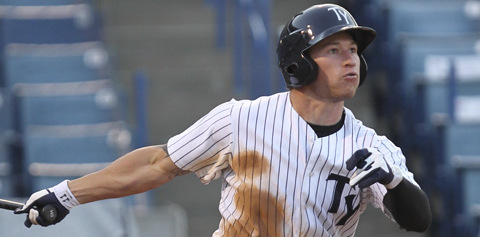 2009 first-rounder Slade Heathcott has had to overcome a lot of adversity throughout his life, both on and off the baseball field.  A knee injury in high school and multiple shoulder surgeries have set back Heathcott's on-field development, and may have robbed him of some of the explosiveness that made him such a tantalizing prospect in high school.  Then of course there are the personal issues, ranging from his unstable family life, his battle with alcoholism, and whatever it was that led him to start a brawl last year after being hit by a pitch.  Given everything he has faced, it would be easy to write Heathcott off as a bust, and assume that his injuries and personal life would prevent him from realizing his prodigious talents.
The second shoulder surgery had me fairly bearish on Heathcott coming into 2012.  I ranked him #12 in the system on my personal top prospects list prior to the season (around where my other Yankee Analysts colleagues had him), and Mike ranked him at #13.  It was kind of low for a prospect with Heathcott's talent and draft pedigree who had held his own, but given all the risks involved, he could have easily been lower.  Heathcott has fallen behind prospects such as Mason Williams and Tyler Austin in the organizational depth chart, and needed to come back strong this year to stay on the radar.
And come back strong he has.  After a short rehab stint in the GCL, Slade was aggressively bumped up to high-A Tampa, where he had only played one game previously.  In 41 games in Tampa, Heathcott has raked, batting .306/.387/.517, and flashing both power (five homers) and speed (13 steals).  He started out primarily playing DH (most likely to protect his shoulder), but has been eased into outfield duty.  If there is a silver lining to the unfortunate shoulder injury suffered by Mason Williams, it is that it will give Slade the opportunity to get more reps in center field than he otherwise would.  While the numbers have been tremendous, Heathcott has also impressed scouts (or at least one scout).  ESPN's Kiley McDaniel recently observed that Heathcott was flashing impressive power and speed, and that he still profiled as a center fielder in the future.
Despite everything that Heathcott has been through, he is not far off the normal development track.  He'll be 22 in September, and is at a fairly appropriate age for his current level.  Obviously all the injuries have caused Slade to miss significant playing time, but the fact that he is looking so good so soon after returning from injury is encouraging.  If he stays healthy the rest of the season and finishes strong (which would be somewhat ironic given all the injuries facing other Yankee prospects), Heathcott should move up the organizational list.  Top 10 seems like a virtual certainty, and top five is not as far-fetched as it may have seemed previously.  As of now I'd have him jumping Adam Warren, Dellin Betances, J.R. Murphy, Austin Romine and Dante Bichette Jr., and possibly Ravel Santana and Ramon Flores.  This would get Slade up to #6 in the system (behind Banuelos, Williams, Sanchez, Austin, and Campos).  Sustaining this level of production could also get Slade some looks for the back end of a minors-wide top 100 list, provided the scouting reports continue to be positive.
In a year where so much has gone wrong for the Yankees' farm system, Heathcott's successful return to the minors stands out as a major bright spot.  I will definitely be following to see if he can sustain this production (and health) through the rest of the season, but it is hard to not be impressed with what he has done so far.  Slade has re-established himself as a potential impact player, and is a nice addition to the Yankees' crop of position player talent that is moving up through the system.  With Slade, Mason Williams, and Ravel Santana, the Yankees have an exciting trio of toolsy center field prospects.  Assuming he finishes 2012 healthy, Heathcott could be the opening day center fielder in AA Trenton, which would put him just two steps away from the majors.  Considering all he has been through, it is remarkable that Heathcott has made it this far.  But if the season so far is any indicator, Slade is capable of even more.