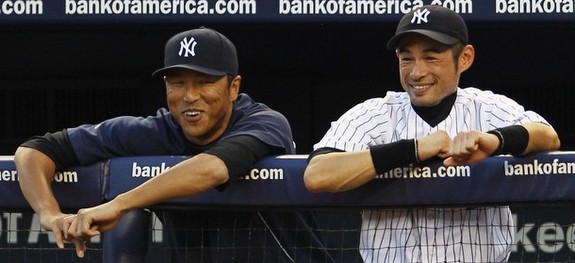 The Yankees got a nice if not unexpected pitching lift from David Phelps and Derek Lowe yesterday, and tonight they hand the ball to their de facto ace Hiroki Kuroda. With CC Sabathia on the shelf, Freddy Garcia a shell of his former self, and three kids in the rotation, Kuroda is the guy Joe Girardi & Co. are going to lean on for quality outings every five days. A win tonight guarantees at least a split with the other best team in the AL. Here's the starting nine..
DH Derek Jeter
RF Nick Swisher
1B Mark Teixeira
2B Robinson Cano
LF Andruw Jones
CF Curtis Granderson
3B Casey McGehee
C  Russell Martin
SS Jayson Nix
RHP Hiroki Kuroda
Tonight's game is scheduled to start a little after 7pm ET and can be seen on My9 locally and MLB Network nationally. Enjoy.