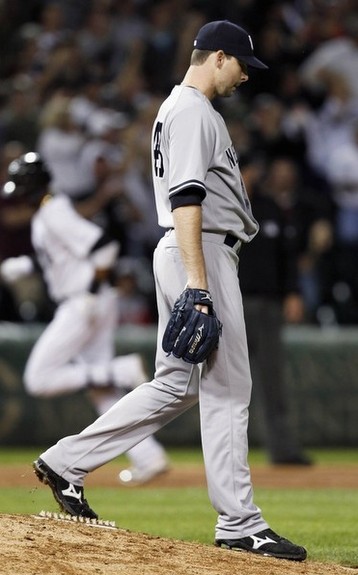 Deep and reliable bullpens have been a staple of the Joe Girardi era, as the Yankees started to shy away from multi-year contracts for free agent relievers and instead focused on building flexibility from within and off the scrap heap. Oh sure, there still is the occasional Rafael Soriano and Pedro Feliciano, but signings like that are no longer the norm. Unfortunately, an effective middle relief unit ahead of Soriano and David Robertson is no longer the norm these days either.
Joe Girardi had to run through five different relievers after Freddy Garcia was unable to complete five innings last night, and those five combined to allow four runs and eight baserunners in 3.2 innings. It was the second time in the last five games that the bullpen turned a winnable game into a multi-run loss, and during the month of the August the relief corps has pitched to a 4.28 ERA (3.53 FIP) in 48.1 innings. It's a 3.92 ERA (3.59 FIP) in 181.1 innings since the start of June, a not small sample. I honestly don't want to figure out what those numbers would be without Soriano, hands down the club's best reliever this year.
The bullpen problems all started with Mariano Rivera's injury in May and were compounded when Cory Wade completely imploded a few weeks later. It was obvious the Yankees needed a quality bullpen arm — not Chad Qualls, not Derek Lowe, someone they could actually use in high-leverage spots — when Robertson hit the DL along with Mo in May, but the club decided to hang tight for a while to see what developed internally. A lot of faith was placed in Joba Chamberlain coming off his two injuries and he hasn't rewarded that faith one bit since returning a few weeks ago. I've been saying it for months, they couldn't count on him until they actually saw what he looked like against big league hitters. Those were two very serious injuries.
Anyway, the the decision to avoid the reliever trade market has left the Yankees with two excellent late-game arms and a handful of misfit toy middle relievers. Boone Logan leads the league in games pitched and looks more and more gassed with each appearance, and lefty counterpart Clay Rapada is a specialist in the truest sense of the term. Cody Eppley is a right-handed specialist and in case you haven't noticed, he's been pretty bad for close to eight weeks now — nine runs and 29 baserunners in his last 21 appearances (16.1 innings). That's not the kind of middle relief help the Yankees have employed in recent years, not even close.
Of course, the real problem here is that we're beyond the point of no return. Swinging a trade this late in the season for a quality arm is damn near impossible, especially since the Yankees have the best record in the league and thus the lowest waiver priority. Anytime a decent reliever hits the waiver wire, count on the Orioles and/or Rays blocking him. I'll be the first time to admit that trading for relief help can be sketchy, but sometimes it's just flat out unavoidable. You have to take risks to contend and trading for relievers when you need bullpen help qualifies as a risk in my book.
The Triple-A bullpen is mostly barren, thanks in part due to injuries as well as a late-Spring Training trade that sent the club's best MLB-ready relief arm out west in exchange for a no-hit, meh-defense backup catcher. Wade has been okay since being demoted, nothing that would make you think his command issues have been corrected. Chase Whitley has legit big league potential, but he might not be ready yet. Justin Thomas, Ryota Igarashi, Manny Delcarmen … guys like that are cannon fodder, not viable middle relief aid. We're all excited about Mark Montgomery, but the fact that we're even talking about a kid with 17 career innings above Single-A as potential bullpen help is a sign of how little depth the Yankees have at the moment.
The good news is that help is on the way, at least in theory. CC Sabathia is expected to come off the DL on Friday, pushing David Phelps and his multi-inning ability back into the bullpen where he can soak up some of those middle innings. He would have been perfect for a game like last night's. Andy Pettitte's return is still weeks away, but if he makes it back it could mean another relief arm in the form of Phil Hughes, Freddy Garcia, or Ivan Nova. Feliciano is pitching in rehab games and David Aardsma is throwing bullpen sessions, but again counting on guys coming off major injuries is even riskier than trading for relievers. This group represents their only options at the moment, however.
"We know (struggles are) part of the game," said Logan after last night's game. "That's the way it works. We're still a good bullpen. It's funny how when someone struggles, we all struggle. It seems like we all struggle at the same time. Once we all start getting on a roll, we'll all get on a roll, and get back to where we need to be."
The Yankees have a very obvious weakness in their middle relief right now, moreso than at any point in the last three or four years. They have run into some bad injury luck, no doubt about it, but also made their own bed with the trade deadline inactivity and general over-reliance on Joba. Pretty much the only way to improve things right now is to hope the guys currently in the bullpen rediscover their previous forms, particularly Logan and Eppley. Getting Sabathia back and getting more length out of the starters in general will help limit the exposure of the middle relievers, but they can't be avoided forever.