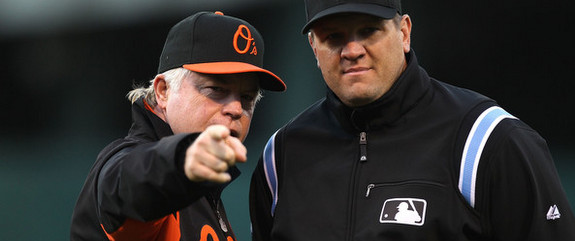 For the second time in the span of a week, the Yankees and Orioles will play their biggest series of the season against one another. Baltimore won two of three last weekend in Yankee Stadium and the season series is now knotted up at seven. For what it's worth, the Yankees have won four of five in Camden Yards this season, but all five of those games were played way back in April and May.
What Have They Done Lately?
After the series in the Bronx last weekend, the Orioles went up to Toronto and took two of three from the Blue Jays. The O's had won three straight prior to yesterday's loss and have won nine of their last twelve overall. At 76-60 with a -21 run differential, Baltimore is one game back of the Yankees for the AL East lead. So yeah, these four games are huge.
Offense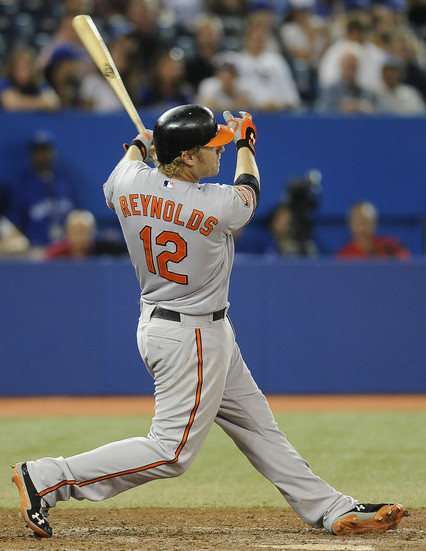 At 4.3 runs per game, the Orioles are an ever-so-slightly below league average offensive team. Their best player all season has been Adam Jones (126 wRC+), who leads the club with both 27 homers and 13 steals. Nick Markakis (126 wRC+) has really settled in as the leadoff hitter and Mark Reynolds (114 wRC+) has come on incredibly strong these last few weeks. You may remember his two two-homer games in the Bronx a week ago. Markakis isn't as much of a power threat as the other two, but you can make a pretty strong argument that he is their best all-around hitter.
The rest of the everyday crew is highlighted by catcher and defensive whiz Matt Wieters (98 wRC+). Nate McLouth (65 wRC+) still hits third and J.J. Hardy (73 wRC+) is just ahead of him in the two-hole, then way down in the nine-spot is top prospect Manny Machado (107 wRC+). The various platoon bats include Chris Davis (113 wRC+ vs. RHP), Omar Quintanilla (94 wRC+ vs. RHP), Lew Ford (113 wRC+ vs. LHP), and former Yankee Wilson Betemit (113 wRC+ vs. RHP). Robert Andino (59 wRC+), Taylor Teagarden (27 wRC+), and Ryan Flaherty (50 wRC+) have been bench guys all season while the lot of September call-ups includes third catcher Luis Exposito, infielder Steve Tolleson, and outfielder Xavier Avery.
Pitching Matchups
Thursday: RHP David Phelps vs. RHP Jason Hammel
Hammel, 30, will be activated off the DL in time for tonight's game after missing a little less than two months with a right knee injury. He made one five-inning rehab start last week and that's it, but prior to that he was Baltimore's best starter — 3.54 ERA (3.25 FIP) with career bests in the strikeout (8.73 K/9 and 23.1 K%), ground ball (53.6%), and homer (0.66 HR/9) departments. His walk rate (3.21 BB/9 and 8.5 BB%) is solid as well. Hammel reinvented himself as a low-to-mid-90s two-seamer/mid-80s slider pitcher following the offseason trade to the Orioles, though he'll still throw four-seamers at the same velocity as the two-seamer with some upper-70s curveballs and a handful of upper-80s changeups mixed in as well. He had one good (two runs in six innings) and one bad (five runs in five innings) start against New York prior earlier this season.
Friday: RHP Phil Hughes vs. LHP Wei-Yin Chen
The Yankees saw the 27-year-old Taiwanese southpaw just last week, when he held them to four runs in 6.2 innings after dominating the early innings. That was the one game the Bombers won in the series. Otherwise, Chen has been rock solid in his inaugural MLB season, pitching to a 3.79 ERA (4.21 FIP) in 163.2 innings. His peripherals — 7.37 K/9 (19.5 K%), 2.80 BB/9 (7.4 BB%), 38.1% grounders — are more solid than stellar, but there's nothing wrong with that at all. Chen, as you might remember from last week, is a low-90s four-seamer guy who mixes in a low-80s slider to lefties and a low-80s changeup to righties. The Yankees have seen him three times already this year, so the element of surprise should be gone by now.
Saturday: LHP CC Sabathia vs. LHP Joe Saunders
If you believe some of the things being written these days, the Orioles acquired Saunders for the sole purpose of combating the suck-against-lefties Yankees. The 31-year-old has had one good (6.1 scoreless innings) and one terrible (seven runs in 5.1 innings) start with Baltimore, and overall has pitched to a 4.26 ERA (4.11 FIP) in 141.2 innings this summer. Saunders current owns his best strikeout (6.04 K/9 and 15.6 K%) and walk (2.22 BB/9 and 5.7 BB%) rates since becoming a full-time starter, though his 42.9% ground ball rate is a career-low. He's a four-pitch guy, using a pair of upper-80s fastballs (two- and four-seamers) to setup his low-80s changeup and mid-80s slider. It's worth noting that Saunders has one of, if not the largest platoon split among all qualified starters — he's held same-side hitters to a measly .218 wOBA while righties have tagged him for a .358 wOBA. That .140-point difference is pretty much the difference between Robinson Cano and Chris Stewart, just for some perspective. It's massive, so the right-handers are going to have to step up in this one.
Sunday: LHP Zach Britton vs. RHP Freddy Garcia
It's pretty amazing that these two teams played three games last weekend and will play another four this weekend, yet Chen is the only starter the Yankees will see in both series. Britton, 24, came off the DL in mid-July and has been absolutely stellar after taking about four weeks to settle in. Across his last four starts (28.2 IP), he's allowed just three total runs on 21 hits and seven walks against 29 strikeouts. He wasn't a two-time Baseball America Top 100 Prospect by accident.
Anyway, Britton owns a deceivingly high 4.15 ERA (3.97 FIP) and is typically much more about ground balls (60.6%) than strikeouts (7.96 K/9 and 20.3 K%). His walk rate (3.98 BB/9 and 10.1 BB%) seems high given his recent performance, but he was never exactly a control machine in the past anyway. A bowling ball low-90s two-seamer is his bread-and-butter pitch, though Britton will also use a four-seamer at the same velocity and a low-80s slider to lefties. Righties will see the occasional mid-80s changeup. As good as Hammel and Chen have been this year, this is the game that I think will be the toughest for the Yankees. Britton can be really, really good.

Bullpen Status
Expanded rosters and some lengthy starts this week means manager Buck Showalter has an awful lot of fresh arms at his disposal. Closer Jim Johnson (3.36 FIP) and setup man Pedro Strop (3.28 FIP) have both had two consecutive days off, and given the enormity of this series, I would guess that will be available in all four games if needed. Right-handed specialist Darren O'Day (2.91 FIP) has had three days off and he's another guy we could see four times this weekend if push comes to shove.
Showalter's three left-handed relievers are Zach Phillips (13.31 FIP in very limited time), scuffling former top prospect Brian Matusz (5.03 FIP), and veteran hanger-on Randy Wolf (5.03 FIP). Other bullpen regulars include former Yankee Luis Ayala (3.90 FIP) and Kevin Gregg (4.70 FIP) while the other two September call-ups are former starter Tommy Hunter (6.17 FIP) and Steve Johnson (3.61 FIP in limited time). Ayala, Matusz, and Hunter all made brief appearances yesterday, so like I said, lots of fresh arms for Showalter coming into the series.
Joe Girardi used his top three relievers to nail down yesterday's win, including David Robertson for four outs. Neither he nor Boone Logan and Rafael Doriano threw a ton of pitches, so all three will be available again tonight. Check out our Bullpen Workload page for exact recent reliever usage, then check out my personal favorite Orioles blog Camden Crazies.