For at least one game, all was right in Yankeeland. The Bombers battled in their 6-4 win over the Rays, salvaging a three-game series that had gone nothing but wrong up until Wednesday night.

No RISPFAIL
Man, it looked like we were in for another one of those games in the first inning. Derek Jeter led off the game with a single, but he didn't advance any further after Nick Swisher struck out and Robinson Cano bounced into a double play. That's happened far too often in recent weeks. Matt Moore settled down and retired eight straight until Jeter led off the third with another single, a charitable piece of scoring as Elliot Johnson dropped a pop-up in shallow center. Obviously wasn't a routine play for the second baseman, but it hit him right in the glove.
Anyway, as we all waited for the RISPFAIL to set in, something weird happened: the Yankees scored some runs. Plural. Swisher followed Jeter with a fly ball to right but Cano put men on first and second with a walk. It was a good time for Alex Rodriguez to deliver his hardest-hit ball since coming off the DL, a line drive double to left. That scored Jeter and put men at second and third for Russell Martin. Martin plated both with a ground rule double to the right field corner, a play made possible by a sketchy route taken by Matt Joyce. After weeks worth of blown opportunities, the 3-1 lead after three and a half innings felt like a minor miracle.
M-M-My Kuroda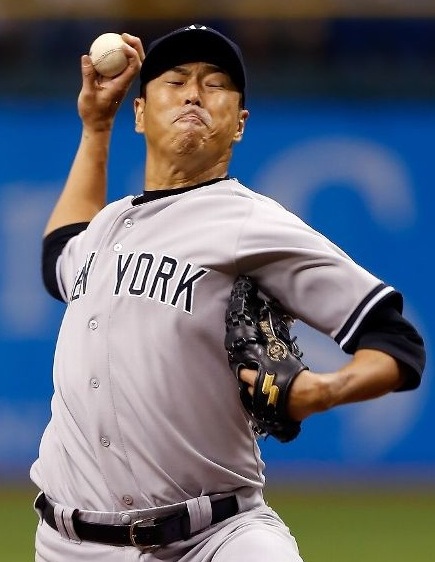 One of the most deflating things for a team struggling through a losing stretch is blown leads, and Hiroki Kuroda chipped in a pair of those on Wednesday. The 3-1 lead lasted just one full inning while a 4-3 lead hung around for two whole batters. The two-run fifth was much worse, mostly because Kuroda got two quick outs and had the punchless Sam Fuld down 0-2 in the count. Instead of putting him away, Hiroki walked him and proceeded to blow the lead on a Desmond Jennings single and Ben Zobrist triple. Zobrist was down to two strikes as well, and Kuroda appeared to be focused too much on the baserunner on first. It was a real bad mistake pitch, a fastball right on a tee.
Other than that, Kuroda allowed a first inning run on an Evan Longoria single and a sixth inning run on a Luke Scott solo homer after Martin gave his team another lead with a solo homer. Eight hits and two walks in six innings is the definition of a laborious start, which is pretty much all the Yankees seem to get from their staff these days. Considering that the Rays had the leadoff men on-base in five of his six innings and left runners on in four of the six, I suppose it coulda been a whole lot worse.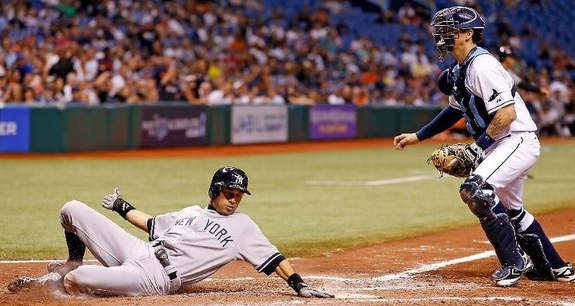 Small Ball
Hitting coach Kevin Long said the Yankees would employ a little more small ball to escape this rut following Tuesday's loss, something Joe Girardi refuted before this game. When push came to shove though, the Yankees went to the bunt. Andruw Jones and Steve Pearce led the seventh off with first-pitch singles, then Jayson Nix bunted them into scoring position. With the infield in and former Yankee Kyle Farnsworth on the bump, Jeter grounded a routine ball to Johnson at second, who came home for the non-force out. Unfortunately for Tampa, it was wide left and not only did pinch-runner Ichiro Suzuki score from third, but Pearce chugged around to score from second as well.
When I said the Yankees needed to pick their spots with the bunts on Wednesday afternoon, this was exactly the kind of situation I was talking about. Close (or in this case, tied) game in the later innings, bottom of the order due up. This one worked even better because the runner on second was pushed over to third with less than two outs. Ichiro was dead to rights at home if Johnson's throw was on-line, so the Yankees did benefit from the error in a huge way. That said, they forced the Rays to make the perfect play and they couldn't execute it. For at least one night, small ball reigned supreme.
Late-Inning Relief
The Yankees only have three reliable relievers in their bullpen — two and a half really, since Boone Logan is a specialist — and all three combined to nail down the much-needed win. Logan didn't allow any contact, striking out two and walking one while facing just the three hitters in the seventh. David Robertson came out of the bullpen for the four-out hold, escaping the seventh with a big assist from a nice running grab by Jeter in shallow left. If that thing blooped in — there were runners on first and second — I would have been quite annoyed.
Robertson, who threw just one curveball out of 18 pitches, followed up with a perfect eighth before handing the ball off to former Rays closer Rafael Soriano for a perfect ninth. Soriano really tested the limits of Tropicana Field with the 27th out, a Jennings fly ball right to the wall in dead center. That ball is probably out in the Bronx considering how much better the ball carries outside than it does in the air-conditioned dome. Anyway, the three reliable relievers did a solid job protecting what felt like the most important lead of the season.
Leftovers
Jeter had a huge game and really carried his club to the win. He had three hits, stole third, and was involved in both multi-run rallies, plus he made the nice defensive play to end the seventh. The three knocks give him an MLB-best 182 hits for the season, the most by a 38-year-old shortstop in baseball history. He still has 26 games left to go, so 200 hits seems like a foregone conclusion at this point. It's worth noting that Jeter tweaked his ankle on Tuesday and aggravated it a bit on the play in the seventh, but it's nothing that will keep him out of the lineup according to Girardi.
Martin was the only other player with multiple hits, and both of his went for extra bases. He's managed to get his average (temporarily) above the Mendoza line at .202. Both Swisher and Curtis Granderson went 0-4 with two strikeouts while Nix went 0-for-3 with three whiffs and the sacrifice bunt. As a team, the Yankees struck out a season-high tying 15 times. They did that one other time, in the final game of the three-game sweep by the White Sox in Chicago two weeks ago. The Chris Sale game.
Annoying but true fact: the Rays had at least one inning in all three games in which they scored a run after having two outs and no baserunners in the inning. The Yankees have really struggled to finish off innings at times. With play like that, it's not much of a surprise that they won just two of nine games at Tropicana Field this season.
This certainly wasn't a game for Elliot Johnson's career highlight reel. He botched a safety squeeze attempt in the second, dropped the pop-up to start the fourth inning rally, and threw away the ball on what proved to be the game-winning rally in the seventh. It was downright Nunezian, if I do say so myself.
Box Score, WPA Graph & Standings
MLB.com has the box score and video highlights while ESPN has the updated standings. The Orioles actually lost to the Blue Jays, so the Yankees have reclaimed sole possession of first place one night after relinquishing it. The Rays are three back in the loss column and the magic number sits at 26 with exactly that many games left to play. Hooray for controlling your own destiny.

Source: FanGraphs
Up Next
The Yankees haven't won consecutive games since taking three straight from the Rangers a few weeks ago (remember that? feels like a lifetime ago, doesn't it?), but they'll try to get off that schneid when they arrive in Baltimore for the latest biggest series of the season on Thursday. It'll be the second important September series these two teams have played a) in a week, and b) in the last 15 years. Craziness. David Phelps will oppose Jason Hammel — who is coming off the DL to make the start — in the evening opener.