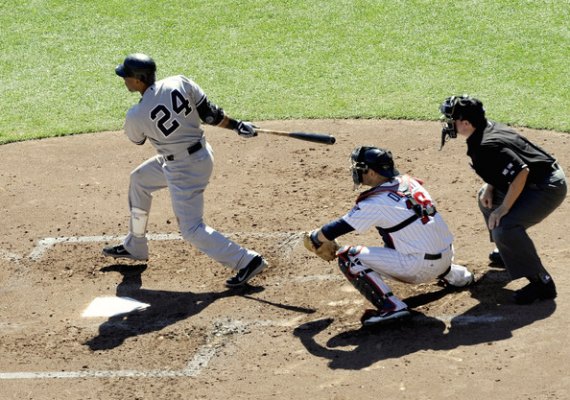 The last two days are just what Robinson Cano has needed. For months he'd seen his numbers steadily fall from his peak of .321/.382/.587 on July 16th. After going 0 for 4 on Monday Cano's numbers had declined to .293/.362/.519 — good by any measure, great when compared to other second basemen*. Those numbers even compare favorably to Cano's 2010 season. But after a torrid couple of months, we'd come to expect a bit more out of Cano.
*The average AL 2B hits .249/.310/.372.
Since that peak period in mid-July, Cano has hit .264/.345/.436 in 281 PA. That's more than a third of the season, though those are just arbitrary end points. He has had some super productive stretches inside that 281 PA sample; from July 31 through August 16, for instance, he hit .321/.429/.547 in 63 PA. He also started off September not so horribly, hitting .275/.383/.550 from the first through the 12th. But that means he also had some pretty poor stretches in that period.
Yet even in those unproductive periods he has managed to keep his overall numbers in decent shape. For instance, from August 17th through the 31st he hit .245/.327/.469. During that stretch he walked six times (one intentional), good for an 11 percent walk rate. From the 13th through the 24th he was particularly bad, going 8 for 45 with just two extra base hits, but he again walked six times, good for an 11.75 percent walk rate. Even when he's played poorly this year, Cano has remained somewhat productive for doing what he's failed to do for most of his career: work a walk.
After a hot start in 2011 — .320/.340/.630 through May 1 — Cano slowed down considerably. In his next 143 PA he hit .237/.294/.405, walking just six times in that span. In September 2010, when he had a shot to steal the MVP with Josh Hamilton on the shelf, he hit .262/.304/.346 in 115 PA. That was just a 5 percent walk rate. Combined with the complete lack of power, it led to a considerable drop in his numbers and his removal from serious consideration for MVP. We needn't even explore his pre-2010 career to find slumps where he not only hit for a low average, but also didn't walk. Before 2010 Cano hardly walked at all: a mere 4.2 percent rate through 3036 PA.
One of Cano's biggest changes in 2010 was his walk rate, which jumped to 8.2 percent. Of course, with his new spot in the middle of the order he was also intentionally walked far more often. That year pitchers passed on him 14 times; his previous career high was five, in 2007. Still, he did see his unintentional walk rate rise from 4.2 percent in 2009 to 6.2 percent in 2010. But in 2011 that dropped all the way to 4 percent. This year, while he's been intentionally walked 10 times, he still has a 7.5 percent unintentional walk rate. It has helped keep him reasonably productive even when he's not hitting for average or power.
For the first five years of his career, Cano was a guy who could hit with the best of them, but whose slumps hurt the team for stretches. When he slumped he did nothing productive; he didn't hit for average or power, and he didn't get on base. Even in 2010 and 2011 he still had trouble with taking passes amid slumps. Perhaps now, as he approaches age 30, Cano's game has matured a bit. Even when he has slumped this year he's managed to take walks and keep his numbers out of the gutter amid slumps. It doesn't completely make up for the disappointment in his declining numbers since mid-July, but it's certainly something positive he contributed amid that decline.