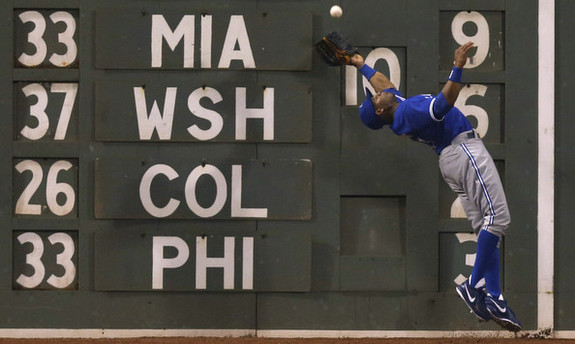 The Yankees and Blue Jays have already played four series in the second half, which includes nine of New York's last 43 games. They'll close out the season series with four games up in Toronto, which tends to be a house of horrors. The Yankees swept the Jays in the Bronx a week ago and lead the season series 9-5.
What Have They Done Lately?
The Blue Jays did the Yankees a favor by taking two of four from the Orioles this week, but they got their brains beat in yesterday. They've won just two of six since getting swept in the Bronx last week. Overall, the Jays are just 68-87 and stuck in last place in the AL East.
Offense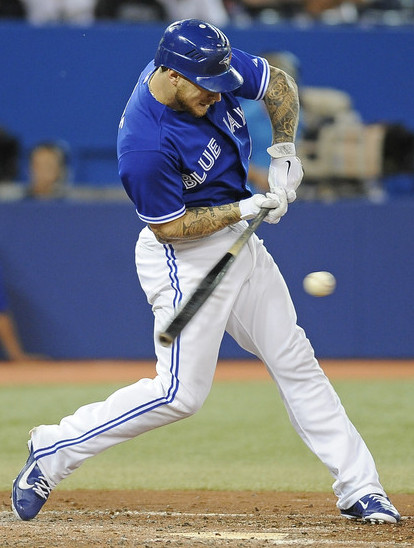 Injuries have taken a toll on the offense, so the 4.4 runs per game average doesn't really tell the whole story. The Blue Jays lost Jose Bautista (140 wRC+) to a wrist injury weeks ago, but they still have 42-homer man Edwin Encarnacion (155 wRC+). He was having some foot problems the last time these two clubs played, but he's 100% now. That's unfortunate.
The rest of the regular lineup is headlined by Brett Lawrie (92 wRC+), Moises Sierra (91 wRC+ in limited time), J.P. Arencibia (91 wRC+), and Adam Lind (91 wRC+). They're the only other guys within ten percentage points of league average. Kelly Johnson (87 wRC+), Rajai Davis (86 wRC+), Colby Rasmus (84 wRC+), and Yunel Escobar (76 wRC+) are a bit below that. Anthony Gose (75 wRC+) has been disappointing overall, but he's performed much better in September than he did in August. The rest of the position player crops features Jeff Mathis (69 wRC+), Omar Vizquel (46 wRC+), and a bunch of September call-ups: infielder Adeiny Hechavarria and utility men Yan Gomes and Mike McCoy.
Pitching Matchups
Thursday: RHP Ivan Nova vs. RHP Brandon Morrow
This was supposed to be a breakout year for the 28-year-old Morrow, who instead wound up missing more than two months with an oblique injury. He's pitched to a 3.28 ERA (3.82 FIP) in his 19 starts though, so perhaps he was on his way to that breakout. The good news for Morrow is that his walk rate (2.87 BB/9 and 7.8 BB%) is a career-low, but so is his strikeout rate (7.71 K/9 and 21.0 K%). This is a guy that came into the season with a career strikeout rate north of ten per nine. The stuff is the same as always, a mid-90s four-seamer and a vicious upper-80s slider that is allergic to bats. He'll also mix in a mid-80s splitter and a low-80s curveball. Morrow has decent career numbers against the Yankees but he's always had this weird home/road thing going on against them. He dominates the Bombers in Toronto (1.26 ERA in 35.2 innings) but gets hammered in the Bronx (7.62 ERA in 28.1 innings). Unfortunately the Yankees are north of the border this week.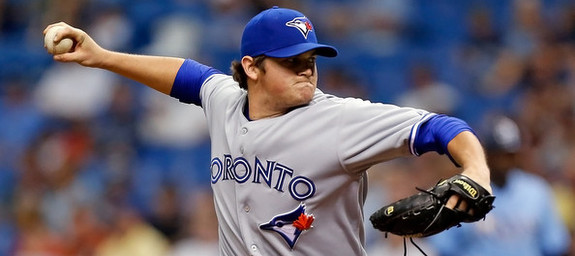 Friday: RHP Hiroki Kuroda vs. RHP Chad Jenkins
Jenkins, 24, recently moved into the rotation after coming up as a reliever at midseason. He'd started throughout his minor league career so it wasn't anything new to him, and he held the Rays to one run in five innings while on a pitch count last time out. The right-hander owns a 4.24 ERA (5.34 FIP) in 23.1 innings this year, but again most of that came in relief. His peripherals stats — 4.63 K/9 (12.0 K%), 2.70 BB/9 (7.0 BB%), 1.54 HR/9, and 39.7% grounders — leave an awful lot to be deserved. Jenkins is a four-pitch pitcher, though he didn't use his low-80s changeup all that much coming out of the bullpen. Low-90s two- and four-seamers set up his low-to-mid-80s slider. He threw a 1-2-3inning against the Yankees a few weeks ago, his second career appearance in the show.
Saturday: LHP Andy Pettitte vs. LHP Ricky Romero
This is will be the final start of Romero's nightmare season, one that features a 5.76 ERA (5.19 FIP). The 27-year-old southpaw has set a new career-worst in every meaningful category, including strikeout (6.12 K/9 and 14.9 K%), walk (5.21 BB/9 and 12.7 BB%), and ground ball (53.7%) rates. The stuff is still the same — low-90s two- and four-seamers, low-80s changeup, upper-70s curveball — but his location has just been brutal. Romero's been missing his spots and getting hit very, very. hard. The Yankees have faced the struggling left-hander four times this season, but the only time they really laid into him was back in July (six runs in six innings). In his last three starts against New York, Romero has allowed just six total runs in 20 innings.
Sunday: RHP Phil Hughes vs. LHP Aaron Laffey
Laffey, a former Yankee, has shuffled between the rotation and bullpen this year as injuries have decimated the pitching staff. The 27-year-old southpaw has pitched to a 4.52 ERA (5.56 FIP) in 95.2 total innings, relying on ground balls (49.4%) more than anything else. His strikeout (4.52 K/9 and 11.8 K%) and walk (3.48 BB/9 and 9.1 BB%) rates aren't anything special. Laffey is a classic finesse lefty, sitting in the mid-80s with his four-seamer, cutter, and sinker. Low-80s sliders and changeups are his offspeed weapons of choice. The Yankees scored five runs off Laffey in three innings a week ago, and have hit him around a number of times this year in general.
There's a decent chance that Henderson Alvarez will step in and start one of these games. He and Romero each started one end of a doubleheader earlier this week, so something has to give. Alvarez could start Saturday and push Romero back to Sunday, or he could start Sunday (pushing Laffey out of the series in both instances). Or he could not pitch at all. It's unclear at the moment.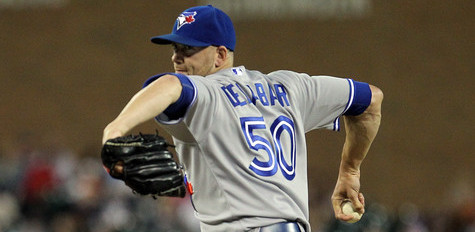 Bullpen Status
The recent doubleheader taxed manager John Farrell's bullpen a bit, but yesterday's blowout allowed some September call-ups to eat some innings while the core late-game relievers rested. Closer Casey Janssen (3.22 FIP) is setup by righty Brandon Lyon (3.01 FIP) and lefty Darren Oliver (2.85 FIP), plus the hard-throwing Steve Delabar (4.14 FIP) has thrown very well since being acquired from the Mariners at the trade deadline. Side-winding southpaw Aaron Loup (1.89 FIP) has pitched his way into a prominent role as well.
Jason Frasor (3.73 FIP) and Brad Lincoln (4.16 FIP) are the big names among the rest of the relievers, a group that is largely populated by call-ups. Farrell has five extra righties (David Carpenter, Joel Carreno, Chad Beck, Shawn Hill, Bobby Korecky) and one extra lefty (Brett Cecil) at his disposal. The Yankees have a relatively fresh bullpen thanks to CC Sabathia's eight innings yesterday, but make sure you check out our Bullpen Workload page for the exact details. For the latest and greatest on the Blue Jays, Drunk Jays Fans and Tao of Stieb are the places to go.