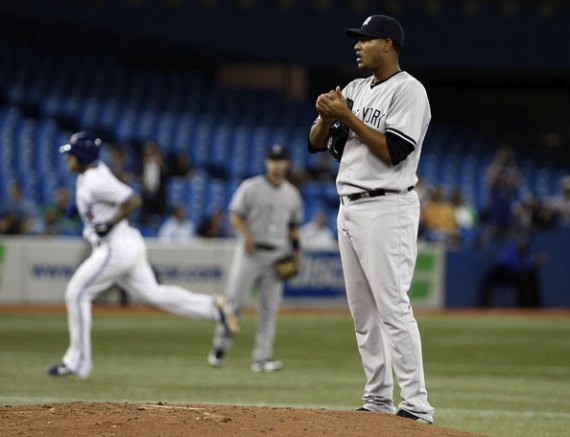 Hopes ran high for Ivan Nova entering this season. After an up-and-down first half, which ended with his demotion to AAA, Nova came back looking more impressive than ever. In 11 starts he threw 73.2 innings and held opponents to a .242/.297/.364 line, which amounted to a 3.18 ERA. He still wasn't striking out many batters, but he compensated with a low walk rate (2.4 per nine) and home run rate (just four). Given the Yankees' pitching woes heading into the offseason, his breakout was greatly appreciated.
Yet 2012 proved to be a rough sophomore ride for Nova. He got smacked around at times in the first half, though he did end the first half with a sub-4.00 ERA. Since then, however, he has mixed good starts with absolutely horrid ones. THe horrible ones have dragged his numbers in the wrong direction; his ERA now sits above 5.00, and he has essentially no chance to make the postseason rotation, should the Yankees advance. So what happened to young Nova?
In at least one way he improved in 2012. His strikeout rate jumped from 5.4 per nine in his first 207 innings to a hair over 8 per nine this year. At the same time he has kept his walk rate at a reasonable level, 3 per nine, which is right around his career rate. But at the same time that batters are whiffing more often, they're also making solid contact more often. Opposing hitters have managed an 860 OPS against him this year, which, as our own Larry Koestler points out, is by far the worst in the the majors (among qualified starters).
The main culprit, as you might imagine, is Nova's home run rate. At nearly 1.5 per nine innings, he has more than doubled his rate from last season. He has also allowed doubles and triples at rates greater than most of his peers. His 52 doubles allowed ranks second in the majors, and his seven triples allowed puts him in a five-way tie for first place. Among his triples-allowing mates is a name that proves interesting when discussing Nova's 2012 season: James Shields.
We turn to another RAB correspondent, Moshe Mandel, for the skinny on Shields and Nova:
Two starters in history have had a season over 80 IP where K/9 >8, BB/9 < 3, but OPS+ Against > 125: Shields in 2010, Nova in 2012. Odd year

— Bloggie McBlogger (@yagottagotomo) September 28, 2012
For those who don't speak Twitter, it means that only two pitchers in history have struck out so many and walked so few while still getting battered by opposing hitters. The Yankees can only hope that Nova continues to parallel Shields's career path.
The biggest difference is that Sheilds's 2010 was his age-28 season, and he already had nearly 800 innings in the books. By that point he had established himself as more of a finesse guy, striking out just a hair over 7 per nine but walking under 2 per nine from 2007 through 2009. But in 2010 his strikeout rate jumped to 8.3 per nine. His walk rate rose a bit, but his biggest problem was with the home run ball. He'd struggled with it slightly earlier in his career, but in 2010 he allowed 1.5 home runs per nine — almost exactly Nova's rate.
So not only do Nova and Shields share one of the odder pitching seasons in baseball history, but they also showed similar changes in that year. Both saw an unusual increase in strikeout rates to go along with a slight rise in walk rate and noteworthy jump in home run rate. Unsurprisingly, Shields also had the highest OPS among AL starters in 2010.
In 2011 Shields bounced back, leading the league in complete games and finishing with a sub-3.00 ERA. He hasn't had quite that level of success this year, though a 3.62 ERA is still fine for a mid-rotation starter. It also lines up with his peripherals from 2011. That's encouraging for the Yankees and Nova. Can he make the same kind of bounce back in his third full big-league season?
Obviously we can't determine any of that from where we sit. The numbers might line up, but clearly not everyone follows the same career path. Who knows what adjustments Shields made following his rough 2010 season. But there has to be some optimism for Nova. Again, his added ability to strike out hitters certainly bodes well for his future. He is also entering his prime years now — 2013 will be his age-26 season. To count on him, then, is a bit much. But to hold out hope is reasonable enough.
Nova does have one more start scheduled in 2012, and it could rank among the most important of his career. No matter how he pitches he's likely done for 2012, unless the Yankees decide to carry him in their postseason bullpen. But it would be nice to end the season on a high note, after a tumultuous second half. There could be brighter days in 2013. Given the near-uniqueness of his 2012 season, it's hard to see things going any worse for him.