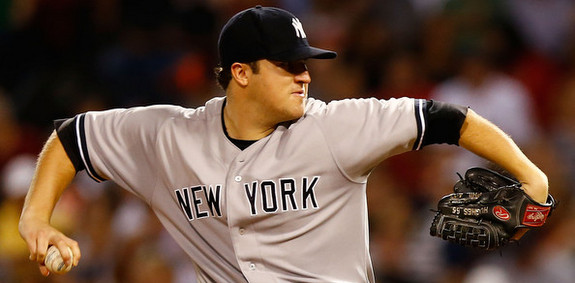 When Phil Hughes throws his first pitch tonight, he'll set all sorts of new career-highs. In fact, pretty much everything he does from here on out will represent some kind of new personal best. Phil has already set career-highs in starts (30), innings (180), batters faced (764), pitches thrown (3,027), strikeouts (157), and yes, homers allowed (34) this year. The various WAR metrics ding him hard for the homers, but I still feel comfortable saying this season is better than his 2010 campaign.
With all of these new career-highs comes a lot of uncertainty. If Hughes manages to throw at least six innings in each of his final two regular seasons starts — something he's been able to do in five of his last seven outings — he'll have thrown as many innings this season as he did in the 2010 regular season and postseason combined. The workload has started to manifest itself in Phil's fastball velocity, which has gradually declined from 93-95 earlier in the year to 91-93 nowadays…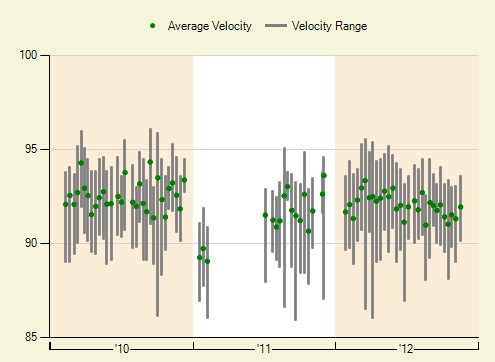 Fastball velocity isn't everything, far from it, but it sure is a nice thing to have in your back pocket. You're more likely to get away with mistakes throwing mid-90s than you are low-90s. Hughes still isn't walking anyone (2.15 BB/9 and 5.6 BB%), so he hasn't shield away from the strike zone as the season has progressed. In fact, his pitches per batter faced has dropped from the 4.0-4.2 range in April and May to around 3.9 in August and September. Not a huge drop, but it actually runs counter to what I expected. It feels like he's needed more pitches per batter lately, not fewer.
Hughes is one of only two starters to remain in the rotation all season, and the Yankees haven't babied him at all. Sure, they have given him an extra day of rest here and there just like they have everyone else, but he hasn't had a start skipped or anything like that. Hughes isn't a kid anymore at age 26, but it's still fair to wonder how well he'll hold up now that he has more single-season mileage on his arm than ever before. Tonight's start is important not just in the standings, but also as a sort of check-up on Phil and how he's throwing the ball this late in the season.