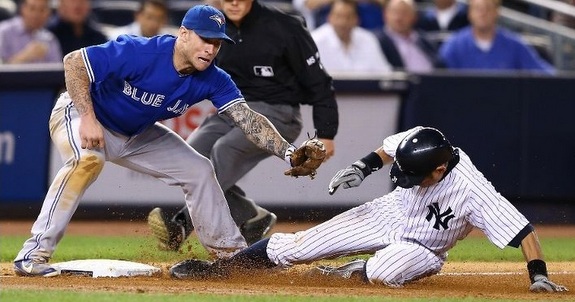 After going nearly a month without consecutive wins, the Yankees won two games in the span of about nine hours yesterday. They've also won four straight, six of seven, and nine of 13. If the Mariners had been something other than pitiful these last two nights, the division lead would be two or three games instead of just one. But hey, I'll take the one-game lead. Better than being one back.
1. I don't want to make too much of one game (one day, really), but man it would be such a huge lift if Ichiro Suzuki got hot and became a more consistent offensive threat these next few weeks. No one is asking him to go 4-for-4 with four steals every game — he's more than welcome to do that, if he wants — but something more than the three or four hits a week he was providing would be nice. Prior to yesterday Ichiro had only been 6-for-9 in stolen base attempts with New York, so adding some more speed to the offense would be appreciated as well. He was awesome on Wednesday and I hope he builds on it going forward.
2. Ichiro started against the left-handed Ricky Romero last night because it appears that Joe Girardi has finally run out of patience with Andruw Jones. He's been dreadful in the second half (.137/.250/.225 in 120 plate appearances), and that sure looked like his last pinch-hitting hurrah in Game One. When Girardi needed a right-hander off the bench with the go-ahead run on third and the left-handed Aaron Loup on the mound in Game Two, he went to Steve Pearce. If he's not hitting, especially against lefties, there won't be any reason to carry Andruw on the postseason roster should the Yankees qualify.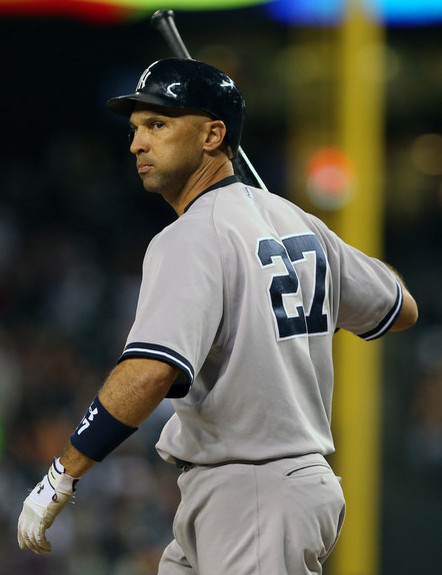 3. Speaking of not making the potential postseason roster, what about Raul Ibanez? He's only been slightly less useless than Jones since the All-Star break, putting up a .190/.287/.356 line in 143 plate appearances. Remember when Hideki Matsui fell into a slump and every single at-bat was a weak ground ball to second? That's Ibanez now, everything is weakly hit to the right side. He could just be worn down from playing the field so much earlier in the year or he could just be completely done, but at some point soon the Yankees will have to pull the plug on the other half of their preseason DH platoon. There isn't much season left and neither guy is getting it done.
4. It goes without saying that the biggest positive development from yesterday was Andy Pettitte. He wasn't sharp, but he still managed to throw five shutout innings against a bad offense after spending the last twelve weeks or so recovering from a leg fracture. Pettitte will need every bit of his final two regular season starts to a) build his pitch count back up over 100, and b) shake the rust off, but it was definitely encouraging to see him come out and pitch well in his first start off the DL. With all due respect to David Phelps, who pitched well in the spot start last night as well as last time out against the Red Sox, getting Andy back in the rotation is huge. Tack on Ivan Nova replacing Freddy Garcia, and suddenly the starting staff looks a lot more formidable.
5. Thanks to Rafael Soriano's two-save effort yesterday, the Yankees are up to 50 total saves as a team this year. Soriano has 42, Mariano Rivera had five before he got hurt, and the trio of David Robertson, Boone Logan, and Derek Lowe have one each. It's only the second time since 2005 that the Yankees have had more than 50 team saves in a single season, joining the 2009 squad (51). Obviously that means they'll go on to win the World Series this year. Okay … in all seriousness, it's a function of all the close games they've been playing. One hundred and fifteen of their 148 games have been decided by fewer than five runs, a whopping 77.7%. Last year it was 71%, the year before 68%, and the year before that 69%. Soriano has saved each of the team's last six wins and ten of their last 12. He's been absolutely huge for the Yankees this year, and yesterday's performance was probably the highlight of his season to date.