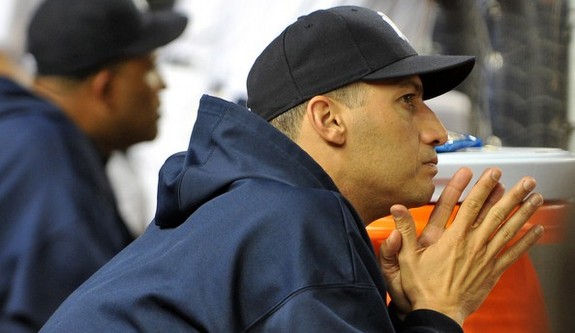 It's not often that we get two consecutive days without Yankees baseball outside of the offseason and the All-Star break, but it's always nice to step back and recharge the batteries a bit. I'd much rather have baseball that not, but I guess I've learned to appreciate the off-days more as I've gotten older. I dunno, whatever.
1. Am I the only one who's a little nervous about this whole Brett Gardner thing? This is certainly a case of me not knowing everything about the nature of the elbow injury, but if he is still unable to swing a bat, doesn't that mean there's still some risk of re-injury? Wouldn't sliding into a base (which he does head first more often than not) or diving after a ball in the outfield carry similar risk? If the doctors have cleared him to pinch-run and play defense, then great, by all means use him. I just can't ever remember a player coming off the DL before he was physically capable of swinging a bat.
2. I wonder how the Yankees will handle Alex Rodriguez and Derek Jeter during the doubleheader today. If the Cap'n still can't play the field and needs to DH, does that mean they'll sit A-Rod for one of the two games? I can't imagine they'll have him play third base in both games, especially with no more off-days on the schedule. Would it make sense to play Alex at third and Jeter at short in Game One, then A-Rod at DH and Jeter on the bench in Game Two just to give his ankle a break? I doubt that would happen, but who knows.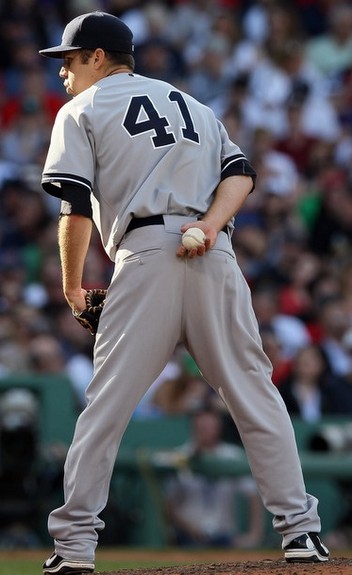 3. The Yankees were going to have to use a spot starter at some point due to the doubleheader, and I think they made the right call getting it out of the way with Phelps tonight. Better to use him (or worse, Freddy Garcia) against the injury-depleted Blue Jays than against the powerful and contending Athletics this weekend. Plus the sooner they have him make the start, the sooner he'll be available out of the bullpen. That's important.
4. Speaking of the bullpen, these two straight days off will hopefully do a world of good for David Robertson, Boone Logan, Rafael Soriano, and Joba Chamberlain given their recent workloads. The Yankees have played a lot of close games lately and those four have really racked up the appearances and innings these last few weeks, so getting two consecutive days off at this point of the season is a luxury. Every game from here on out is meaninfgul, so every bit of rest is important.
5. Andy Pettitte is now only going to be able to make three regular season starts instead of four due to the rain out, unless the Yankees do something surprising and start him on short rest. I wouldn't count on that. Those three start will definitely be enough to stretch him out to 100+ pitches, but we'll have to hope it'll be enough to allow him to tune everything up and get prepared for a potential postseason series. I suppose the good news is that if the Yankees need to play any kind of tiebreaker or wildcard play-in game, Pettitte would now be lined up to start it. It had been Phil Hughes prior to the rain out. Phil's pitched well of late, but I get the sense that the consensus among the fans is that they'd rather have Andy out there in a win or go home game.