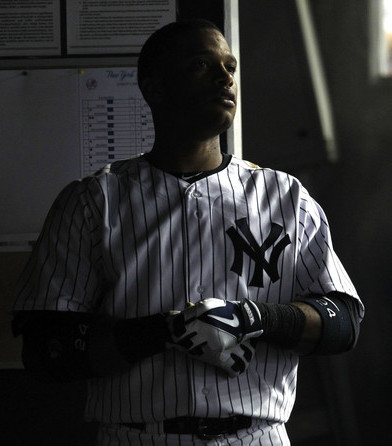 There are only ten games left in the regular season, and right now the Yankees are holding on to their one-game division lead for dear life. The Orioles have been hot on their tails all month — the last time the lead was as large as even two games was three weeks ago — and there's no reason to expect that to change in the next week. Maybe the Yankees will get lucky and clinch the AL East after Game 161 so they can rest some people the next day, but I wouldn't get my hopes up. This thing is going down to the wire.
Despite a miserable weekend against the Athletics, Alex Rodriguez has improved and deepened the lineup since coming off the DL earlier this month. Russell Martin's resurgence started a few weeks ago and Derek Jeter has been a hit machine all season. Ichiro Suzuki has suddenly decided to turn the clock back to 2004, and even Raul Ibanez has shown some signs of life with a few big hits over the weekend. That's a decent chunk of the lineup right there, but the one hitter who is standing out for all the wrong reasons right now is Robinson Cano.
Since Mark Teixeira injured his calf (the original injury, not the re-aggravation) on August 27th, Cano is hitting just .213/.308/.362 with three homers in 107 plate appearances (24 team games). It's an arbitrary endpoint that represents when the Yankees really needed Robbie to produce like the middle of the order guy he's expected to be. Since the end of the ten-game stretch against the Orioles and Rays (and Orioles again), he's hit just .184/.286/.286 with one homer in 56 plate appearances (12 team games). Even worse, Cano's put up a miserable .190/.346/.238 line with runners in scoring position since Teixeira got hurt. Things have gotten so bad that the Athletics intentionally walked A-Rod to face Cano with two men on-base in the sixth inning of a one-run game on Saturday. That's unfathomable. Opponents should be terrified of him, but instead he grounded into an inning-ending double play.
The problems are the same as they always are, at least when Robinson struggles. He gets impatient and starts swinging at pretty much everything, making less than stellar contact and/or putting himself in bad counts. Cano's not exactly the most disciplined hitter to start with, but he gets away with it because he's so good at getting the bat on the ball. When he starts to struggle and expands the zone even more than usual, he becomes his own worst enemy. It's not an accident that most of his balls in play since Teixeira got hurt are grounders to the right side — Cano tends to lunge at pitches when things aren't going right. Whenever he struggles, it's almost always a case of him falling out of sync rather than pitchers exploiting a weakness.
Robinson might be the most extreme player I've ever seen, in the sense that when he's hot and things are going right, no one is more fun to watch. When things are going poorly though, it's incredibly frustrating. The at-bats feel like they're over before they even start and the jogs down to first on ground balls stand out more than usual. The Yankees can't afford to wait around and be frustrated as Cano tries to right the ship, he needs to turn things around right now, starting with tonight's series opener in Minnesota. Robbie is arguably the most important player on the team, and there's little the chance the Bombers will get to where they want to go if he continues to underperform.