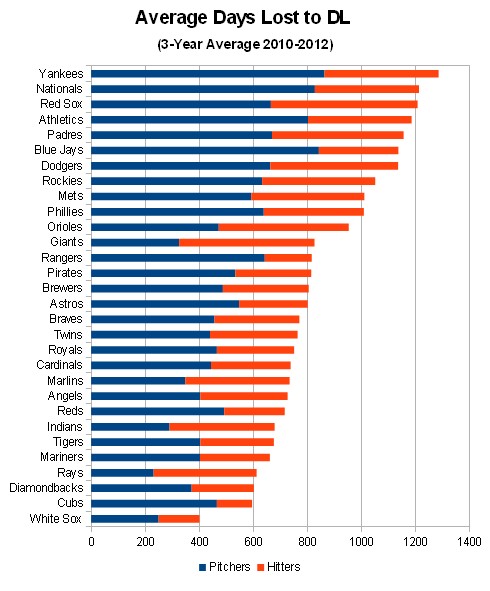 It's no secret that the Yankees lost a ton of players to injuries in 2012, ranging from short-term bumps and bruises (CC Sabathia's groin strain) to medium-term ailments (Andy Pettitte's fractured leg) to long-term, potentially career-altering injuries (Michael Pineda's torn labrum). Jeff Zimmerman recently released injury data for the season, and all told the Yankees lost 1,753 days due to injury. If that sounds like a lot, it is. Only the Padres (1,883) lost more time to injury. The Mariners were baseball's healthiest team in 2012 at only 452 days lost to injury.
The chart above shows average time lost to injury over the last three years, and you can see that the Yankees tend to lose more time than any other club. Now part of that is skewed by Pedro Feliciano, who didn't pitch at all in the last two seasons, but an injury is an injury. On the other side of the coin, no team has done a better job of keeping its players healthy than the White Sox. That's not an accident — Chicago's south-siders have long been considered to have the best training staff in the game and it shows in the injury data.
Obviously some percentage of keeping players healthy is pure luck — you can do everything right and a player may still get hurt, it happens — but not all of it. The Yankees do have an older roster and while older players may not necessarily get hurt more often than younger players, they do tend to take longer to recover. Some of the injury blame likely falls on the training staff as well, especially with regards to pitching. The Yankees have been just awful at keeping pitchers healthy in recent years, both young and old. Health is a skill and these days it's not just about having the best players, but keeping them on the field as well. The Yankees need to figure out how to cut down on the injuries going forward.