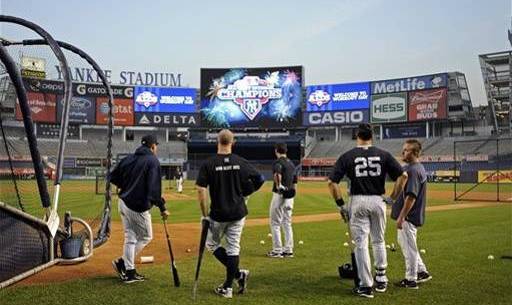 As I said this morning, splitting the first two games of the ALDS in Baltimore isn't ideal but it's far from the worst case scenario. Game Two was eminently winnable — the final 13 Yankees to bat could have either tied the game or given the team the lead with one swing — and the Yankees were a lot closer to finishing the first two games of the series up 2-0 than down 0-2. Now they get to come home for the rest of the ALDS thanks to MLB's convoluted scheduling.
Like almost every other team in the history of baseball, the Yankees are a better team in their own building. They hit better at home this year (119 vs. 109 wRC+), they pitched better at home this year (3.67 vs. 4.06 ERA), and they won more games at home this year (.630 vs. .543 winning percentage). The Yankees were a really good team on the road this season, but they were even better at home. As much as I dislike this year's playoff schedule, it does work in New York's favor for this series.
I'm sure that by now, you've already been reminded that the Orioles actually won six of nine games in the Bronx this year. I don't put much stock regular season performances carrying over to the postsason, but I know there are a lot of people who think it's meaningful. The piece of the pie that's missing is the fact that four of those six wins for Baltimore came against pitchers who aren't even on the Yankees' playoff roster — Ivan Nova (three) and Freddy Garcia (one). Seriously, in three starts against the Orioles at home, Nova allowed 19 runs in 16.2 innings. That information has been ignored while that "six wins in nine games" stat has circulated.
Anyway, the Yankees are coming back home for the rest of the series and only need to win two of three to advance to the ALCS for the third time in four years. I really, really hope they win the next two to ensure an off-day between the two rounds, but the most important thing is simply advancing. We can give out style points later. Hiroki Kuroda gets the ball in Game Three tomorrow night, and he's an offspeed machine who works the edges of the zone well enough to take advantage of Baltimore's middling walk rate (7.8%) and high strikeout rate (21.3%, third highest in the league). Splitting the first two games isn't great, but the Yankees are still setup well for the remainder of the series in their own park.