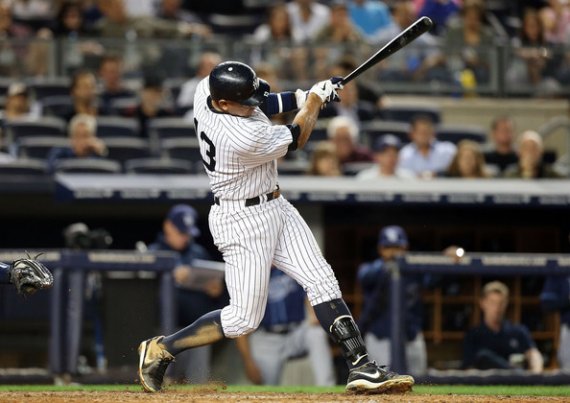 On September 8th the Yankees lost a big game to the Baltimore Orioles. With CC Sabathia on the hill they dropped a 5-4 contest that ended when it should have been tied up. Worse, they lost Mark Teixeira again. What we didn't know at the time is that the Yankees suffered another loss that evening: Alex Rodriguez's power.
Things were looking so brightly at the time. A-Rod had returned to the lineup five days prior, adding some depth to a corps that sometimes featured Steve Pearce at cleanup. Through that game Rodriguez had gone 7 for 23 with two doubles and two homers, including a homer on that very night. Missing Tex for a longer stretch would surely hurt, but at least A-Rod was back with some power. Right?
If only that were true, perhaps the Yankees might have been celebrating a division title yesterday rather than just a playoff spot. In 89 PA since that game Rodriguez has gone 18 for 77 with just one extra base hit, a home run in a September 14 loss to Tampa. That amounts to a .234/.326/.273 line, which defies comment. Worse, he has now gone 65 PA without an extra base hit. I'm not going through his game logs, but I have to assume that's the longest such skid of his career.
In some ways the lack of power makes sense. Hand injuries are no joke for major leaguers. Fans like to joke about what seem like minor injuries — David Wright's injured pinkie, for instance — but they have real effects on a player's ability to handle and control a baseball bat. It has been barely two months since Felix Hernandez broke Rodriguez's hand, so his lack of power is understandable in that way.
Yet those first six games after his return made things seem optimistic. He'd collected at least one hit in each of those six games, and then added another three in the next game, a 13-3 drubbing that put the Yankees back in first place alone. Combined with his post-All Star game breakout, 15 for 47 with two homers and four doubles, and it certainly felt as though Rodriguez could provide quality, if not elite, production for the rest of the year.
As Mike noted earlier, the Yankees will get their A lineup back in tact tonight, just in time for the postseason. He notes the issues surrounding Teixeira, but there are just as many surrounding Rodriguez. Both have the potential to carry the middle of the order, but we've seen both slump horribly this season. If there was ever a time for both to catch fire, it's right now. Given their ages and recent performances, it will be even tougher to bank on them in the future.