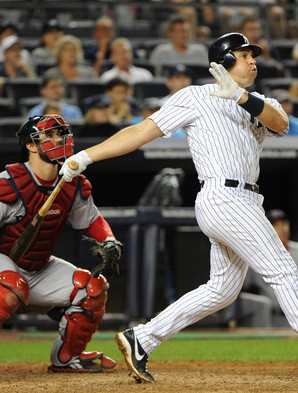 Barring something unexpected, Mark Teixeira will return to the lineup in tonight's series opener against the Red Sox. He's come through all of his rehab workouts without a problem, so the Grade I left calf strain that has sidelined him for (essentially) the last 31 team games seems to be a thing of the past. It's unfortunate he wasn't around for basically all of September, but better late than never I suppose.
As Joe outlined last week, Teixeira's replacements haven't exactly torn the cover off the ball during his absence. He might just be a .250/.340/.480-ish type hitter at this point of his career, but that's still solidly above-average, especially in the power department. No, it's not the Teixeira of 2009 or the offensive monster from 2004-2008, but it's a productive hitter that can help the lineup, especially against left-handed pitchers.
The problem is that we have no idea what the expect from him at this point. Teixeira got his five plate appearances against the Orioles in his one game back earlier this month, but that's it. He had a handful of Instructional League at-bats against minor league pitchers, but otherwise he'll be stepping back into the box to face big league caliber pitching for the first time in more than a month. That comes with the injury territory though, any player who misses a significant amount of time has to deal with the same thing. The timing just stinks.
As much as the added bat will help, getting the defense back to normal is important as well. Nick Swisher has gotten the vast majority of the first base reps during Teixeira's absence, which means lots of Raul Ibanez and Andruw Jones in the outfield. Now Swisher can play right, Ichiro Suzuki can move back to left, Ibanez can DH, and Jones can stay glued to the bench. First base defense isn't the most important thing in the world, but Teixeira sure is good at it. His return and the trickle down effect helps the club's overall run prevention.
The Yankees are set to play the three most important games of the season this week, games that will decide if they can jump right to the ALDS or have to a play a wildcard play-in game. The former is much, much preferable. They're finally at full strength, at least in the sense that all the big names who can come back this year have come back. Getting Teixeira back strengthens the team defense if nothing else, though it won't take much for him to improve the offensive attack as well. With their regular first baseman back in tow, the Yankees are as healthy as they're going to get for the rest of the year.