Over the next few weeks we're going to spend some time reviewing the entire 2012 season, which featured another division title and unfortunately another disappointing playoff exit.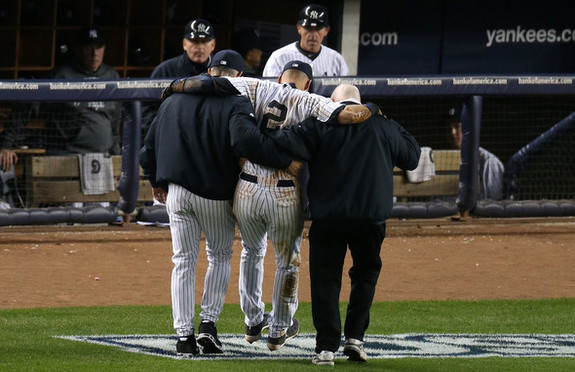 The 2012 season was an overwhelming success for Derek Jeter, who just 18 months ago had been left for baseball dead (by me!) due to his continually declining production. He rebounded and led all of baseball in hits this season, putting up a .316/.362/.429 line in an MLB-leading 740 plate appearances. His 216 hits were three short of the career-high he set more than a decade ago, and for all intents and purposes the superstar-caliber hitter returned after a two-year hiatus.
Unfortunately, Jeter's season came to a premature end in Game One of the ALCS. He took a step or two to his left to field a ground ball in the 12th inning, but crumbled to the ground before completing the play. The Cap'n stayed down on the ground and eventually had to be carried off the field, almost literally, by Joe Girardi and the trainer. It was a harrowing sight for sure. Jeter is as close to baseball invincible as it gets.
That step in the ALCS was not the start of his ankle problems, however. Jeter first started nursing some kind of left ankle injury in very early-September, though it wasn't bad enough to keep him off the field. He did limp noticeably while running down the line and in the field, however. Derek came up lame in a mid-September game against the Red Sox after trying to beat out an infield single, hitting the base hard with his left foot. He aggravated what had previously been diagnosed as a bone bruise, and he was limited to DH work for the next four games.
The bone bruise cleared up though, at least we thought. Jeter returned to the field a few days later and made just three DH starts in the final 15 games of the season. Recent reports indicate that he did receive a cortisone shot at some point, but he was hitting — .322/.374/.380 in New York's final 27 games plus six hits and a walk in the ALDS — so it certainly didn't appear that the ankle was much of an issue late in the season and into the team's first round playoff matchup with the Orioles. Jeter looked fine, frankly.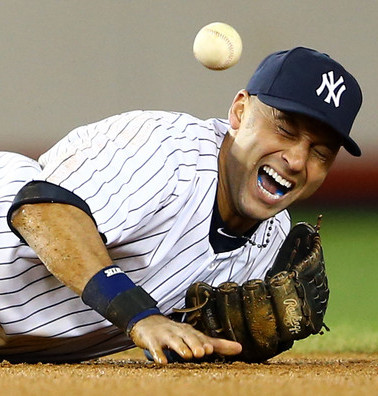 We have no idea if or how the bone bruise contributed to the fracture. Brian Cashman told reporters the night of the injury that he didn't believe one led to the other, but who knows? Jeter could have been playing with a very tiny (and undetected) fracture that was a non-issue until that one final step for all we know. I certainly wouldn't rule it out. Derek had surgery to repair the ankle this past weekend and the recovery time has been estimated at four or five months.
"I believe that Dr. Anderson just put in a more conservative timeframe on it, as explained to me," said Cashman. "So there's no new information, nothing seen worse than what our team doctor saw. But in terms of the timeframe, I just think [Anderson] wanted to be more conservative with it, so that's what we're going to go with."
Four or five months means Jeter should be ready just in time for Spring Training. Of course, as a 38-year-old shortstop with a lot of miles on those legs, it's possible his rehab will take longer than expected. Even if it doesn't, it's possible the injury will impact Jeter's ability to get ready for the season or just move around freely and easily on the field. He was never the rangiest defensive shortstop to start with, so the worst case scenario for this injury would be rendering Derek completely useless in the field. I don't expect that to happen but it wouldn't be the most surprising thing in the world.
The Yankees have a serviceable backup plan at shortstop in Eduardo Nunez and they have the entire offseason to monitor Jeter's rehab and act accordingly. If the healing process takes longer than expected for whatever reason, they'll have a chance to add an infielder via free agency or trade before the season begins. That part really isn't a problem. The injury didn't just bring Jeter's brilliant season to a premature end though, it also brought his status for next season and ability to continue playing at an elite level into question.