Over the next few weeks we're going to spend some time reviewing the entire 2012 season, which featured another division title and unfortunately another disappointing playoff exit.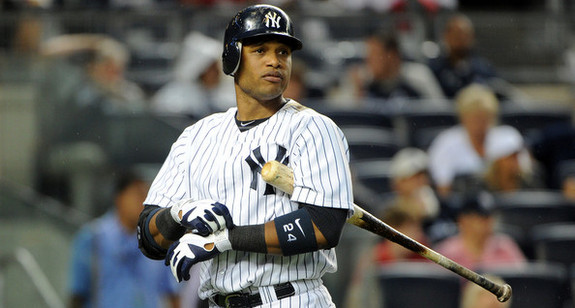 While the 2012 season was a massive overall success for Robinson Cano, he was not without his faults this year. Faults that hadn't previously existed either, so they were completely unexpected. I might be nitpicking here, but Robbie had season-long trouble in two areas that he had previously dominated, and I think they're worth highlighting.
Runners in Scoring Position
The Yankees as a team suffered through (sometimes extreme) bouts of RISPFAIL, and Cano was public enemy number one. He hit a robust .320/.391/.571 with men on second and/or third from 2010-2011, but slid down to .268/.393/.436 in 2012. That doesn't seem all that bad and it really isn't, but prior to his insane 24-for-39 finish to the season, he'd hit a much more pedestrian .239/.374/.373 with runners in scoring position. Robbie was still getting on-base, but ten of his 30 walks in those situations were intentional and he simply wasn't getting hits. That's what Cano does, he piles up hits.
I think we can all understand the limited analytical value of RBI, though it was telling that Cano was unable to crack the 100 RBI plateau even though he set career bests in almost every other offensive category. He just didn't hit when there were ducks on the pond. Instead of plating runner after runner, he was stranding them. Considering that he was the team's only middle of the order bat to stay healthy all season, Cano's inability to hit with runners in scoring position was a big negative in 2012.
Left-Handed Pitchers
This one was the real surprise, at least to me. Cano came into the 2012 season as a .308/.347/.496 career hitter, which was broken down into .311/.349/.505 against righties and .300/.343/.475 against lefties. Over the last two seasons, it was .310/.369/.532 against righties and .294/.340/.481 against lefties. He had a platoon split but it was not significant. This season though, Cano hit just .239/.309/.337 against lefties in 269 plate appearances. That's not the hugest sample size in the world, but it happened nonetheless. Robbie didn't produce against lefties in 2012.
It's worth noting that although Cano's performance against southpaws suffered this season, there was not a huge change in his batted ball performance compared to recent years…
|  (vs. LHP) | GB% | FB% | LD% | HR/FB% | BABIP |
| --- | --- | --- | --- | --- | --- |
| 2010-2011 | 46.8% | 33.3% | 19.8% | 17.4% | 0.303 |
| 2012 | 47.2% | 24.4% | 28.4% | 12.5% | 0.272 |
Batted ball data can be tricky because one man's fly ball is another's line drive, but a ground ball is a ground ball and the important thing is that Robbie's ground ball rate didn't spike. The big jump in line drives means his BABIP should have increased significantly (in theory), but instead it went down. Does that automatically mean his performance against lefties is guaranteed to rebound next season? No, of course not. This is an indication that something other than a deterioration of skills may have been behind the performance slide though, which is good news. Considering his upcoming free agency, Robbie better hope he rebounds against lefties next year. That was a huge part of his value.