It's a best-of-three series now. The Yankees fell to the Orioles by the score of 3-2 in Game Two of the ALDS following another rain delay, this one only 40 minutes or so.
The Ichiro Reach Around
I can't even explain that. Ichiro Suzuki was dead at the plate on Robinson Cano's two-out double in the first, but then … that … happened. Sort of a double pirouette to avoid the tag and get the hand in to score the run. The TBS broadcast showed about a million different replays from all sorts of angles, and they all showed the same thing: Ichiro avoided the tag. You could see it on Matt Wieters' face after the safe call. We give umpire Angel Hernandez a real hard time, but he got that call right. (.gif via Chad Moriyama)
Anyway, that inning featured a lot more than one great slide. Derek Jeter (line drive to right-center) and Ichiro (grounder that Mark Reynolds tried to barehand) opened the game with singles in 0-2 counts, starting the night off on the right foot. Alex Rodriguez lined into a 4-6 double play that could have easily been a 4-6-3 triple play had Ichiro not scurried back to first in time. Robert Andino made a diving stop to catch the line drive before flipping to J.J. Hardy at the bag to double off Jeter. Just bad luck for Alex, he scorched the ball back up the box but the defender made a great catch. Cano picked him up with a rocket double into the right field corner to score Ichiro, but yeah that was a terrible send by third base coach Robbie Thomson. Gotta love those first inning runs though. Second straight night too.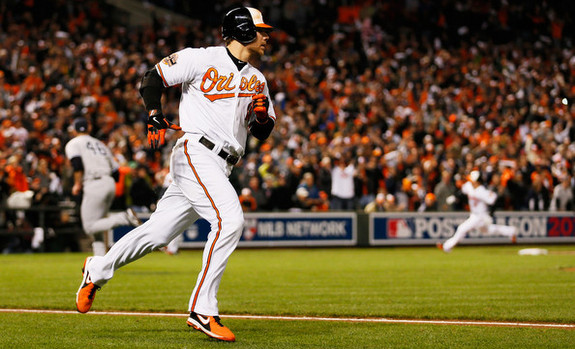 Deja Vu
After the Yankees scored a run in the first, the Orioles rallied back to plate a pair in the bottom of third. Pretty much a carbon copy of Game One, right down to the hanging breaking ball to the left-handed batter that resulted in the two-run single. The two-out rally started with bloop hits from Robert Andino and Nate McLouth, at least one of which broke a bat. J.J. Hardy loaded the bases with a four-pitch walk that if you didn't know any better, you would have though was intentional so Pettitte could face the left-handed Chris Davis. He didn't seem particularly interested in challenging Hardy with two men on.
Davis lined the hanging slider into right for a two-run single, giving the Orioles a 2-1 lead. Things could have been a lot worse when Adam Jones' ground ball scooted by Jeter at short, but Hardy held at third on a ball he would have easily scored on. Replays shows that the third base coach waved him in and that A-Rod deked him by acting like he caught a relay throw from short and was about to apply the tag. No idea if that played a part on the hold, but either way a run that should have scored did not. Wieters popped up to second one batter later to end the inning, so the base-running blunder really helped the Yankees out.
Blown Chances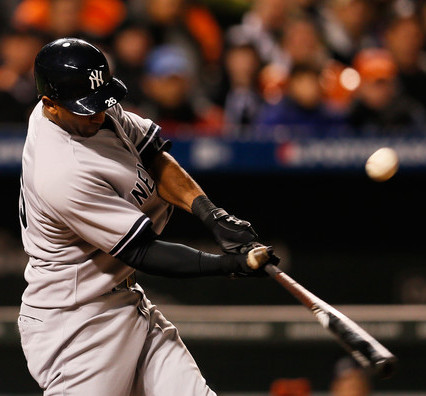 Again like Sunday's game, the Yankees had a chance to answer Baltimore's third inning run in the fourth. Unlike Sunday's game, they didn't convert it into a run. Nick Swisher struck out to open the inning, but Mark Teixeira (single), Russell Martin (walk), and Curtis Granderson (single) reached base after that to load the bases with one out. In many ways, the two right hitters were due up in Eduardo Nunez and Jeter. They both make a lot of contact and that's all you're looking for in that spot. Unfortunately, Nunez's contact was a pop-up to short and Jeter's was a grounder to third to end the threat.
The Yankees did plate a run in the seventh, but not after the Orioles extended their lead to two in the sixth. Nunez started the inning with a hustle double — Davis gets an assist for his ill-advised dive in shallow right — and Jeter plated him with a line drive single to left, another hit in an 0-2 count. The managerial machinations went into overdrive after that, as Ichiro tried to bunt Jeter to second only to fall behind in the count 0-2. He wound up grounding into a fielder's choice, barely beating out the double play. Ichiro then stole second as A-Rod struck which, unsurprisingly, took the bat out of Cano's hand. Swisher grounded out to end the inning. The steal was just generic "let's get the man in scoring position" stuff without regard for the game situation — a runner at first is in scoring position when Cano is at the plate. He proved it in the first inning. Gotta let him swing the bat in that spot.
Teixeira led off the eighth with a single but didn't advance any further because Martin struck out, Granderson struck out, and Nunez popped up into foul territory to end the inning. I wanted Brett Gardner to run for Tex there because 1) that run is really important, and 2) his spot in the lineup isn't guaranteed to come up again in the game. Even if it did, Raul Ibanez and Eric Chavez were both on the bench. Plus Teixeira is so slow he practically needs a walker, which is why he didn't score on Granderson's single in the third. Maybe they pitch everyone differently with the speedy Gardner on first (more fastballs?), but it doesn't matter now. The Yankees had their chances to score runs and even went a not terrible (but not great) 2-for-8 with runners in scoring position. Teixeira's single was their final base-runner of the game and Gardner never pinch-ran. Bullet left in the chamber.

Admirable Andy
Three runs in seven innings is a pretty typical Andy Pettitte start, meaning rock solid and dependable. Allowing three hits to lefties (one by McLouth and two by Davis) was quite annoying, but otherwise he only allowed seven hits total (six singles) and walked just one against five strikeouts. Two of the hits were bloops and another two were weak little ground balls just beyond the reach of Jeter and Cano on the middle infield.
Pettitte allowed the leadoff man to reach base in fourth, fifth, sixth, and eighth innings, but not all of that was his fault. Jeter made a throwing error on Reynolds' ground ball to start the fourth, Teixeira allowed a ground ball to get through his legs to start the fifth (he's lucky it hit the ump otherwise the runner would have been on second), and Andy shouldn't even have been sent back out for the eighth. Forty-year-old pitcher nearing 100 pitches facing the molten hit Davis for the fourth time with a rested bullpen and a day off on Tuesday … get a fresh arm in there. What the hell. Anyway, David Robertson came in to clean up the inning and no damage was done. At one point he threw like eight straight curveballs. Pettitte did his part, he kept his team in the game all night.
Leftovers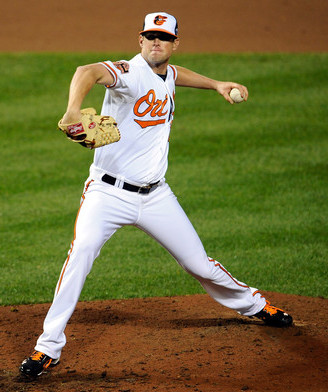 The Yankees had a four-pitching inning offensively in the fifth, part of a span in which Chen got five outs against the middle of the order on eleven total pitches. Teixeira and Jeter were the only players with two hits apiece while everyone else other than Swisher and Martin had exactly one knock. One of the two walks was intentional (Cano in the eighth) and the other was drawn by Martin. Nine of the final eleven Yankees to bat made outs, and one of the exceptions was Cano's intentional walk. The Orioles have a really good bullpen and they rebounded to nail things down after the Game One disaster.
Hernandez had his typical ridiculous strike zone, which at times apparently shifted from being big on the right-handed batter's box side to big on the left-handed batter's box side. That's just the way it goes with him though, and both teams got screwed at different times. I will say that the 1-1 called strike to Nunez in the fourth inning (strike zone plot) was a killer that changed the entire complexion of the at-bat. Here's a strike zone plot for the entire game. Ugly.
Some Buck Showalter weirdness: After Ichiro's stolen base in the seventh, Showalter replaced Darren O'Day with the left-handed Brian Matusz only to have Matusz intentionally walk Cano. Usually you'd just let O'Day issue the walk since he was coming out of the game. Pitchers always seems to lose the strike zone a bit after an intentional walk, and sure enough Matusz's first real pitch was in the dirt for a wild pitch that allowed the runners to move up. Maybe Buck was going to pitch to Cano and changed his mind after bringing in Matusz? Just a really weird move that ultimately didn't come back to bite the Orioles.
Box Score & WPA Graph
MLB.com has the box score and video highlights. This one was pretty straight forward, no?

Source: FanGraphs
Up Next
Tuesday is a travel day, so these two clubs will reconvene at Yankee Stadium for Game Three on Wednesday night. The start time for that one will be either 7:37pm or 8:37pm ET (on TBS) depending on what happens with some of the other playoff series. Hiroki Kuroda will get that start against rookie right-hander Miguel Gonzalez. Check out RAB Tickets for any last minute deals on tickets.