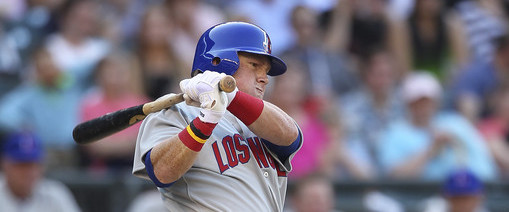 The Angels and Yankees have developed a long-distance rivalry over the last decade or so, and as a result they've only made two trades with each other since 1996: Jeff Kennard for Jose Molina (2007) and Bret Prinz for Wil Nieves (2005). That's it, two swaps involving spare arms and backup catchers. The Halos have since appointed a new GM however, plus they haven't made the playoff since losing the 2009 ALCS to the Yankees, so perhaps they're a little more open to the idea of trading with a rival for the sake of improving the club.
Los Angeles Anaheim spent big bucks on Albert Pujols and C.J. Wilson last year but fell into the trap of being top heavy. They had little depth, especially on the pitching side, meaning they had few alternatives when Ervin Santana stunk and while Jered Weaver, Dan Haren, and Scott Downs were on the DL. The end result was a third place finish and another offseason spent trying to figure out how to compete with the Rangers (and now the Athletics as well). The Angels have a few pieces who could help the Yankees, so perhaps the two sides could get together for the rare deal.
Alberto Callaspo & Andrew Romine
The Yankees are said to be seeking a utility infielder this winter, specifically someone who can play shortstop and third base a combined 100 times next year while representing an upgrade over Jayson Nix. It sounds simple enough, but that will be one very tough position to fill. The "super-sub" player who can play a different position everyday and actual hit doesn't really exist. It's a romanticization of what people used to think Chone Figgins and Mark DeRosa were.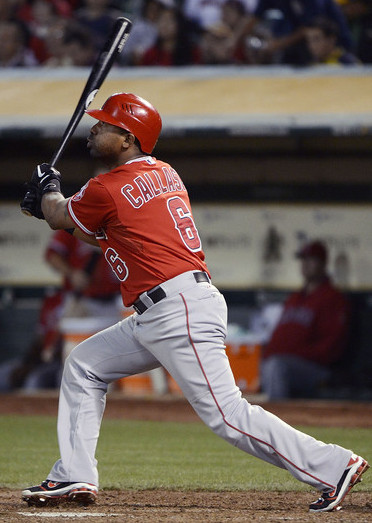 Anyway, the Angels do have some infield depth despite the defection of Maicer Izturis. The 29-year-old Callaspo has taken over as the Angels mostly full-time third baseman in recent years but has plenty of experience at the other infield spots. He's just a .266/.338/.358 (96 wRC+) hitter over the last three seasons, but he's also a switch-hitter who can at least hold his own on both sides of the plate (108 wRC+ vs. LHP and 92 vs. RHP). Callaspo's strength is his command of the strike zone (9.8 BB%) and freakish ability to get the bat on the ball (90.9% contact rate). He's walked (126) more than he's struck out (120) over the last three years, and only nine hitters have swung and missed less often since 2010. One of them is not Ichiro Suzuki (90.2%), just for perspective.
The problem with Callaspo — more than the utter lack of power (.096 ISO) and speed (17-for-24 in steal attempts since 2010) — is that he hasn't played shortstop at all since 2009 and regularly since basically ever. He's a career second and third baseman who could probably fill in at short in case of emergency, kinda like Nix. He's also had several run-ins with the law in the past, which might not satisfy the whole "good makeup and character" requirement. Callaspo projects to earn $4.2M in his final trip through arbitration this winter, so he's not exactly cheap either.
The Angels also have the 26-year-old Romine (Austin's older brother) on the infield depth chart, but he's far less established that Callaspo. Romine owns a 49 wRC+ in 51 career big league plate appearances and a .283/.350/.367 (86 wRC+) in over 800 career Triple-A plate appearances. He's a left-handed hitter and a true shortstop (his defense is his best tool by far) with experience elsewhere on the infield. With all due respect, I think I'd rather see the Yankees try to make Eduardo Nunez into a utility guy again rather than play the elder Romine as much as they seem to looking to play their utility infielder.
Kole Calhoun
I wrote about Calhoun in-depth prior to the trade deadline, so I'll point you to that and give you the short version here: he's a left-handed hitting corner outfielder who can hold his own against southpaws, spot start at first base, and offer both patience and some power. He's also gotten slapped with the "gamer" tag because he's short, white, runs really hard, and hasn't gotten a big contract yet. The Angels are still being hung by the Vernon Wells noose and will likely use him as the fourth outfielder behind Mark Trumbo, Mike Trout, and Peter Bourjos this year, meaning Calhoun will probably spend another year in Triple-A waiting for someone ahead of him on the depth chart to get hurt. The Yankees are looking at life after Nick Swisher right now, and the 25-year-old Calhoun offers pretty much everything they're looking for in Swisher's replacement, at least on paper.
* * *
The Angels were reportedly seeking a quality left-handed reliever prior to the trade deadline and are said to be focusing on pitching in general this winter, meaning both starters and relievers. The Yankees don't have much starting pitching to offer at the moment, at least not until Hiroki Kuroda and Andy Pettitte are re-signed/viable replacements are acquired, but they do have some left-handed relief depth. Boone Logan, who is coming off a career-high workload (55.1 innings and 80 appearances) and is due to be a free agent after 2013, is theoretically made expendable by Clay Rapada, the recently-claimed Josh Spence, and the soon-to-be healthy Cesar Cabral.
Obviously it's very unlikely that one year of Logan can fetch the Yankees any of the players above, but at least he's a piece who might entice Angels GM Jerry Dipoto. A conversation starter, something like that. I have no reason to suspect the Angels would have interest in acquiring Alex Rodriguez even if the Yankees ate a big chunk of his contract, so I'm not even going to discuss the possibility. Finding the right prospects or young big leaguers to package with Logan in a trade would be the key for New York, who could theoretically plug their utility infielder and right field holes in one fell swoop. It takes two to tango, of course.