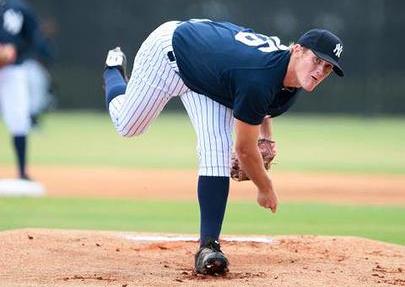 Ty Hensley | RHP
Background
Raised in the Oklahoma City suburb of Edmond, Hensley was a two-sport star at Sante Fe High School before giving up his quarterback gig to focus on baseball as a senior. He pitched to a 1.52 ERA with 111 strikeouts in 55.1 innings with the Wolves this spring, earning him Gatorade Oklahoma Player of the Year honors and several other awards. His father Mike was a second round pick who was a long-time college pitching coach after injuries derailed his playing career.
Prior to the draft, Baseball America ranked Hensley as the second best prospect in the state and 23rd best prospect in the draft overall. Keith Law ranked him as the 36th best prospect overall. The Yankees grabbed Hensley with their first round pick, the 30th overall selection. It was the fifth straight year they took a high schooler with their top pick, but only the third time they took a high school pitcher with their top selection since 1993. The two sides agreed to a straight-slot $1.6M signing bonus shortly after the draft, but a pre-signing physical found an "abnormality" in his right shoulder. Hensley eventually agreed to a reduced $1.2M bonus on the eve of the signing deadline and passed on his commitment to Ole Miss.
Pro Debut
The Yankees sent Hensley to their Rookie Gulf Coast League affiliate in Tampa after signing, where he made five appearances (four starts). He allowed eight runs (four earned) in 12 innings, striking out 14 against seven walks. Hensley attended both Instructional Leagues after the season, first in Tampa and then in the Dominican Republic.
Scouting Report
Oklahoma has a history of producing physically huge pitchers and Hensley fits right in at 6-foot-5 and 220 lbs. His fastball velocity spiked a bit this spring and he now sits comfortably in the 92-94 range and will maintains that deep into games. He's run it up as high as 98 in the past and it shows good two-seam life in on right-handed batters. Hensley's break-and-butter pitch is a power 12-to-6 curveball in the upper-70s/low-80s that was one of the best curveballs in the draft class. Reports from the GCL about his low-80s changeup were encouraging, but like most high schoolers the pitch still has a ways to go.
Hensley is a good athlete — he was also a switch-hitting outfielder in high school — but he's still growing a bit and needs to continue to work on finding consistency with his delivery. His command lags behind his stuff, in part because he lands on his heel (theoretically easy to correct). He also tends to pitch up in the zone with his fastball, so he has to work on using his size to drive the ball downhill. Like basically every player the Yankees pursue these days, Majors or minors, Hensley's makeup and work ethic are considered major pluses. He even learned to speak Spanish to better communicate with teammates in high school. Here is his MLB.com draft video, and there are plenty more clips available at YouTube.
2013 Outlook
I'm not sure really sure what the plan is for Hensley next season. New minor league pitching coordinator Gil Patterson had a tendency to be a little aggressive with the few high school pitchers the Athletics drafted during his five years with Oakland, so there's a pretty good chance the Yankees will bump their first rounder right up to Low-A Charleston to start next season. If not, Hensley will stay back in Extended Spring Training to work on his mechanics before joining Short Season Staten Island when the season begins in late-June.
My Take
If you've been reading my stuff long enough, then you know I'm a fan of high school school pitchers. Hensley gets a thumbs up from me though I would be lying if I said I wasn't concerned about the shoulder "abnormality." It's comforting to know that he's been asymptomatic and without pain the whole time, but it's still not something you want to hear. Hensley has said that he wants to reach the big leagues by age 21 — he'll turn 20 in July — which might be a little optimistic, but it's good to see him not be shy about his goals. There's an awful lot of upside here but also some work that needs to be done, specifically with the command. I want to see him make it through a full season without any shoulder issues before I get really excited, but there is a lot to like about any teenager with an out-pitch curveball.