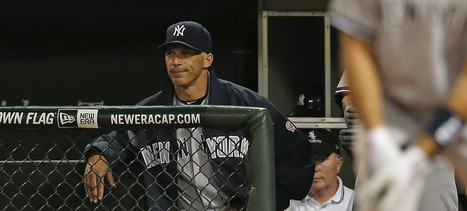 Evaluating a manager and his coaching staff is a very difficult thing for outsiders. The vast majority of their work takes place behind the scenes, so we're left looking for clues in places they might not be. That pitcher learned a changeup? Great job by the pitching coach! That hitter is only hitting .250 when he usually hits .280? Fire the hitting coach! We have no idea what clues we dig up are actually attributable to the coaching staff, so we end up guessing.
Because of that, I don't want to review Joe Girardi and his coaching staff in our typical "What Went Right/What Went Wrong" format. This review is almost entirely subjective and we can't really pin anything (good or bad) on the coaching staff specifically. We know Curtis Granderson essentially revived his career after working with Kevin Long two summers ago, but having a specific example like that is very rare. Instead, we'll have to take a broader approach.
Joe Girardi
I think 2012 was Girardi's worst year as Yankees' manager. Every manager makes questionable in-game moves during the season, but I felt Girardi made more this year than he had in any year since 2008, and it all started in the very first inning on Opening Day with the intentional walk to Sean Rodriguez. That still bugs me.
Girardi has long been considered a strong bullpen manager given his ability to spread the workload around and squeeze water out of scrap heap rocks, but this year he leaned very heavily on Boone Logan, David Robertson, and Rafael Soriano. Working Soriano hard wasn't a huge deal because he was expected to leave after the season, but Logan made more appearances in 2012 (80) than any other reliever under Girardi, including his time with the Marlins. Robertson appeared in 65 games despite missing a month with an oblique injury. Part of it was a lack of alternatives (blame the front office for that) and the tight race, but this was something that started before the Yankees blew their ten-game lead.
Girardi also had two notable meltdowns (for lack of a better term), lashing out at a fan following a loss in Chicago and then getting into a shouting match with Joel Sherman after calling him into his office. Maybe my conduct standards are too high, but that kind of stuff is a major no-no in my book. It stems from pure frustration and there is zero good to come from it. Girardi didn't have a bad year as manager, he did a fine job guiding the team despite an overwhelming about of injuries, but I feel that he's had better years in the past.
Larry Rothschild & Kevin Long
When the Yankees hired Rothschild as pitching coach two years ago, he came to the club with a reputation of improving both strikeout and walk rates. That is exactly what has happened overall, and we can see it specifically with someone like CC Sabathia (strikeouts, walks). Obviously the personnel has changed over the last few years, but the Yankees managed to get productive seasons from scrap heap pickups like Bartolo Colon and Freddy Garcia last year while getting better than expected production from Hiroki Kuroda and even Andy Pettitte this year. We don't know how much of a role Rothschild played in all of this, but the team's pitching staff has exceeded expectations the last two years.
Long, on the other hand, came under big-time scrutiny following the club's offensively-inept postseason showing and Mark Teixeira's continued decline from elite all-around hitter to pull-happy, one-dimensional slugger. At same time, he remade Granderson and helped Robinson Cano go from good to great. Long does preach pulling the ball for power and apparently that contributed to the team's poor postseason, but the roster overall is built around guys who pull the ball for power. Outside of Cano and Derek Jeter (and later on, Ichiro Suzuki), the Yankees lacked hitters who could hit to the opposite field. Like Rothschild, we don't know how much a role Long has played in all of this, and I'm not even convinced preaching power these days is a bad thing given the decline in offense around the league.
Tony Pena, Mike Harkey, Rob Thomson & Mick Kelleher
Not really much to add here. Thomson, the third base coach, does have a knack for being a little overly-aggressive with his sends in tight games while at other times he will hold guys who would have clearly been safe, but every third base coach does that. The Yankees have had an above-average stolen base success rate in recent years (77-79%), so I guess Kelleher is doing a fine job of reading moves and relaying that info over at first base. Other than that, we have very little basis for which to judge these guys on. Despite the whole "everyone should be fired because there are obviously better coaches available!" mentality than can fester following an embarrassing playoff loss, all indications are the entire staff will return fully intact next year.