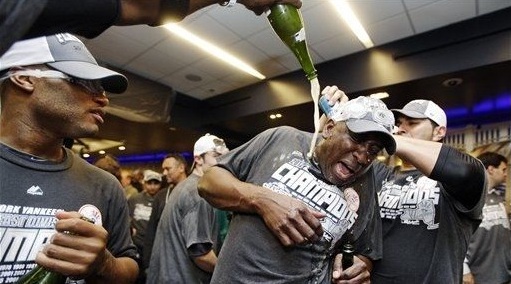 Several people asked: What's the market for Rafael Soriano? Would the Yankees consider bringing him back? What happens to the draft pick if he doesn't sign soon?
I received a few Soriano-related questions over the last week, so I figured I'd lump them all together here. The easiest question is the last one. The Yankees will get a pick for Soriano as long as he signs a guaranteed contract with another MLB team (so no Japan or Korea) prior to next June's draft. If he takes a minor league deal or signs after the draft, the Yankees won't get that supplemental first round pick. Also, it doesn't matter which team signs him, New York gets the same exact draft pick regardless under the new system.
Now, as for his market, it's basically non-existent right now. The Dodgers and Red Sox are not in the mix according to Jim Bowden and Rob Bradford, respectively, though those reports came prior to the Joel Hanrahan trade. That figures to change the market in some way. Scott Boras has been trying to sell the Tigers on Soriano for a while now according to Bill Shaikin, but Danny Knobler heard owner Mile Ilitch won't be talked into signing him after dropping $100M+ on Torii Hunter and Anibal Sanchez. That's it, no other reports on interested clubs this offseason.
Soriano's market was similarly quiet two winters ago, when Yankees ownership swooped in and signed the right-hander in mid-January. There are more teams (many more teams, actually) with money to spend this time around, so I think it's only a matter of time before Boras finds a taker. It could be the Dodgers, the Angels, the Rangers, the Nationals, who knows. I still think Soriano will wind up with the Tigers though, they're clearly in win-now mode and have some serious bullpen question marks. Bruce Rondon is a great prospect, but he's posted a 5.81 BB/9 (15.1 BB%) in 93 innings over the last two seasons. Hard to see a serious contender giving that guy the reigns to the ninth inning.
For the Yankees to get involved, Boras and Soriano would obviously have to be willing to take a one-year deal. I can't imagine they'll give him two guaranteed years given the plan to get under the $189M luxury tax threshold in 2014. Soriano walked away from $12.5M with the opt-out (he received a $1.5M buyout) and another $13.3M by rejecting the qualifying offer, but he would have to take less to return to New York if no market develops. He wouldn't have any leverage. The Yankees could bring him back as a setup man for like $10M and let him go after the season, though I'd have to think another qualifying offer would be out of the question. It would surprise me if Soriano's market was so poor that he had to come crawling back to the Yankees, but I don't think it's completely out of the question. Just very unlikely.