Got four post-Winter Meetings questions for you today. Remember to use the Submit A Tip box in the sidebar to send us anything throughout the week.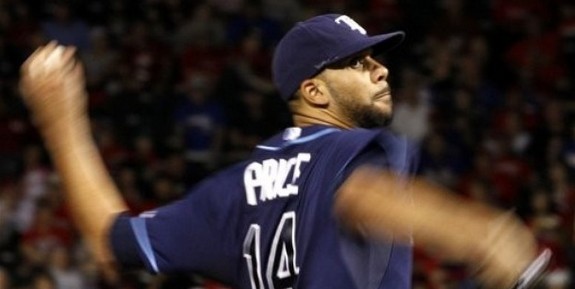 Daniel asks: I know you guys always refer to David Price as "Future Yankee David Price." But I'm not exactly sure why. When is his contract up and what are the chances we could actually pull off a deal?
The Future Yankee David Price thing is mostly a joke built around the idea that he's an ace-caliber left-handed pitcher on a small market team who they won't be able to sign long-term. The kind of guy we tend to expect the Yankees to swoop in and sign when he's a free agent. Plus I like to poke some fun at some Rays fans friends of mine.
Price, who just turned 27 in August, is going to make massive money through arbitration with his credentials. Even before he was named the Cy Young Award winner, MLBTR projected him to earn $9.5M through arbitration this winter, which would be a new record for a second time eligible pitcher. He's also a Super Two, meaning he still has two more years of arbitration left ahead of him. He could (and should as long as he doesn't get hurt) be earning upwards of $20M+ by 2015, before he even hits free agency. The Rays figure to trade him at some point, but I highly doubt they would trade him within the division. The Yankees will have to wait three more years until he's a free agent.
Richard asks: If the Yankees were able to initially smoke-and-mirror their way to something approaching contention with cheap pickups and players from the minors, which teams would be out of the running in mid-season (assuming the Yankees aren't) and which players better suited to the Yankees' needs might become available?
This isn't the easiest question to answer because there is so much offseason left, but I think the most obvious candidates are the Cubs, Twins, Astros, Marlins, and Rockies. The Indians, Pirates, Mariners, and Padres are the next tier since you can kinda see sneaking into contention if things breaks right. The Twins have Josh Willingham and Jamey Carroll to offer while the Cubs have David DeJesus and the pricey Alfonso Soriano, but that's really it. Maybe Ramon Hernandez of the Rockies stays healthy and becomes available. The Astros have nothing and the Yankees don't really have the pieces to land a Dexter Fowler type. Maybe they will at midseason.
Zac asks: Would Trevor Plouffe make sense as a 3B option for the Yankees, and would the Twins consider trading him? Also, seeing that Emilio Bonifacio is potentially available, would he be an option?
I'll say yes and no for Bonifacio. Yes he would be an option given his ability to play all over the infield and dabble in the outfield, but no I don't think he's an option because the Blue Jays hate trading within the division. GM Alex Anthopoulos has said so publicly many times.
As for Plouffe, I assume the Twins are open to dealing anyone following the Denard Span and Ben Revere trades. The 26-year-old hit .235/.301/.455 (106 wRC+) with 24 homers in 465 plate appearances for Minnesota this year while spending most of his time at third base. He also dabbled at second base and in right field. Plouffe is a right-handed hitter who does almost all of his damage, especially in the power department, against lefties. He wasn't a big prospect and he really doesn't offer much except power, though he is under team control for five more years (and will be a Super Two). Does Ivan Nova in a one-for-one trade work? I feel like that's too much given the fact that a starting pitcher is far more valuable than a platoon bat.
Frank asks: When Angelo Gumbs came out of prep school he was touted as a CF/SS prospect with decent tools. Since the Yanks really don't have a SS prospect that's highly rated, wouldn't it benefit the Yanks to try him at short again?
Before we start, here's what Baseball America (subs. req'd) wrote about Gumbs' defense in their recent top ten Yankees prospects list…
Gumbs has made significant growth defensively and is beginning to take advantage of his plus arm and range. He still has some stiffness and hardness to his hands, but as his footwork improves with repetition, he should be a solid defender at second base.
If Gumbs, 20, truly has "plus arm and range" at second base, I think it's worth a shot to try him back at shortstop since the whole Cito Culver thing just isn't happening. That's very easy to say from here, especially since my knowledge of Gumbs' defense doesn't extend far beyond those two sentences above, but the Yankees should look to maximize his value and shortstop is more valuable than second base. The team has some solid second base prospects in David Adams and to a lesser extent Corban Joseph, but that shouldn't really be a factor in moving him. If Gumbs can play the more premium position, they should try it.