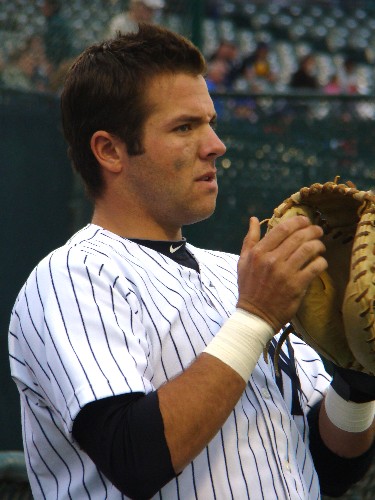 Whether they want to admit it, the Yankees were dealt a significant blow when Russell Martin spurned their non-offer for a two-year pact with the Pirates. By no means is Martin a star behind the plate, but he's a league average hitter who can play above-average defense at the catcher position. He'll be close to impossible to replace in this market if you're willing to look beyond the meager batting average.
"We do have placeholders there," said Brian Cashman the other day when asked about his catching situation going forward, which sounds like something straight out of the "Bubba Crosby will be our center fielder" playbook. "We have people that can handle and run the game. The offense is an area that, currently with what our roster provides, will be a downgrade from what we're used to. But the most important aspect of those games is (defense)."
The Yankees have more than two months left in the offseason to scour the free agent and trade markets for a replacement catcher, but right now their internal solutions consist of some has-beens and never-wases. Each has some kind of strength and many negatives, so let's quickly review.
Frankie Cervelli
Cervelli, 26, is easily the most accomplished big league hitter of the team's internal options. He's produced a .271/.339/.353 batting line in 562 plate appearances while providing mostly below-average defense. Cervelli always seemed to have a knack for the poorly-times passed ball. The Yankees obviously don't think much of him, otherwise they wouldn't have sent him to the traveling circus known as Triple-A Scranton for all of last summer.
Austin Romine
Of the four players in this post, the 24-year-old Romine is the only one with a real chance to be a long-term piece for the Yankees. He missed the start of last season with a back problem and only has 106 unimpressive plate appearances above Double-A to his credit. In 870 plate appearances at the Double-A level, he's a .276/.336/.392 hitter. Romine is a generally considered a solid defender.
Chris Stewart
Last year's backup, Stewart is a .217/.281/.302 hitter in 394 big league plate appearances. He's considered a very good defender by the Yankees but I was a little underwhelmed last year. Poor hitting has a tendency to inflate a catcher's defensive reputation, and that's sorta what happened with the 30-year-old Stewart. That doesn't mean he's bad, but he's not elite.
Eli Whiteside
The new-comer to the group, Whiteside is a .215/.273/.335 career hitter in 537 plate appearances. The 33-year-old is another defense-first type, but I have no idea how true that is because I haven't seem him play much. The Yankees have already removed him from the 40-man roster, so I guess he's at the bottom of their internal catching totem pole.
* * *
Let's face it, there is no good solution here, especially if you're looking for any kind of offense. The Yankees will take a very big hit in backstop production if any of these four gets regular playing time next year. Is one better than the rest? Maybe.
If the season started today, who should be the starting catcher?