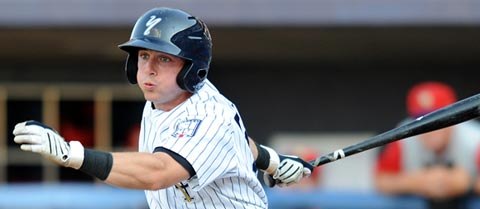 Taylor Dugas | OF
Background
A Louisiana kid from Lafayette, Dugas was a two-way star at Teurling Catholic High School. He hit .518 with 19 homers and 51 doubles during his four years with the Rebels while also going 31-6 with 195 career strikeouts on the mound. Dugas hit .640 with ten homers and 34 steals (in 35 attempts) as a senior, earning him the Louisiana Baseball Coaches Association Player of the Year award as well as numerous other honors. He was also a standout quarterback on the football team and thrice earned Academic Honor Roll status.
Despite his high school accomplishments, Dugas wasn't considered much of a pro prospect because of his small frame. Baseball America (subs. req'd) did not rank him as one of the top 40 draft prospects in Louisiana in 2008 and no team rolled the dice in the draft. Dugas followed through on his commitment to Alabama after going undrafted, and he stepped right into the lineup to hit .352/.412/.479 with a team-leading 83 hits and 13 steals (in attempts) in 56 games as a freshman. The performance earned him freshman All-America honors.
Dugas continued to hit for the Crimson Tide, posting a combined .351/.484/.543 batting line in 130 games as a sophomore and junior. He earned a First Team All-American, First Team SEC, and SEC Academic Honor Roll accolades along the way. Baseball America (subs. req'd) ranked Dugas as the seventh best prospect in Alabama prior to the 2011 draft, and the Cubs selected him in the eighth round (249th overall). He did not sign and instead returned to school for his senior season.
Following a big senior season (.343/.450/.498), Dugas left Alabama atop the school's all-time hits (334), singles (234), doubles (67), and triples (18) list. He placed second on the all-time games started (239) and walks (151) lists. His .360 career average is the seventh best in school history, his .466 OBP the fourth best in school history. After more First Team SEC honors, Baseball America ranked Dugas as the 331st best prospect in the draft. The Yankees selected him in the eighth round (#277 overall) of this year's draft and signed him quickly to a well-below-slot $10k bonus.
Pro Debut
Assigned to Short Season Staten Island after signing, Dugas hit .306/.465/.373 in 276 plate appearances with the Baby Bombers this summer. He lead the circuit in OBP and walks while placing eighth in batting average.
Scouting Report
Listed at 5-foot-8 and 170 lbs., Dugas is an undersized left-handed hitter who qualifies as scrappy and pesky and all those wonderful cliches. His best offensive asset is his supreme control of the strike zone, which allowed him to post a 35/51 K/BB (18.5 BB%) with Staten Island this summer and a 101/151 K/BB in four years at Alabama. Dugas' swing is geared for contact and he makes a ton of it, though he only offers average speed and very little power.
Defensively, Dugas fits best in left field because he doesn't have the range for center or the arm for right. He's a bit of a 'tweener because his bat falls short of the typical left field profile and he doesn't offer say, Brett Gardner-level defense at the position. As you'd expect, Dugas earned that scrappy tag by playing hard all the time. Here is his 2011 Draft video and a more recent clip from YouTube.
2013 Outlook
As a four-year starter at a major college program, Dugas will jump up to High-A Tampa next season. A midseason promotion could be in the cards, though he'll have to fight the likes of Mason Williams, Slade Heathcott, and Tyler Austin for outfield playing time at that point.
My Take
Like a number of other teams, the Yankees targeted college seniors who would sign for relative peanuts to save draft pool money in the sixth through tenth rounds. Dugas is more than just organizational filler though given his contact skills and extreme plate discipline from the left side, so maybe he provides some value as a fourth or fifth outfielder on the heavy side of the platoon at the big league level. Improvements on defense and/or on the bases would increase that profile. I like Dugas because he'll post fun K/BB numbers as he climbs the ladder, but he's an older guy (24 later this month) who will get overrated quickly due to his statistical performance.