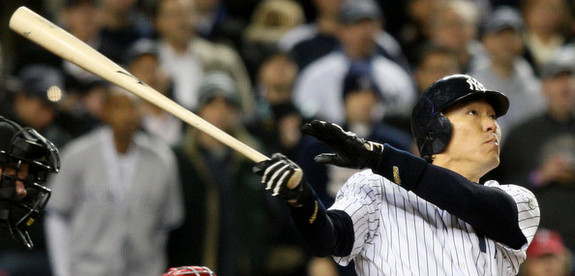 Ten years and eight days after leaving the Yomiuri Giants and officially coming over to MLB, former Yankee Hideki Matsui has decided to call it a career. Daigo Fujikawa reports that Godzilla has retired from baseball and will make the announcement at a press conference in New York. He last played for the Rays this past season.
"Hideki is proof that baseball is an international attraction that brings people from all over the world together in their passion for the game," said Brian Cashman in a statement. "He was the type of player and person you want young fans of this game to emulate. He played with pride, discipline and of course talent, and flourished when the lights were at their brightest. People naturally gravitated towards him, and that's a direct reflection of his character. He was a true professional in every sense of the word and it feels good knowing he was able to raise the championship trophy as a member of the Yankees."
Matsui, 38, spent seven massively productive years in New York. They started with a grand slam in his first Yankee Stadium game (video!) and ended with a thorough beatdown of Pedro Martinez in Game Six of the 2009 World Series. That game almost single-handedly earned him World Series MVP honors. Matsui hit .292/.370/.482 (124 wRC+) with 140 total homers in pinstripes, and his best season came back in 2004, when he produced a .298/.390/.522 (140 wRC+) line with 31 homers.
You'll be hard-pressed to find a player more reliable than Matsui. He played in 538 consecutive games to open his career with the Yankees before suffering a fluke wrist injury sliding for a ball in the outfield in 2006, and even then he still managed 140+ games played in five of his seven years in the Bronx. Godzilla produced a .312/.391/.541 (143 wRC+) batting line in the postseason and was, without question, someone everyone wanted at the plate in a big spot.
In addition to his on-field production, Matsui was also a total professional and as classy as they get off the field. He was a True Yankee™ in every way and it was a thrill to watch him during his time in New York. The news of his retirement is bittersweet because no one wants to see their favorite players hang the spikes up, but I'm also very happy Hideki is walking away from the game on his own terms (sorta). He was a global star who had a brilliant career and deserves all the praise he gets. So long Godzilla, and thanks for the memories.