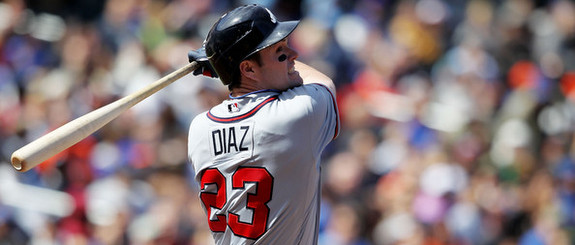 Given their all left-handed hitting outfield, finding a competent right-handed hitting complement has been a priority for the Yankees this offseason. That need has led them to Matt Diaz, who has joined the club on a minor league contract with an invitation to Spring Training according to Mark Feinsand. He'll compete for a bench spot a la Marcus Thames in 2010, and will earn $1.2M (with another $800k available in incentives) if he makes the team.
Diaz, 34, had a huge year with the Braves (.313/.390/.488, 136 wRC+) in 2009 but has done little in the three years since (.250/.298/.369, 80 wRC+). The poor performance these last few years can be partially explained by a problematic right thumb, including a series of infections. He's had three surgeries on the digit — one to correct a cyst (October 2009) and two to remove foreign bodies (May 2010 and August 2012). The most recent surgery carried a two-month rehab and Feinsand says he's healthy again and has been hitting since October.
Even though he's been both hurt and generally ineffective these last three seasons, Diaz still managed a solid .281/.328/.426 (104 wRC+) against left-handers. It was a 141 wRC+ against southpaws during his heyday with the Braves (2006-2009), but that's unlikely to ever happen again. Diaz has decent walk (6.1%) and good strikeout (16.2%) rates but he's not going to steal any bases or anything like that. He's also rates a bit below-average defensively in the corner and can't hit righties (career 79 wRC+). Strict platoon bat, that's it.
The current market is a little crazy and I was curious to see if some desperate team would offer Diaz a guaranteed contract, but I'm glad that team wasn't the Yankees. As a minor league deal it won't preclude the Bombers from making any additional moves, including signing Scott Hairston. If the thumb is truly healthy — hand injuries are no joke because if you can't grip the bat properly, you can't hit properly — and Diaz can contribute more than he has in recent years, it'll be a nice little signing. If not, then no big deal because the guarantee is zero. The Yankees have a nice recent track record with signings like this.