Got just two questions for you this week, but they're both good ones with long-ish answers. Use the Submit A Tip box in the sidebar to send us anything throughout the week.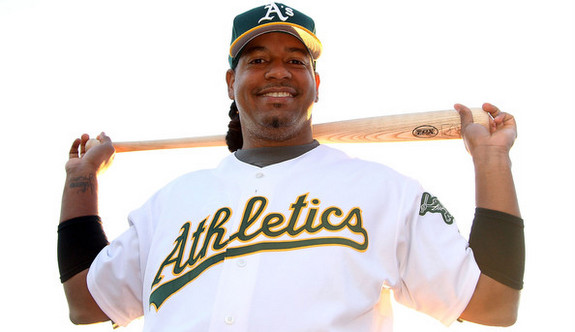 Bill asks: Should the Yankees have any interest in bringing Manny Ramirez to training camp and see if he has anything left? Could provide a nice righty bat.
Manny, 40, is tearing the cover off the ball in the Dominican Winter League, hitting .306/.405/.532 with four homers, nine walks, and a dozen strikeouts in 17 postseason games after putting up a .293/.360/.434 line in 25 regular season games. One hundred and eighty five total plate appearances is nothing though, so I wouldn't read much into that performance at all. Ramirez's agent recently confirmed to Jon Morosi that his client hopes to return to MLB next season and is using winter ball as what amounts to a showcase, and so far, so good.
Prior to the winter ball playoffs, Manny had not been an above-average hitter since splitting the 2010 season between the Dodgers and White Sox (140 wRC+ in 320 plate appearances). His bat speed and power had been slipping for a while when he signed with the Rays prior to 2011, though he continued to hit for average and draw walks. The stint in Tampa lasted five games due to his second PED suspension, which he satisfied after signing a minor league contract with the Athletics last winter. Manny hit .302/.348/.349 with no homers, five walks, and 17 strikeouts in 17 Triple-A games with Oakland before requesting his release in June and sitting out of the rest of the year.
I have no idea what Ramirez is capable of doing at the plate these days. No one does. He looked close to done during his brief (88 plate appearances) stint with the ChiSox in 2010, when he managed just a .261/.420/.319 (115 wRC+) line. The on-base rate is fantastic, but the lack of power from a guy in his late-30s is a red flag. That said, it's a small sample and he hit .311/.405/.510 (150 wRC+) in 232 plate appearances with the Dodgers before going to Chicago, so maybe it was just a small sample issue. Remember, that was also two full seasons ago now as well. Hard to take anything from those performances.
Given their emphasis on makeup and all that, I can't see the Yankees signing Manny at this point. Even on a no-risk, minor league contract. Just can't see it. That said, I'd love it. Love it. Put that all-important veteran clubhouse to work and see if those guys can keep him grounded and in check. Give him an invite to camp and see what he can do against left-handers, against right-handers, as a DH, as an outfielder, at first base, whatever. There's nothing to lose other than I guess PR, but the club isn't doing so hot in that department these days anyway. The Yankees are boring as hell and Manny would certainly make Spring Training much more interesting. I'd love to see it.

Mark asks: With the Mariners apparently going with some mix of Jason Bay, Raul Ibanez, Mike Morse, Franklin Gutierrez, and Michael Saunders — should Casper Wells be available? He'd be a good, cheap fit.
Seattle did nothing to unclog their logjam by replacing John Jaso with Morse, and in fact they made it worse since they would have been able to stick Jaso behind the plate. Justin Smoak is terrible, so Kendrys Morales figures to get most of the action at first base. Jesus Montero has a clear opening to catch at least most of the time, meaning Bay and Ibanez will likely platoon at DH while Morse, Gutierrez, and Saunders man the outfield.
Wells, 28, is a right-handed hitting outfielder who does almost all of his damage against southpaws. He's a .246/.317/.435 (109 wRC+) overall hitter in 656 career big league plate appearances, but that's broken down into 132 wRC+ against lefties and an 88 wRC+ against righties. He will strike out some (26.2 K% vs. LHP), but otherwise he draws walks (10.2 BB%) and hits for power (.225 ISO) against lefties. The batting average won't be anything special (.264 career vs. LHP), but power and patience go a long way. Add in the fact that his defense has been rated as above-average in the corners and average in center, and you've got a useful platoon outfielder.
Wells is out of minor league options, meaning he would have to clear waivers to go down to Triple-A next season. That won't happen, he would almost certainly get claimed. Saunders broke out last season (108 wRC+ overall) and suddenly started hitting lefties (116 wRC+), so he doesn't necessarily need a platoon partner now. Gutierrez is far from a guarantee to stay healthy (or hit) though, so having an extra non-Bay and non-Ibanez outfielder around seems like a wise idea. If the Mariners do make Wells available, a) it would probably be at the end of Spring Training after they ensure everyone makes it through camp in one piece, and b) the Yankees should definitely have interest. He'd be a great fit.