I suppose there's something slightly poetic about discussing the possibility of the Yankees voiding Alex Rodriguez's contract. After all, it was a voided contract that helped bring Alex to the Bronx in the first place. Aaron Boone blew out his knee playing basketball — something that is strictly prohibited in standard MLB contracts — in January 2004, an injury that would cause him to miss the entire season. The Yankees voided his one-year contract and a few weeks later, A-Rod was in pinstripes.
Following yesterday's South Florida-based performance-enchancing drug revelations, reports surfaced that the Yankees are "looking at about 20 different things" in hopes of finding a way out of five years and $114M left on A-Rod's contract. They're looking to see if he breached his contract by getting medical attention without the team's permission, if he broke the law by purchasing controlled substances, all sorts of stuff. The team is desperate to get out of the noose they tied around their own necks, so of course they're doing to try to weasel their way out of it.
Fans, of course, are out for blood. A-Rod has disgraced the pinstripes and he must pay! Void the contract without cause and deal with the lawsuits afterwards! Release him and eat the money! Pressure him into retiring! Do whatever it takes to get rid of him! Darren Rovell and Ken Rosenthal even had the genius idea of committing insurance fraud, which might possibly be more stupid than anything irrationally said by any Yankees fan. That's really saying something.
In reality, this is what will happen: nothing. At least not immediately. There is no hard evidence A-Rod purchased, used, possessed, anythinged a banned substance from 2009-2012. There's a report from a non-major, tabloid newspaper on par with amNY. That's all. Nothing can happen until Major League Baseball completes its investigation and finds actual evidence, evidence that is solid enough to act on. That could take a few days, a week, a month, a year … who the hell knows. There's also the possibility the league will find nothing. It's not until the investigation is complete that this whole process can go forward.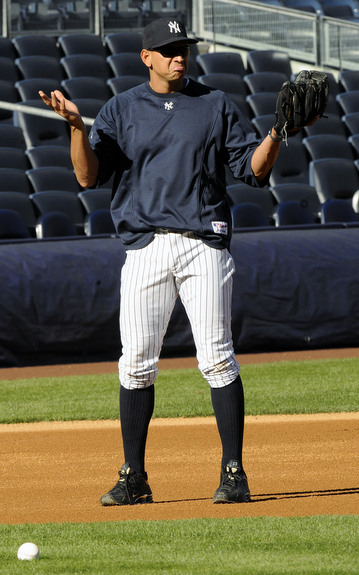 If MLB manages to find some real evidence, then the Yankees would have to figure out how to actually use it. The Joint Drug Agreement — a collectively bargained document that both Yankees ownership and A-Rod (via the players' union) agreed to — says punishment is in the hands of the commissioner's office and no one else. They might suspend him and he would probably be allowed to serve it while on the DL for his hip injury. There's plenty of precedent for that. A-Rod would face the same penalties as Nelson Cruz and Melky Cabrera. He's not special because he's a Yankee and you don't like him.
Unless there is language in A-Rod's contract pertaining specifically to PED stuff — we have zero reason to believe there is — it's going to be extremely difficult for the Yankees to shed themselves of that $114M. Maybe they could talk A-Rod into a Jason Bay-esque buyout just to get rid of him, but that won't improve their financial situation. Alex has no reason to take any kind of discount from the team. Zero. Having banked over $300M in his career to date is irrelevant. The club is obligated to pay him that money and he won't walk away from nine figures in an effort to repair an image that is already beyond repair.
Now, with all that said, of course the Yankees should try to find something that would allow them to cut ties with A-Rod. They should have been doing that long before yesterday's reports were even published. We've known the contract was an albatross for years now, we didn't need anything that happened yesterday to remind us. Yesterday's report just made it seem slightly more possible, which might not even be the case. The team's lawyers should be combing through every standard and silly little clause in that contract to find what amounts to a loophole.
If the Yankees do somehow defy the odds and manage to void even a portion of A-Rod's contract down the line, it will be because they fought the union tooth and nail through ugly legal proceedings and won. Not because A-Rod will retire out of the kindness of his heart and certainly not because the union will throw one of its members under the bus. In that respect, trying to void the contract will be much more painful than just sitting around and waiting for the deal to expire in five years.
The court of public opinion needs no hard evidence. Yesterday's report was more than enough to forever tarnish whatever was left of A-Rod's legacy, regardless of its accuracy. Real life requires hard evidence though, especially when someone wants to void a nine-figure contract. We're not even one step away from that potentially happening, we're about thirty steps away.