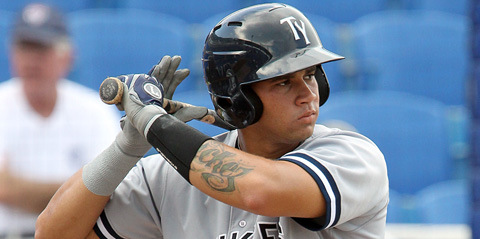 Gary Sanchez | C
Background
Raised in Santo Domingo, the largest city and capital of the Dominican Republic, Sanchez signed with the Yankees for $3M on the first day of the 2009 international signing period. He was 16 years old at the time, and it remains the largest signing bonus New York has ever given to an internationally signed amateur. Thanks to the spending restrictions implemented by the new Collective Bargaining Agreement, Sanchez figures to hold the record for the foreseeable future.
Pro Career
The Yankees skipped Sanchez over the Dominican Summer League and brought him stateside for his pro debut in 2010. He hit .353/.419/.597 (188 wRC) with six homers in 136 plate appearances with the rookie level Gulf Coast League affiliate after a stint in Extended Spring Training, earning him top prospect honors in the circuit according to Baseball America. The Yankees bumped him up to Short Season Staten Island very briefly at the end of the season, and he played 30 of 47 total games at catcher. Both Baseball America (#30) and Keith Law (#68) ranked Sanchez as one of the 100 best prospects in baseball the next spring.
Following some heart tests that revealed nothing serious in February 2011, the Yankees assigned Sanchez to Low-A Charleston to start the season. He was the second youngest player in the South Atlantic League. Sanchez started slowly before being demoted to Extended Spring Training for disciplinary reasons in May, after he reportedly refused to catch a bullpen session and enter a game off the bench. He returned two weeks later and finished the season on a tear, clubbing eight homers in his final 13 games and finishing with a .256/.335/.485 (122 wRC+) line and 17 homers in 343 plate appearances. Sanchez's season ended three weeks early due to a sprained left thumb, and despite playing only 60 of 82 games behind the plate, he led the league with 26 passed balls. Following the season, Baseball America ranked him as the 14th best prospect in the league, and he again cracked Keith Law's (#55) and Baseball America's (#81) top 100 lists the following spring.
The Yankees held Sanchez back and again assigned him to Low-A Charleston to start 2012, but he earned a midseason promotion by hitting .297/.353/.517 (136 wRC+) with 13 homers. He hit .279/.330/.436 (118 wRC+) with High-A Tampa to finish the season, ending with a combined .290/.344/.485 (~129 wRC+) batting line in 474 plate appearances. His 18 homers led all minor league catchers, and he cut his passed ball total to 18 despite playing 91 of his 116 games at catcher. Baseball America ranked him as the fifth best prospect in the South Atlantic League and ninth best in the Florida State League after the season. Sanchez got handful of at-bats in winter ball in recent weeks, but not much.
Scouting Report
Listed at 6-foot-2 and 220 lbs., Sanchez stands out for his huge power from the right side. His swing is sound and he can drive the ball to all fields, and although he's willing to work the count and wait for a pitch he can punish, he can get caught being too passive at times and pile up strikeouts. It's worth noting that his strikeout rate did drop from 27.1% in 2011 to 22.4% in 2012, though he obviously still has work to do. Sanchez can struggle with high-end breaking balls, both hitting and receiving them.
Defensively, Sanchez's best tool is his excellent arm. He gets rid of the ball quickly and has thrown out 29.7% of attempted base-stealers as a professional even though the Yankees do not emphasize holding runners in the minors. His footwork behind the plate is okay and improving, ditto his hands and receiving in general. Although he has yet to be turned him loose and allowed to completely call his own game, Sanchez has received more responsibility behind the plate over the years as his English has improved. The work ethic problems that led to demotion in 2011 were a non-issue in 2012. There is plenty of video at both MiLB.com and YouTube.
2013 Outlook
Sanchez, who just turned 20 last month, is expected to return to High-A Tampa to start the season after playing only 48 games at the level this past summer. Another midseason promotion figures to be in the cards, this one to Double-A Trenton.
My Take
The comparisons to Jesus Montero are inevitable and unfair. They're each their own individual players — Montero was the more polished hitter but Sanchez has a much better chance of staying behind the plate — and should be treated that way. I like Sanchez because of his right-handed power and raw hitting ability, something the Yankees will need in the big league lineup very soon. The breaking ball issues due concern me a bit, but I am encouraged that his strikeout rate did drop as he moved to a higher level, albeit in a small sample. Sanchez is one of baseball's best catching prospects, but his climb up the ladder has been a little slower and more deliberate than I expected.