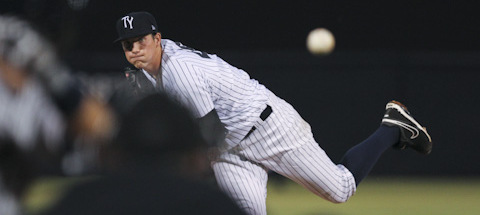 Nik Turley | LHP
Background
Hailing from North Hollywood, Turley attended Harvard-Westlake High School and was committed to Brigham Young University. He comes from a family of athletes, as both parents and three brothers all played sports at the collegiate level. His father pitched at BYU once upon a time.
Baseball America (subs. req'd) ranked Turley as the 83rd best prospect in California prior to the 2008 draft, but because he's a Mormon, teams expected him to follow through on his college commitment and go on a two-year mission. The Yankees rolled the dice and selected him in the 50th round with the 1,502nd overall pick, making him the third-to-last player chosen in the entire draft. Turley wound up signing relatively quickly for a well-above-slot $150k bonus.
Pro Career
Assigned to the rookie level Gulf Coast League after signing, Turley allowed one run in eight innings across one start and three relief appearances after turning pro. The Yankees held him back in Extended Spring Training the following season before returning him to the GCL when the season started in June, where he posted a 2.82 ERA (3.35 FIP) in 54.1 innings. Turley repeated Extended Spring Training in 2010, but after three more appearances with the GCL squad in June, he was bumped up to Short Season Staten Island. He pitched to a 4.38 ERA (3.18 FIP) in 61.2 innings for the Baby Bombers.
The Yankees finally turned Turley loose in 2011. He was assigned to Low-A Charleston to open the season, but was bumped up to High-A Tampa after posting a 2.51 ERA (3.53 FIP) with 8.96 K/9 (23.9 K%) and 2.30 BB/9 (6.1 BB%) in 82.1 innings across 15 starts for the River Dogs. Turley made two starts with Tampa (eight runs in 7.1 innings) before a line drive broke his pitching hand and ended his season in early-July. The Yankees sent him back to Tampa to open the 2012 season and he spent most of the year there, pitching to a 2.89 ERA (3.36 FIP) with 9.32 K/9 (24.8 K%) and 3.54 BB/9 (9.4 BB%) in 112 innings. The team promoted him to Double-A Trenton for one start at the end of the regular season as well as the playoffs. A few weeks ago, Baseball America ranked Turley as the 18th best prospect in the High-A Florida State League.
Scouting Report
First things first, Turley is physically huge at a listed 6-foot-6 and 230 lbs. His fastball sat in the mid-80s in high school but has since jumped a bit in pro ball, so he now sits in the 88-92 range with the occasional 94. Turley's best secondary pitch is a big overhand curveball he can throw for strikes or bury in the dirt, but if you catch him on the right day, his fading changeup will be the better offspeed pitch. The change is much more inconsistent though.
Between his size and his over-the-top delivery, Turley excels at driving the ball downhill and pounding the bottom of the zone. He's still learning how to keep his long limbs in check during his delivery, but doesn't have any trouble throwing the strikes. In fact, he might be the system's most aggressive starter when it comes to attacking hitters. Turley needs to work on things like holding runners and fielding his position. There's a good amount of video available on YouTube.
2013 Outlook
The Yankees added Turley to the 40-man roster after the season to protect him from the Rule 5 Draft, which was not a surprise even though it's unlikely he would have been able to stick on an active 25-man roster all of next season. He'll return to Double-A Trenton to start 2013 and I believe there's a better chance of him spending the entire season with the Thunder than there is of him getting a midseason promotion.
My Take
If you're a fan of long shot "projection" pitching prospects, Turley is the guy for you. The Yankees banked on his size and athleticism and have been rewarded with a strong but not elite pitching prospect. I like him mostly because he's a three-pitch lefty who can definitely remain in the rotation long-term, something the team has been unable to develop these last 15 years or so despite their long history of left-handed hurlers. You've probably already seen (and will continue to see) Turley compared to Andy Pettitte, but that's based primarily on size and handedness. It's not fair at all. When Pettitte was Turley's age (23), he was already in the big leagues and in New York's rotation for good. Let the kid make his own name for himself.