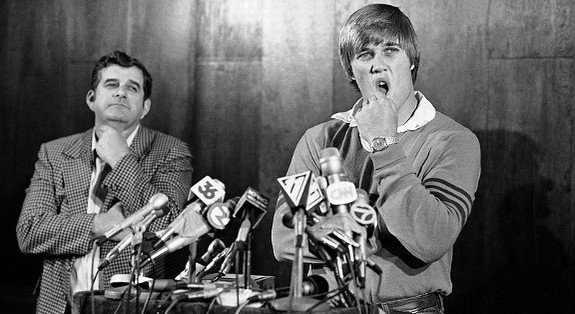 There are countless prospect ranking publications out there, but I think we can all agree that Baseball America is among the absolute best. They've been doing the prospect ranking thing for 30 years now, long before the internet made everyone an expert. Their editors and contributors do a wonderful job of culling together information from those within the game and presenting it to their readers in a concise and easy to understand way. They're the gold standard, as far as I'm concerned.
Baseball America recently posted their entire team top ten prospects list catalog online, dating all the way back to 1983. The index can be found here, but you're going to need a subscription to go see the individual lists. Thirty years of prospect lists are sure to produce some interesting stories, which is what we're going to look at today. Here's the link to their 1983-2003 lists for the Yankees, now let's see what we can dig up.
1983

John Elway, of
Oh hell yes. Right off the bat we've got a gem. The Yankees drafted Elway out of Stanford in the second round of the 1981 draft and signed him for $140k, which was huge dollars back then. He was a star in the outfield and a bigger star at quarterback, but George Steinbrenner wanted him in pinstripes. The Boss handed over the big check and allowed Elway to continue playing football for Stanford while mixing in some professional baseball. As a 22-year-old in 1982, Elway hit .318/.432/.464 with four homers, 13 steals (in 16 attempts), 28 walks, and 25 strikeouts in 185 plate appearances across 42 games for Short Season Oneonta. That was it, he never played baseball again. The Baltimore Colts selected Elway with the first overall pick in 1983 NFL draft, and he used the Yankees as leverage to force a trade to the Broncos. The rest, as they say, is history.
It's worth noting that a little further down the 1983 list is where you'll find Don Mattingly (#9). This was his one and only appearance on a Baseball America list, as he reached the big leagues for good in the second half of the season. Two years later, he was the league MVP.
1985

Jose Rijo, rhp
Stan Javier, of
Tim Birtsas, lhp
Keith Smith, ss
Eric Plunk, rhp
Baseball America has publication deadlines and schedules obviously, and every single year there are trades made in the offseason that screw up their rankings and leave some players in rankings limbo. That's exactly what happened during the 1984-1985 offseason.
On December 5th, 1984, the Yankees traded Rijo, Javier, Birtsas, Plunk, and big leaguer Jay Howell to the Athletics for Bert Bradley and some guy named Rickey Henderson. Just like that, the team's top three and four of their top five prospects were gone. I'm pretty sure RAB would cease to exist and the Yankees corner of the internet would collapse upon itself if that happened today. Prospects back then were unknown though, fans didn't care much about them at all.
Of course, Henderson wasn't exactly over the hill at that point. He was just 25 years old and already an established superstar, so the Yankees didn't give away all those prospects for nothing. I wrote more about Henderson's time with the team last year, during which he continued to be a star of the first order. Birtsas was the only player the Yankees traded away who didn't amount to much, as the others all had long careers in various roles. Despite the December 1984 trade, all four guys appeared on New York's top ten in 1985 because the deal happened after Baseball America's deadline.
1986

Brad Arnsberg, rhp
Jay Buhner, of
Bob Tewksbury, rhp
Rick Balabon, rhp
Doug Drabek, rhp
Darren Reed, of
Carlos Martinez, ss
The Yankees dealt away a lot of young players during the 1980s, and I do mean a lot. Arnsberg managed to stick with the organization until after the 1987 season, when he was traded to the Rangers for a player to be named later. Buhner was infamously traded to the Mariners for Ken Phelps (Ken Phelps!) at the 1988 trade deadline, a deal that included Balabon as well. Tewksbury spent a year-and-a-half in New York before being sent to the Cubs for Steve Trout at the 1987 trade deadline. Drabek was part of the six-player trade that brought Rick Rhoden to the Yankees following the 1986 season. Reed and others were dealt to the Mets for Rafael Santana after the 1987 season. Martinez was part of the July 1986 trade with the White Sox that brought Joel Skinner and Wayne Tolleson to the Bronx. Six of the team's top seven prospects in 1986 were traded away within two years while the seventh lasted two-and-a-half years. Craziness.
1987

7. Al Leiter, lhp
8. Bernie Williams, of
10. Hensley Meulens, of
Leiter was also part of the great late-80s prospect purge, though he managed to hang around long enough to rank second on the 1988 list before being traded to the Blue Jays for Jesse Barfield. Bernie was the first "dynasty Yankee" to appear on a Baseball America list, something he did a total of five times (#8 in 1987, #8 in 1988, #4 in 1989, #1 in 1990, and #1 in 1991). He was just 18 at the time of the 1987 list and was coming off a .270/.374/.343 showing with the rookie level Gulf Coast League Yankees. I'm not 100% sure of this, but I believe that was before he started switch-hitting.
Meulens, like Bernie, appeared on Baseball America's lists a total of five times: #10 in 1987, #1 in 1988, #1 in 1989, #10 in 1990, and #2 in 1991. Larry wrote about Bam Bam's story last year.
1989

2. Deion Sanders, of
The Yankees drafted Sanders out of Florida State in the 30th round of the 1988 draft, and he was in the big leagues a year later. He hit .178/.247/.306 during his two years with the team before being released, all while doing the two-sport thing and playing for the Atlanta Falcons during the offseason. By no means was Sanders a great baseball player, but the guy managed to hit .263/.319/.392 in over 2,300 career plate appearances while also playing football. That's impressive.
Worth noting: Kevin Maas ranked eighth on the 1989 list.
1992

Brien Taylor, lhp
Carl Everett, of
Russ Springer, rhp
And there it is, Taylor's first appearance on the list. The Yankees made him the first overall pick in the 1991 draft and Baseball America ranked him as the game's best prospect before he ever threw a professional pitch. Not just New York's top prospect, baseball's top prospect. He was number one on their 1992 Top 100 List. Taylor dominated High-A that summer (2.57 ERA and 10.4 K/9 in 161.1 innings) and was ranked as the game's number two prospect (behind Chipper Jones) a year later. He wrecked his shoulder following the 1993 season — Baseball America still ranked him as baseball's 18th best prospect prior to 1994 — and was never the same again. You can read more about Taylor's story right here.
Everett never actually played for the Yankees, but the team made him the tenth overall pick in the 1990 draft. They lost him in the expansion draft to the Marlins following the 1992 season. A decade later, he broke up Mike Mussina's bid for perfection. Grumble grumble. I listed Springer only because he was part of the package for Jim Abbott following the 1992 season. He went on to have a long big league career that ended just two seasons ago.
1993

2. Derek Jeter, ss
5. Sterling Hitchcock, lhp
9. Mariano Rivera, rhp
Jeter was the sixth overall pick in the 1992 draft but still played second fiddle to Taylor at this point. He took over as the team's top prospect in 1994 and then ranked second in both 1995 and 1996. Behind who? We'll see in just a bit.
Hitchcock spent a few seasons as an up-and-down arm and is most notable for being part of the trade that brought Tino Martinez and Jeff Nelson to the Bronx following the 1995 season. He pitched against the Yankees in the World Series while with the Padres in 1998, and then returned to the team from 2001-2003.
Only twice did Baseball America rank Rivera as one of the team's ten best prospects, and it wasn't even in consecutive years. After ranking ninth in 1993, he dropped off the 1994 top ten before resurfacing in 1995 (again ranked ninth). Pretty crazy that the best reliever of all-time was never considered better than his team's ninth best prospect. Then again, Mo was just a middling starting pitcher at the time and had yet to learn the cutter.
1995

Ruben Rivera, of

1996

Ruben Rivera, of

1997

Ruben Rivera, of
Mariano was only the second best baseball prospect in the family back in the day. His cousin Ruben was the mid-90s version of Mike Trout (the prospect, not the Major Leaguer), five times ranking as one of Baseball America's Top 100 Prospects (#76 in 1994, #2 in 1995, #3 in 1996, #9 in 1997, #40 in 1998). The publication once put him on the cover of their magazine with the caption "The next Mickey Mantle?" Rivera received two cups of coffee with the Yankees in 1995 and 1996, but they traded him to the Padres in April 1997 as part of the package for Hideki Irabu. Needless to say, he never did fulfill that next Mickey Mantle promise.
Among those ranked behind Rivera during the years were Andy Pettitte (#7 in 1994 and and #3 in 1995) and Jorge Posada (#7 in 1995). Posada dropped off the list in 1996 before ranking tenth in 1997. Eric Milton and Cristian Guzman both appeared in the mid-to-late-90s lists before being traded for Chuck Knoblauch.
1999

Nick Johnson, 1b
Ryan Bradley, rhp
Alfonso Soriano, ss
Jackson Melian, of
Mike Lowell, 3b
Ricky Ledee, of
Drew Henson, 3b
Juan Rivera, of
Shane Spencer, of
D'Angelo Jimenez, ss
First things first, this list gives me an excuse to post Johnson's line with Double-A Norwich in 1999: .345/.525/.548 with 14 homers, 123 walks, 88 strikeouts, and 37 (!) hit-by-pitches. That happened after Baseball America put him atop the team's top ten list. Johnson hit a measly .317/.466/.538 with High-A Tampa in 1998 to earn the top spot.
Secondly, nine of those ten guys played in the big leagues. Melian is the lone exception. Obviously some (Soriano, Lowell) had more success than others (Bradley, Henson), but getting nine big leaguers out of a top ten prospects list is pretty amazing. Henson made four top ten lists (#7 in 1999, #3 in 2000, #1 in 2002, #4 in 2003) and was the first big-time prospect to break my heart. I haven't gotten close to another prospect since. I … I … I don't want to get hurt again.
The 2000-2003 lists are pretty depressing to look at, honestly. The Yankees started forfeiting first round picks to sign free agents those years, plus they were taking guys like John-Ford Griffin and Dave Parrish with their top selections. Big leaguers from the 2000-2003 list who haven't already been mentioned include Ed Yarnall (acquired in the Lowell trade), Wily Mo Pena, Jake Westbrook (acquired for Irabu, traded for David Justice), Alex Graman, Randy Keisler, Erick Almonte, Marcus Thames, Sean Henn, and Brandon Claussen. Not much to look at those years, or at least not as much as there was from 1983-1999.