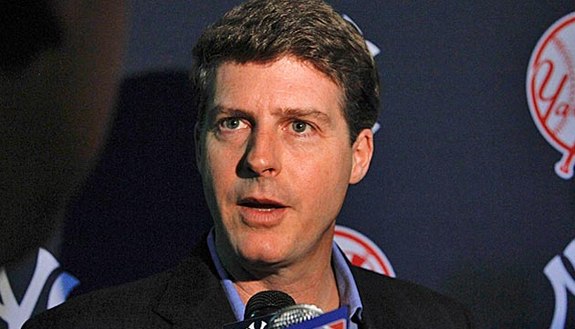 Principal owner Hal Steinbrenner created a bit of a stir last week when he showed a remarkable lack of awareness by saying he was "surprised to hear that there's [fan anger] if you see what we've done this off-season." Other than re-sign a few of their own older players and import the downside of Kevin Youkilis' career, the Yankees haven't done much of anything this offseason. They didn't even maintain the status quo — the pitching staff is the same and the offense is weaker because Nick Swisher and Russell Martin were allowed to depart.
Anyway, let's move on from that nonsense and talk about something else Hal said last week. Here are the specific quotes, courtesy of Brian Costa…
"I've been resolute that [getting under the $189M luxury tax threshold in 2014] is our goal. And that is our goal … I don't see [staying under the tax threshold] being less of a goal (in the future). I believe that you don't have to have a $220M payroll to win a world championship, and you shouldn't have to."

[snip]

"I'm not a big believer in extensions. There's exceptions to every rule, but I'm just not a big believer in extensions. I'm worried about this year."
These two ideas, getting under the luxury tax threshold and avoiding contract extensions, are technically mutually exclusive. In reality, the two ideas are at odds with each other. Getting under the luxury tax means the team will operate within defined financial limits, but avoiding extensions means the team will also have to pay market value for players. Paying market value and having a hard salary limit are not going to mix well, even with a payroll as large as $189M.
Right now this is not much of an issue. The Yankees only have two legitimate extension candidates in Robinson Cano and Phil Hughes, and the latter is far from a no-brainer. Both are one year away from free agency and Cano is a special case because he's an elite player due a long-term, nine-figure commitment one way or the other. Perhaps the team should consider extensions for Brett Gardner and David Robertson (three years, $12M for both?), but other youngsters like Ivan Nova, David Phelps, Eduardo Nunez, and Michael Pineda haven't done enough to warrant any kind of guaranteed commitment. Not yet, anyway.
The Yankees, specifically Hal since he made the comments, want to have their cake and eat it too. They want to stay under the luxury tax threshold in the future and that's fine even if I disagree with it, but they also don't want to hand out contract extensions to young players. They can do both, but it won't be easy. The team saved millions of dollars by buying out Cano's arbitration years with an extension six years ago, and they should be more open to doing the same in the future. There's a disconnect between the team's two policies right now, even if breaking one will help them accomplish the (much more lucrative) other.